Father & Daughter Both Fight Cancer In the Same Year
A father and daughter from Okaloosa County, Florida, were each diagnosed with cancer last year, and both are on their way to recovery.
Dad Travis Huisken was diagnosed with renal cell carcinoma, which is the most common type of kidney cancer. In fact, about 9 out of 10 kidney cancers are RCCs.
Daughter Phinley, 3, was diagnosed with acute myeloid leukemia, also known as AML, shortly after her dad recovered from his cancer. AML is a cancer that affects bone marrow.
A father and daughter from Okaloosa County, Florida, were each diagnosed with cancer last year, and both are on their way to recovery.
This is their story.
Read More
On Memorial Day Weekend last year, Travis Huisken, now 44, got sick. He was diagnosed with renal cell carcinoma, or kidney cancer, shortly after falling ill.
"We dealt with mine and mine (my cancer) was very, very difficult," Travis, a father of three, told WKRG-TV, a television station in Mobile, Ala. "We started making plans for what their lives would be like without me in it."
"The tumor was aggressive and it had ravaged that kidney and we had discussions about trying to save the kidney and determined that it was probably better to just remove the whole thing," he continued, adding that he was able to undergo a successful kidney removal operation in July 2021.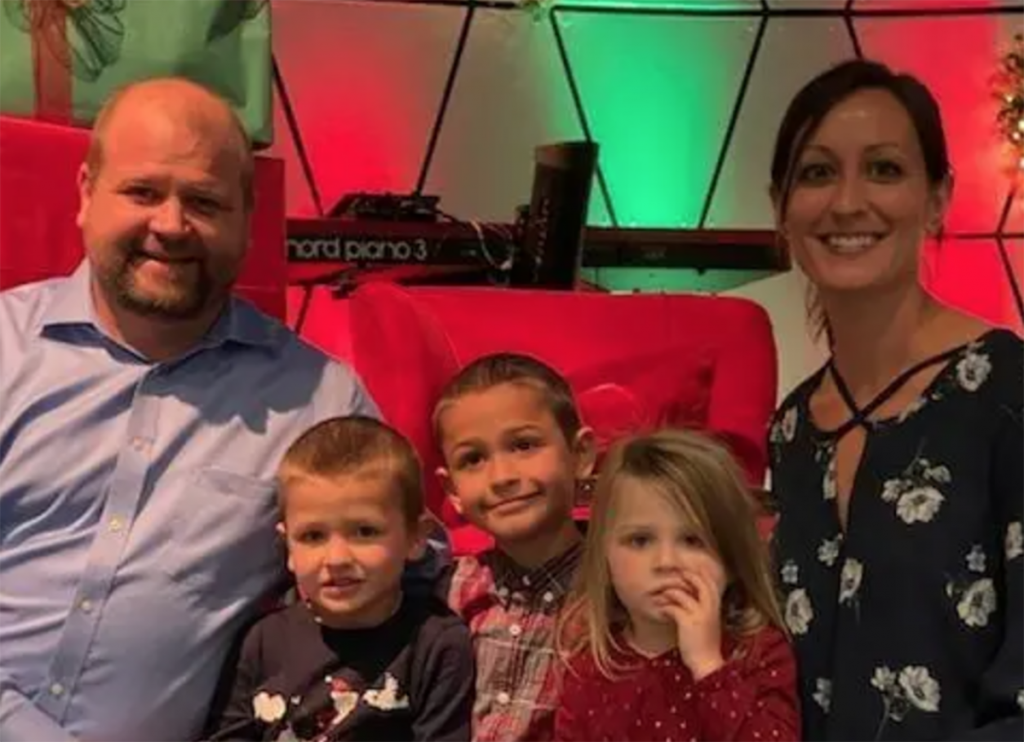 "I got off easy, they were able to just remove the entire kidney which took the entire tumor with it and they've been running scans since to make sure that it has not come back and has not spread to anyplace else and so far so good," Travis said.
The family of five thought they were finally on the other side, but just a few months later, Travis and his wife Jessie's youngest child, 3-year-old Phinley, fell ill.
"We took her to her pediatrician and after about 30 days of appointments and everyone coming back saying, 'We think it's just a virus. Just put her on some ibuprofen,' her doctor found a heart murmur that was new and said (they) need to go straight to Pensacola (Fla.)," Jessie told the television station.
Once Phinley was rushed to an emergency room in Pensacola, Fla., the family was told their child had acute myeloid leukemia, a type of blood cancer. She was then flown to UF Shands Children's Hospital in Gainesville, Fla., where she was given a 50/50 chance of survival.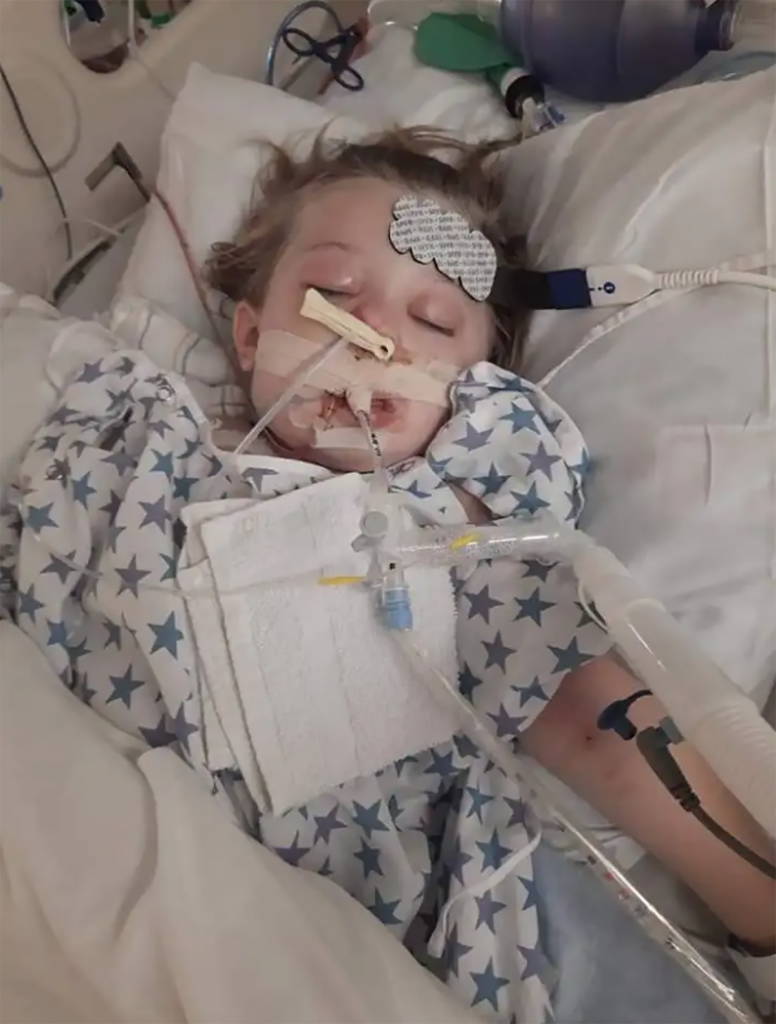 "It has a higher level of relapse, there's lower survivability," Jessie said of her daughter's cancer.
She's only 3 years old, but she's already a fighter; Phinley went through five rounds of chemotherapy treatment in just seven months. And it was determined that she had responded well.
"She's done very well," Jessie said. "She went from over 90 percent cancer cells when at her first diagnosis to zero percent after her first round of chemo, which is incredible."
"The doctors, when they called to give us the news of her first biopsy, they did not expect that type of response to treatment so fast," the mother of three added. "So, she has been at zero percent ever since then and she finished her last round of chemo."
Phinley is now enrolled in a drug trial program (details on what type of drugs the child is taking weren't released). The program requires frequent check-ups, and right now, there's a 70/30 chance Phinley will live to see her 9th birthday.
"We're working on recovering and repairing and dealing with things day by day, but I like to think about a post-9-year-old Finley," said Phinley's father, Travis. "I like to think about a 15-year-old Finley. I like to think about a 20-year-old Finley. I can see it."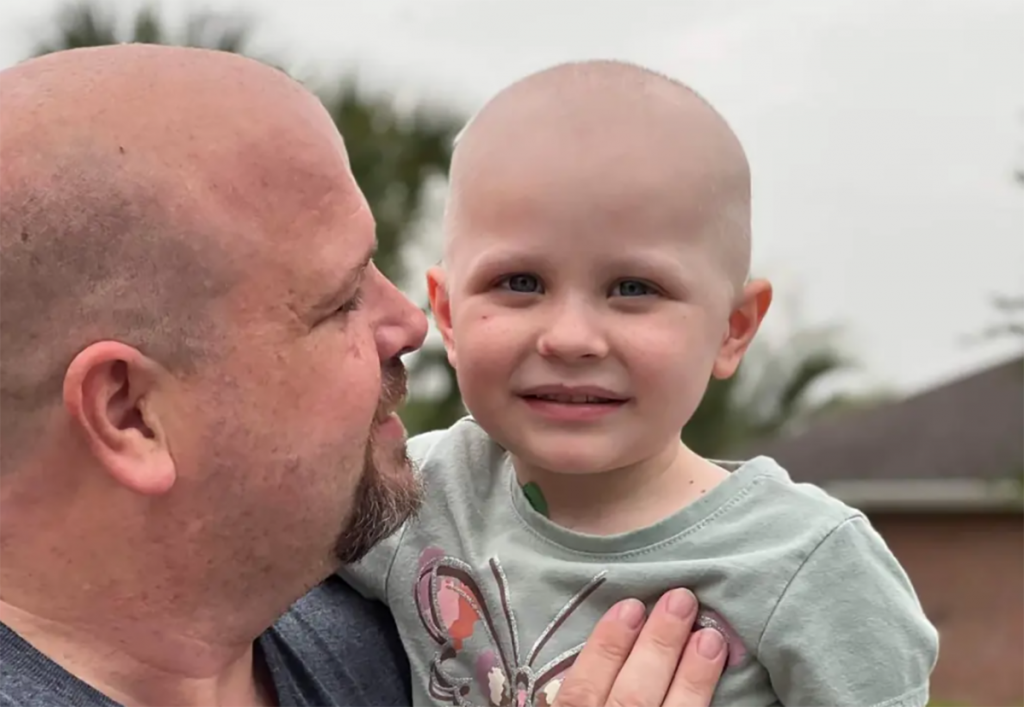 "I'm convinced that this isn't going to have a tragic ending and I'm excited to someday walk her down the aisle."
A GoFundMe page has been set up to raise money to help Phinley fight cancer. To donate, click here.
Understanding Kidney Cancer
Kidney cancer develops when cells in the kidneys, a pair of bean-shaped organs each about the size of a fist, begin to grow out of control. Renal cell carcinoma (the type Travis was diagnosed with) is the most common type of kidney cancer. In fact, about 9 out of 10 kidney cancers are RCCs.
Related: 'When I Die, You'll Have So Many Girlfriends' — Ballerina Petra Conti Says She And Her Husband Joked Their Way Through Cancer
It's estimated that about 79,000 new cases of kidney cancer (50,290 in men and 28,710 in women) will be diagnosed in the United States for 2022, so here are some signs of the disease to look out for:
Blood in the urine (hematuria)
Low back pain on one side (not caused by injury)
A mass (lump) on the side or lower back
Fatigue (tiredness)
Loss of appetite
Weight loss not caused by dieting
Fever that is not caused by an infection and doesn't go away
Anemia (low red blood cell counts)
According to UCLA Health, kidney cancer can metastasize, or spread, to any part of the body through the blood or lymphatic system. When that happens, the first signs of cancer may not be specific to your kidneys.
Symptoms of metastatic kidney cancer may cause symptoms in the newly affected areas of the body including:
The lungs, causing cough and shortness of breath
The bones, resulting in bone pain or fracture
The brain, presenting as headaches, confusion or seizures
That being said, all of these signs don't necessarily mean you have cancer. Still, you should always bring up any changes to your health with your doctors.
Understanding Acute Myeloid Leukemia
Acute myeloid leukemia, also known as AML, is a cancer that affects bone marrow — the spongy tissue inside of your bones. It's a rare cancer overall, but it's the most common type of leukemia in adults. Children, like Phinley, rarely get AML.
"To understand acute myeloid leukemia, you have to understand how the bone marrow works," Dr. Mikkael Sekeres, former director of the Leukemia Program at Cleveland Clinic Cancer Center and current chief of the Division of Hematology at University of Miami Health System, previously told SurvivorNet. "The bone marrow is the factory that makes all of the cells that wind up in our blood stream."
What is Acute Myeloid Leukemia (AML)?
This so-called factory makes red blood cells that bring oxygen to our tissues, white blood cells that make up the immune system, as well as platelets, which help stop bleeding, Dr. Sekeres explained. All of these cells perform essential functions in the body, and a spike or decline in any of them can lead to some serious health issues.
"When a person has cancer of the bone marrow, such as acute myeloid leukemia or myelodysplastic syndromes, that factory gets broken. These are cancers," he said. "Cancers grow, and they grow in an uncontrollable way."
Dr. Sekeres pointed out that the way blood cancer grows is different from the way other, solid-tumor cancers grow. With breast cancer, for example, someone may develop a lump or a tumor that grows overtime.
With AML, as cancer grows in a confined space (the bone marrow), the normal cells in this space that would be making the red blood cells, white blood cells and platelets, begin dying off. This leads to the bone marrow being filled with cancer cells.
How to Recognize Symptoms of Acute Myeloid Leukemia
There are many symptoms of AML, including:
AML symptoms include:
Fever
Frequent infections
Feeling tired or weak
Easy bruising or bleeding
Petechiae, which are blood spots under the skin
Weight loss or loss of appetite
Dull or sharp bone pain, usually in the legs and arms
Pale skin
If you are experiencing any of these symptoms (and are at an increased risk of developing AML), talk to your doctor.
Learn more about SurvivorNet's rigorous medical review process.