Everything's Coming Up Ritzy
Leigh Shannon is a wig shop owner and female impersonator in Orlando, Florida, best known for performances as Bette Midler.
Shannon's mom battled breast cancer and died at the age of 43. Her hair loss journey inspired him to provide medical-grade wigs to cancer patients.
Shannon has used his business and fanbase to bring a community of people together.
Actor, comedian, entertainer, female impersonator, small business owner. Leigh Shannon does it all.
Aside from selling out comedy performances at Hamburger Mary's in Orlando, Florida, Shannon changes lives by making wigs for cancer patients.
Read More
Known for his Bette Midler impersonation, the local celebrity opened
Ritzy Rags
, Wigs & More decades ago. He's been in the business of hair since the beginning of his female impersonation career.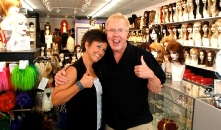 A Deeper Meaning
Starting out as a business pursuit that could costume his own performances, the meaning behind wigs deepened when his mom was diagnosed with breast cancer.
"She was a beautiful woman," Shannon tells a news station in Florida. "If she'd had breast cancer today, she would've lived."
Shannon recalls picking out a wig with his mom as the hardest part of the fight before her death at age 43. Soon thereafter, Ritzy Rags began stocking medical-grade wigs for patients battling hair loss. Reportedly, Shannon says it can be an emotional battle for a lot of women to pick out hair that will replace their own.
Ritzy Rags has contributed support to patients with an array of hair loss conditions over the years.
"Come to my show and you'll have the best hair in the house… except for me," Shannon jokes.
Mending a Community
Customers become a part of Shannon's follower base after visiting the store. He comments on the demographics of his Floridian community, acknowledging that illness knows no bounds. Its inevitable trials bring people together – the product of that replicates in the audience of Shannon's shows.
"I've been fortunate enough where the business has intertwined with the character of Leigh Shannon," he says. "Maybe it'll stop somebody from judging, and in this time, I believe we really need it now."
Coping with Hair Loss
Hair loss is one of the more distressing side effects of chemotherapy — but unfortunately, many chemotherapies do cause hair loss or thinning.
It's important to speak with your doctor about any personal issues that may be caused by the temporary loss or thinning of your hair. Your doctor or nurse may even be able to recommend a local wig-maker, or something of that sort if you're feeling particularly distressed by the possibility.
It's also important to remember that the hair loss associated with chemo is temporary.
Hair loss typically begins about three to four weeks after a woman begins chemotherapy for ovarian cancer — and will continue throughout treatment. Women can expect regrowth around four to six weeks after they complete treatment. Patients may even experience some changes to hair color and texture when it begins growing back.
Learn more about SurvivorNet's rigorous medical review process.
---