British rock legend Rod Stewart "came out" as a prostate cancer survivor over the weekend — and used his experience with the disease to urge other men to be aware of their bodies, and keep up with recommended screenings for prostate cancer. The "Maggie May" singer made the announcement at a fundraising event for the Prostate Project and the European Tour Foundation charity in Surrey, England.
Stewart, 74, explained that he was first diagnosed with the disease during a routine screening checkup in 2016 — and just got the all-clear from his doctors this past July. He joked with the audience at the event that he had to tell his wife, Penny Lancaster, that he needed to "come out" — but then quickly added, "No, it's not what you think. [Three] years ago, I was diagnosed with prostate cancer."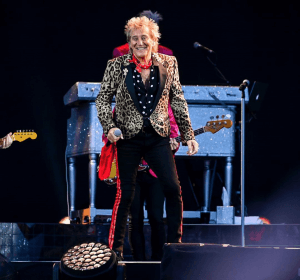 Read More
The guidelines for prostate cancer vary from man to man — but there is a general consensus for average risk men.
"Current guidelines are to start screening at age 55, and continue screening through 70," Dr. James Brooks of Stanford Medicine told SurvivorNet in a previous interview. "The reason for that is prostate cancer diagnosed after age 70 has a reasonably low probability it's going to take your life. Prostate cancer, even in its aggressive forms, when it's localized, is a relatively slow-growing cancer."
RELATED: THERE'S NO ONE DEFINITIVE SYMPTOM OF PROSTATE CANCER, BUT THERE ARE SIGNS
In Stewart's announcement — he urged men to take control of their health and be aware of these guidelines.
"No one knows this, but I thought this was about time I told everybody. I'm in the clear, now, simply because I caught it early. I have so many tests," the singer said of his diagnosis and treatment.
"Guys you've really got to go to the doctor … Finger up the bum, no harm done," he quipped.
View this post on Instagram
Stewart didn't disclose what stage his cancer was at at the time of diagnosis, with the exception of letting the audience know that it was "caught early." When it comes to prostate cancer, catching the disease in an earlier stage will make a big difference. The singer's decision to go public with his diagnosis — though not an easy call to make — will hopefully raise awareness among fans across the world that prostate cancer screening is a crucial part of a healthy life for men once they reach a certain age.
Stewart's message is important because of how common prostate cancer is in both the UK and the U.S. Among American men, it is the most common cancer, behind only skin cancer. The American Cancer Society estimates that there are more than 174,000 new cases of prostate cancer diagnosed every year in the U.S. alone, and more than 31,000 men die from the disease.
When Should I Start Screening For Prostate Cancer?
There is some debate about when the ideal time to start screening for prostate cancer is. Men should have a candid conversation with their doctors about this — factors like family history, race, and health history can all play a role in when a man should begin screening.
RELATED: THE PSA TEST IS NOT PERFECT-BUT IT'S A BIG PLAYER IN THE FIGHT AGAINST PROSTATE CANCER
As stated above, current guidelines call for screening for men ages 55 to 70. However, these guidelines apply to men who have an average risk of developing prostate cancer. For men who are considered high-risk, experts recommend getting a PSA test at age 40.
How Do I Screen For Prostate Cancer?
The PSA (or protein-specific antigen) test is a blood test that can screen for prostate cancer, and can also track a patient's response to treatment. Typically when a man goes in for prostate cancer screening, doctors will do a PSA test and a digital rectal exam — where the doctor touches the prostate gland through the rectum. A lot of men are wary of going in for these tests, but experts assure that the PSA and digital rectal exams are quick, and mostly non-invasive.
In a previous conversation with SurvivorNet, Dr. Edwin Posadas of Cedars-Sinai Medical Center, explained the simple tests.
"No man is really excited about having a rectal examination … honestly, it takes less than 30 seconds to get it done, it's relatively painless. I'm not saying it's comfortable, but at the same time the amount of information that is gained from that can be tremendous," Dr. Posadas said.
Learn more about SurvivorNet's rigorous medical review process.