There are a lot of celebrities who commit to good causes. For Patrick Dempsey, his commitment to ovarian cancer is a devoted, long lasting tribute to his mom, who he lost to the disease. The "Grey's Anatomy" actor received the American Cancer Society's Impact Award for his work with cancer patients at this year's 34th annual California Spirit Benefit, a cancer fund raising event.
RELATED: "Treat the Person, Not the Disease" — Actor Patrick Dempsey, Who Lost His Mother to Ovarian Cancer, Advocates for Holistic Therapies To Compliment Cancer Treatment
Read More
Dempsey, 53, known to many as "Dr. McDreamy" because of his dreamy on-screen doctor character, lost his mother, Amanda Dempsey, to ovarian cancer in 2014. Dempsey founded a supportive cancer center in her honor called the Dempsey Center, and is a facility in Maine that Dempsey founded to help patients with cancer and their family members better manage the ways that the disease affects their lives. The center has two locations, that treat 2,500 patients each year at no cost to the patients.
RELATED: Taylor Swift Speaks Up About What It's Like To Have A Parent With Cancer
"With the Dempsey Centers, we don't treat diseases, we treat the person," explained Dempsey. "How do we make their life better, people who have been impacted? And we do that in a way that is no cost to them. And certainly with integrative medicine and things like that, it needs to go hand in hand with conventional treatment in our battle against cancer," he told the Hollywood Reporter about his efforts in cancer.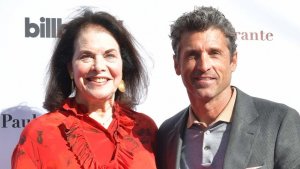 "My mother was diagnosed with ovarian cancer in 1997. She had 12 recurrences over the period of her battle and ultimately in 2014 she passed away," he told the outlet. "It was clearly a profound impact on our family for a very long period of time. It seemed like every two years it was coming back, so we were in and out of hospitals, in and out of treatment constantly."
The Benefit was held on a Sony backlot, and Dempsey hosted alongside Sherry Lansing, a former actress and the first ever female head of a movie studio when she became president of production at 20th Century Fox, Phil Rosenburg, executive producer of the TV series "Everybody Loves Raymond," and Harry Lennix, who starred in the Robert Townsend film The Five Heartbeats as well as the TV series Dollhouse. Sherry Lansing founded the event, and remains hopeful that cancer can be defeated.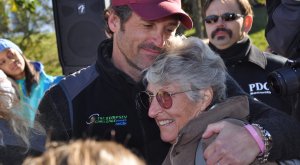 "People are living longer with cancer and people are surviving cancer and there are statistics that didn't exist before — the survival rate for breast cancer is 90 percent, for prostate cancer its 98 percent," Lansing told the Hollywood Reporter. "Diseases that used to carry a death sentence, you're walking around cured or you're living very long and healthy lives with it. The goal is to make every cancer patient a survivor."
The event also had a host chef, Antonia Lofaso, whose father is a two-time cancer survivor. Under his direction, the event served signature Los Angeles foods like strawberry daiquiris and churros from "Dama," lobster tacos from Wolfgang Puck, 40-day-aged steak from "Boa" and crab cakes and filet mignon from "Del Frisco's" steakhouse. Golden Road Brewery, Mulholland Gin and Nebula 9 Vodka, among others all provided drinks for the event.
At a silent auction during the benefit, guests bid on items including a VIP experience at Jimmy Kimmel Live!, dinner at Spago, and a whiskey package from Kentucky Peerless Distilling Co. Lansing, Rosenthal and Dempsey all made speeches at the benefit, as well as a teenager named Caitlin Herron, who talked about surviving cancer at a young age.
In a live auction at the benefit, which raised thousands of dollars with items like a Dodger Stadium luxury box experience and a trip to Paris to watch the French Open, Lansing herself auctioned a dinner and film screening for 12 at her home theater. Three guests paid $11,000 each for the experience.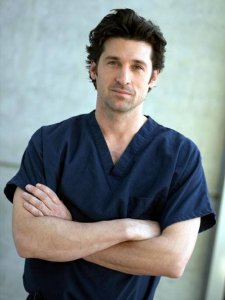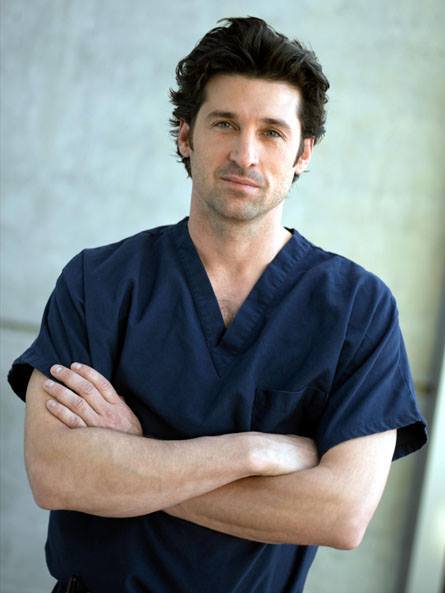 The benefit held a live fundraiser where guests donated  more than $75,000, including $100 from one of the oldest surviving World War II veterans, 100-year-old Sidney Walton.
Rosenthal, the benefit's co-chair alongside Lansing, and said that an event built around food was a great way to raise money for cancer, "It's a big draw. It works. Food is the great connector and everyone loves it and it's a great way to connect, socialize, talk about the important things and you've got to eat anyway!"
The Dempsey Center 
The center isn't a medical facility that provides conventional treatment; instead, it offers supportive services such as yoga, meditation, reiki, acupuncture, support groups, and grief counseling, which are all free of charge. (The Dempsey Center is able to provide these services through donations, corporate sponsorships, and foundation grants).
This kind of approach—that is, complimenting conventional medicine with holistic healing methods and supporting, whole-person care—is called "integrative medicine," and many doctors believe in its benefits, given that the effects of the disease go beyond the physical impact of the cancer itself.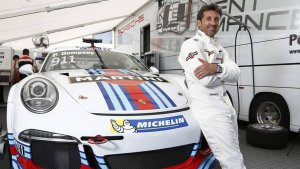 RELATED: The Difference Between Integrative Medicine and "Alternative Medicine"
"Integrative medicine is an approach to care that puts the patient in the center of care and everything flows from that," Dr. Brian Berman, Director of the Center for Integrative Medicine at the University of Maryland School of Medicine, told SurvivorNet in a previous conversation about the difference between alternative medicine and integrative medicine. "It emphasizes lifestyle behavior, like diet, stress management, nutrition, and it also blends the best of conventional medicine and complementary therapies."
Dempsey spoke about his cancer center at the premier for the movie his recently produced, "The Art of Racing in the Rain."
"We don't treat the disease, we treat the person," Dempsey told the attendees at the film screening. Importantly, Dempsey pointed out that his center and the services it provides are not supposed to be an alternative to conventional treatment. "It's a compliment to what the doctor is doing, and we're seeing the benefits of that," he said.
RELATED: What's Mindfulness? And Can It Help You During Your Cancer Journey?
Dempsey's mother lived with her ovarian cancer for 17 years, during which she had 12 recurrences, and while the disease ultimately took her life, her years living with the cancer were the inspiration behind Dempsey's center. "As Amanda's cancer journey unfolded, her loved ones realized how much a cancer diagnosis impacts the entire family," the Dempsey Center's website reads.
At the screening fundraiser, Dempsey also shared that he hopes to expand the Dempsey Center, which currently has two locations in Dempsey's home state, Maine.
RELATED: Energy Healing? Kara Ladd's Cancer Journey Took Her Down a Spiritual Path
"At some point, we'll have a center here [in Boston],' Dempsey said, adding that, during her 17-year cancer journey, his mother often traveled down to Boston from Maine for cancer treatment at Massachusetts General Hospital. "This is a community that is very important to me. It was an opportunity to bring everyone together."
Learn more about SurvivorNet's rigorous medical review process.