Cancer Fighter & Champion Baker
Malia Jusczyk is a 13-year-old girl battling neuroblastoma, a rare childhood cancer, and was recently named "The Greatest Baker" in a baking competition.
She was first diagnosed with the disease at 2 years old after doctors found a tumor on her right kidney; she spent 9 years cancer-free, but the cancer returned last April.
Focusing on the positives through cancer can help .
Thirteen-year-old Malia Jusczyk may be battling cancer, but that's not stopping her from hitting some incredible achievements; most recently, she was named "The Greatest Baker" of 2021. Jusczyk is battling neuroblastoma, a rare cancer found in children.
Related: 'Cancer Sucks': This 5-Year-Old Cancer Warrior With Neuroblastoma Will Melt Your Heart As She Sings An Original Song
Read More
Jusczyk, who lives in Plainville, Massachusetts, loves spending time in the kitchen making chocolate cake pops. And earlier this month, her passion for baking – as well as her efforts – was rewarded, when she was named The Greatest Baker in an international contest.
For the competition, the young baker and cancer fighter made it through multiple rounds of the contest. It was hosted by The Great British Baking Show winner Sophie Faldo (Faldo won in 2017), and Alice Fevronia, a finalist on the 2019 version of the show.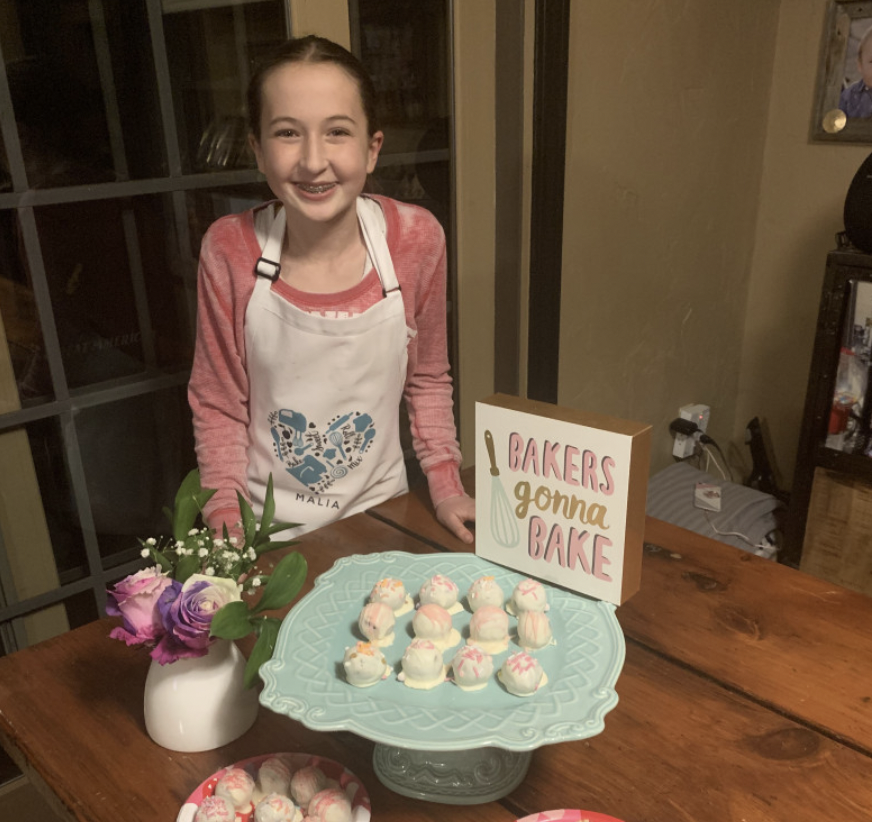 Childhood Cancer's Impact on the Family
Jusczyk was recently diagnosed with a relapsed stage 4 neuroblastoma. She was first diagnosed in April 2011 at just 2 years old. Doctors found a tumor near her right kidney, which led to her cancer diagnosis. She spent 9 years cancer-free until April 2021.
Her recent good news about being named The Greatest Baker was such a win for the whole family. Her mom tells The Telegram & Gazette, "It was perfect. It was pretty awesome. It was fun to tell everyone she won. As a mom, it meant so much that everyone voted for Malia. It was a special gift, and the timing was perfect."
Related: Childhood Cancer & Future Fertility: What One Mother Wishes She'd Known Before She Took Her 15-Year-Old Son to a Sperm Bank
A child's cancer diagnosis affects the whole family, so we love to see their family relish in this exciting moment. In an earlier interview, Jayne Wexler describes how her son Justice's cancer diagnosis impacted her family. She says, "We have to live each day and be thankful for what we have. And it's hard to remember that when you're caught up in – especially in New York City and the craziness – it's very hard just to sort of enjoy the moment, because we just don't know what's going to happen in the future."
"And we know that, I mean, it could happen to any of us. And so many people have cancer or something terrible happened. So I try to just keep breathing and relax and enjoy my time with Justice," says Wexler.
The Impact of a Childhood Cancer Diagnosis on the Whole Family — Jayne Wexler Shares Her Story
Focusing on the Good Through Cancer
Jusczyk is such an inspiration; she's wise beyond her years, too. This young girl is showing the world how important it can be to stay positive and focus on the good through cancer. Our experts say that this can, in some cases, impact cancer outcomes, too.
Related: As Actor Jeff Bridges, 71, Battles Lymphoma He Focuses on Gratitude: 'Let the Gratefulness Overflow into Blessing All Around You'
In an earlier interview, Cedars-Sinai colorectal surgeon, Dr. Zuri Murrell, explains how important having a good mindset is. He says, "My patients who thrive, even with stage 4 cancer, from the time that they, about a month after they're diagnosed, I kind of am pretty good at seeing who is going to be OK," he says.
"Now doesn't that mean I'm good at saying that the cancer won't grow," says Dr. Murrell. "But I'm pretty good at telling what kind of patient are going to still have this attitude and probably going to live the longest, even with bad, bad disease. And those are patients who, they have gratitude in life."
Learn more about SurvivorNet's rigorous medical review process.