An Empowered Kotb Takes Charge After Cancer
Hoda Kotb beat breast cancer, adopted children, and ended her engagement; she's thriving after beating cancer.
Newly single Kotb is a survivor of stage I breast cancer.
Kotb treated her breast cancer with a mastectomy after her diagnosis in 2007.
TODAY 
show anchor Hoda Kotb, 57, beat cancer and is enjoying being a mom, but she's voiced that she's not quite ready to date again yet after ending her engagement with her financier fiancé, Joel Schiffman.
After a huge life event like surviving cancer and going through the adoption process, it's no wonder that Kotb is ready to take things slowly when it comes to her romantic life, and we are here for it! Kotb sets a great example of what it means to be an empowered cancer survivor who moves at their own pace.
Read More
We're grateful to her for living her life on the public stage, and inspiring others along the way.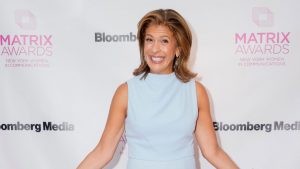 Hoda Kotb's Breast Cancer Journey
Kotb, 57, received her breast cancer diagnosis in February 2007 after doctors discovered lumps in her breast tissue during a routine exam. She was 43 at the time and underwent a mastectomy and reconstruction followed by five years taking the drug tamoxifen (Nolvadex).
"Cancer shaped me, but it did not define me. It's part of me, but not all of me," Kotb said at an annual Breast Cancer Research Foundation New York Symposium and Awards Luncheon in 2017.
She's still cancer-free today, but Kotb has since opened up about her fertility struggles following her breast cancer battle.
"I remember that my oncologist called, and we were talking about freezing my eggs," Kotb told Good Housekeeping in April. "She basically said that given my age and (my breast cancer treatment), it was pretty close to a dead-end."
Her reaction was, understandably, filled with sorrow. And at that moment, she doubted she'd ever realize her dream of becoming a mother.
"I was in my room, and I just sobbed. I thought, 'Well, that's that, isn't it?'" Kotb said. "Like, you almost blame yourself. 'Why didn't I do this? Why didn't I do that?' So I just pushed it away because the reality seemed impossible to bear.
"How do you survive knowing you can't have what you desire and what you feel like you actually physically need?"
'I Was Just Falling Through Darkness' Giuliana Rancic Opens Up About Her Breast Cancer Journey 
Kotb's Singlehood & Supportive Partners Through Cancer
Kotb is newly single, after ending her relationship earlier this year. Hoda and her ex-fiancé, financier Joel Schiffman, 64, announced their split in January after eight years together.
The couple now amicably co-parent their two girls Haley, 5, and Hope, 3, whom they adopted when Hoda decided she still wanted to be a mother at 52 (after cancer threatened her fertility in her 40s). The TV personality has expressed that she is forever thankful for Joel for being there to help support her and make it happen.
Having a supportive partner or spouse through a cancer battle can help. In an earlier interview, actress and melanoma survivor Jill Kargman candidly expresses how she believes that cancer can be a litmus test for the strength of a relationship.
She says, "I think cancer is a great way to find out if you're with the love of your life or a shithead. I think it presses the fast forward button on getting to the bottom of that answer, because a lot of people in middle age are kind of at a crossroads, waiting for their kids to fly the coop."
Kargman continues, "And I think if you're with someone who is not supportive and kind of emotionally checked out or doesn't tell you you're still beautiful with that, this might not be your person."
Jill Kargman on Relationships and Cancer
Learn more about SurvivorNet's rigorous medical review process.