In 2011, effervescent "E! News" host Giuliana Rancic, then 36, was looking forward to starting a  family with her husband Bill Rancic, and, as always, working hard. As the show's bubbly, ubiquitous presence on every red carpet event from the Oscars and the Academy Awards to the Golden Globes — where she'll be again on Sunday —  she was, and is, as well known as the big stars in Hollywood she interviewed.
And then, out nowhere, she was diagnosed with breast cancer. "It felt like the ground had been just pulled from beneath me," she told SurvivorNet in an intimate sit-down interview about her cancer journey. "And I was just falling through darkness."
Read More
RELATED: Giuliana & Bill Rancic Discuss the C3 Prize — And the Future of Cancer Care
In the wide-ranging talk, Ranic, who now has a son, Duke, and has added author, fashion designer,  restaurateur and advocate — as founder of "Fab-U-Wish," an initiative that grants wishes to breast cancer survivors — to her long list of accomplishments, was open about her struggles. Grateful for the true partnership she has with her husband, she talked about a journey strikingly familiar to all women with the disease, from grappling with body image issues — Rancic underwent a double mastectomy — to concerns about fertility.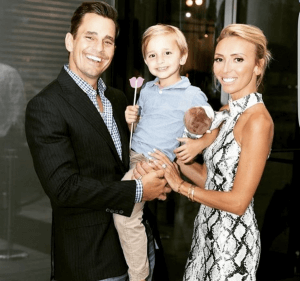 RELATED: Fertility Options for Women With Cancer
The diagnosis was almost impossible to take in, she said. "Hearing [my doctor] say, 'I'm so sorry, but you have breast cancer,' was awful," Rancic recalled. "I'm going, 'How did I get here? I was perfectly healthy, I had no family history of breast cancer.'"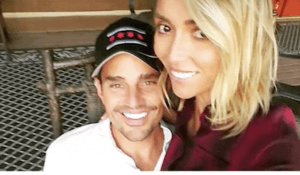 Rancic credits Bill's support as helping her every step of the way. "I didn't go through breast cancer on my own," Rancic said. "Bill was right there by my side. We went through it together."
And that included when she had to choose whether to have a double mastectomy.
As Bill explained himself when he joined us later in the conversation, he had at first assumed that she knew the double mastectomy wouldn't matter to him. "But you shouldn't [assume] that," he said. "We were at a really high stress point in the decision-making process, and I knew something was bothering her. I took a stab at it. I sat her down and I said, 'Honey, I don't care what you look like. I just need you around for the next 50 years … It doesn't matter what you look like, I want to grow old with you.'
"I could see her shoulders drop, and she started to breathe a little deeper, and I could tell, that was on her mind."
RELATED: Giuliana Rancic Opens Up About Scars/Bruising After Breast Cancer Surgery — And How She's Learned to Stay Strong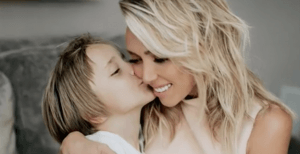 Rancic has had major surgery before — when she was a senior in college, she had surgery for scoliosis, she told SurvivorNet. "It was a big surgery … But looking back, it was one of the best decisions I've made in my life. So when I was going for breast cancer surgery, kind of the same things came up, I was scared, 'what am I doing' .. and I thought, 'You know what, this too shall pass. And you'll come out better and healthier and stronger than ever before. And I did."
Facing Fertility Issues
Of course there were many other things to consider as well. The Rancics had been seeing a fertility specialist before the diagnosis — the reason she found out about the cancer was her specialist had prescribed a mammogram — and certain cancer treatments can have an effect on fertility issues. And she was told, Rancic said, that the medicine she'd be getting would prevent her from getting pregnant for five years.
But in good news, they had an option: She had already had eggs fertilized due to starting in-vitro fertilization, and so, if they wanted, could use a surrogate.
View this post on Instagram
"I truly believe that this was all part of a bigger plan," she explained. "The 'why' was because I wasn't meant to be pregnant … I would have had this breast cancer that I wouldn't have known about … and I don't know where I would be today. It was actually a blessing that I got that mammogram at 36 years old.
Rancic, whose son is now 7, says she and Bill are hoping to grow their family in the future.
Learn more about SurvivorNet's rigorous medical review process.