From the moment of your diagnosis, you become a cancer survivor. You've heard that old saying before, but it's true. The likelihood of a lung cancer recurrence is highest in the first five years after your initial treatment. That's why your doctor will ask for regular follow-ups and carefully review your test results and any symptoms you may develop for the first several years. The longer you live without any traces of cancer, the less the chance of recurrence.
This article will tell you everything you need to know about lung cancer recurrence, symptoms you can recognize, the different types of recurrence, your treatment options, and how to prevent it.
What is lung cancer recurrence?
Read More
Simply put, cancer recurrence is when your cancer comes back from a state of remission after a considerable time of treatment. This recurrence can happen near the original tumor site or anywhere in the body. Usually, cancer coming back occurs within the first five years of treatment, but this doesn't mean it can't happen before or after this period.
In case the cancer is back within only one year, this is referred to as progression of cancer as opposed to recurrence.
"How much time do I have is always the question," said Dr. Ronald Natale, director of the Lung Cancer Clinical Research Program at the Samuel Oschin Comprehensive Cancer Institute, Cedars-Sinai Medical Center in Los Angeles."It's a question that every cancer specialist dodges to a certain extent.
"This is a life-changing process for people to have to go to a cancer specialist to get treatment that is maybe working in the beginning but they know is not going to work forever," he added.
Types of recurrence
The types of lung cancer recurrence are categorized according to where they appear, and they include the following:
Local recurrence: Cancer comes back in the same site or near the site of the original tumor in the lungs
Regional recurrence: Cancer reappears near the same site of the original tumor, usually in the lymph nodes
Distal recurrence: Cancer returns in far places that extend beyond the lungs like the bones, brain, or the liver
However, this shouldn't be confused with a 'secondary cancer' which can appear independently from the original cancer. Your doctor will probably perform a biopsy of the tumor and examine its cells under the microscope to determine whether this cancer is secondary cancer or a recurrence of initial cancer.
According to the American Cancer Society, lung cancer patients have a higher risk of developing these secondary cancers:
Another lung cancer of a different type than the original one
Laryngeal cancer (affecting the larynx, also known as the voice box)
Throat and mouth cancers
Esophageal cancer
Cancer of the pancreas
Bladder cancer
Acute myeloid leukemia (a type of cancer in the blood)
Thyroid cancer (affects the thyroid gland)
Causes
The reason behind cancer recurrence is due to some cancer cells that went undetected during the manifestation of the original cancer. After treatment, these cells can migrate to distal parts of the body until they begin to grow and become clinically detectable. Once these cells have grown big enough to be detected and they are found with either a physical examination, imaging, bloodwork, or biopsy it is called a recurrence.
Signs of recurrence
If cancer returns, it will mostly be in the metastatic state —which means it will have spread to other parts of your body— so the symptoms may vary depending on which organ it will affect. Below is a table with the most common signs and symptoms that you will most likely come across, according to the organ.
Table 1. Recurrence symptoms according to the affected organ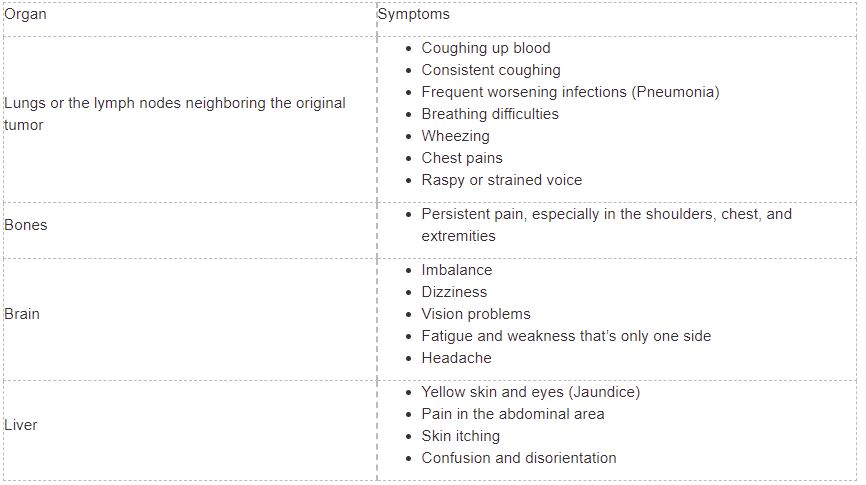 These symptoms may change depending on the organ affected, so there may be other warning signs that are not mentioned here. Additionally, these symptoms can also be associated with other normal symptoms of cancer like fatigue, extreme tiredness, and unexplained weight loss.
Seek immediate medical help if you're a cancer survivor and have experienced one or more of the previous signs and symptoms so that your doctor can perform the appropriate medical tests and figure out what's going on.
Treatment
The choice of your treatment will be influenced by many factors like the location of the tumor that came back, treatments that were initially given the first time around, your overall health condition, and the possibility of gene mutations within the cancer cell.
The decision largely lies within one or more of these treatments below that will be prescribed by your doctor to treat the recurrence, slow the growth of cancer cells, or at the very least manage your symptoms.
Chemotherapy: These are very powerful drugs that can kill cancer cells. However, your doctor may prescribe another type or a combination of two drugs as the cancer cells may have gained resistance the second time around, rendering it not as effective.
Targeted therapy: These drugs are extremely specific and accurate. They can bind to biomarkers —specific proteins— that can inhibit the growth, stop the spread, or kill cancer cells. Before these drugs are given, your doctor will order biomarker testing to identify which of these specific proteins are present and is causing the cancer.
Radiation therapy: This therapy uses high-energy beams of x-rays to kill and destroy cancer cells. The decision to undergo radiotherapy and the amount of radiation you will be subjected to will be taken by your doctor regarding your initial treatment.
Surgery: This is not the go-to option with recurrence; however, it may be useful in removing a localized tumor.
Immunotherapy: These drugs work with the immune system to recognize and fight off cancer cells. They have relatively long-term efficacy for cancer control, but unfortunately, they don't work with everyone.
Endobronchial therapy: This therapy is used when a tumor is lodged in the airway of the lungs causing insufferable symptoms like coughing and breathing problems. It uses a bronchoscopy —a tube with a light in the end— to remove the tumor. This can be suitable for patients who aren't able to undergo surgery.
Is there a chance you can beat lung cancer twice?
Well, why not? If you did it once — you can definitely do it again. Also, keep in mind that you're not doing this alone; many people are also doing this.
Your chances of survival or recurrence will mostly depend on many factors that will need to be accounted for by your doctor. We're not going to get into it here, but instead, we'll tell you that there's always hope of recovery, especially with scientific breakthroughs that are being established every day. So, keep fighting because at the end of the day, you're not considered a cancer patient, but you're a cancer survivor—one of many who are also doing the work.
And, as Dr. Ken Miller, Physician and director of outpatient oncology at the University of Maryland Greenbaum Cancer Center, says, "you're part of that very large group of 14 million cancer survivors."
Coping
Check out the following best practices and make remission your mission by preventing lung cancer from recurring and learning about tools that will help you cope with any diagnosis you might get and prepare you to live as a lung cancer survivor:
Maintain your follow-up with your doctor and never miss a session, whether it's follow-up diagnostic blood tests or imaging tests. Recurrent cancer is easier to treat when it is diagnosed earlier.
Always share your inquiries with your doctor about possible treatment side effects or any other questions that you may have; by staying informed, you're increasing your chances of staying in remission and early recovery.
If you're on a specific treatment, don't miss one dose. Always stay consistent.
Cut out all bad habits that can be a risk of cancer recurrence, like smoking. This was proven as the number one risk factor for lung cancer, either as primary or recurrent cancer.
Maintain a healthy diet and exercise regularly — there has been a lot of research linking food and physical activity with improved recovery and enhanced health.
The American Cancer Society also advises cancer survivors to consume vitamin D supplements and reduce the intake of beta carotene. Since there are no provisions or regulations on buying supplements like other drugs, you would be wise to consult your doctor first to prescribe what best fits your case.
Take care of your mental health and get emotional support from your family, friends, loved ones, or cancer support groups. Keeping a positive attitude and maintaining your mental health can go a long way in your recovery.
The Bottom Line
When someone has been diagnosed with lung cancer, the first and most important question is how likely is it that lung cancer will return? Lung cancer recurrence is not a death sentence, and you can live a long and full life after surviving recurrence.
By sharing all this information with you on the recurrence rate for lung cancer patients, we hope that you will be able to find comfort in knowing that even if your doctor has suggested the possibility of returning, this doesn't mean all doom and gloom.
After your remission, everyone has anxiety about the routine follow-up scans and tests. "Know the drill, follow the guidelines, and listen to your body" is the guidance from SurvivorNet medical advisors who specialize in taking care of people who've beaten lung cancer and want to keep it that way.
Learn more about SurvivorNet's rigorous medical review process.
---