Guide to Vaccine Sign-Up
People who want to sign up for a vaccine appointment can visit Vaccine Administration Management System (VAMS) on the Center for Disease Control and Prevention's website in order to look at available dates and times.
First you need to create and activate your account, and then search for a clinic near you; from there you can select the date and time of your appointment and you'll receive a confirmation code.
Make sure to get to your appointment early; slots will only be held for 10 minutes after the scheduled appointment.
While many of us may be eagerly awaiting our time to get the
COVID-19 vaccine
, figuring out how to sign up or register for it may be confusing to some. To help simplify this process, 
SurvivorNet
breaks it down in a step-by-step guide to help those with 
cancer
, and everyone else, understand what they need to know.
So far, the Food and Drug Administration (FDA) has approved two separate vaccines to prevent COVID-19: Phizer's and Moderna's. The vaccine has been administered in rounds, first for first-responders and healthcare workers, and now the public is able to sign up for their own appointment.
Read More
Related: I'm In Active Cancer Treatment – Can I Get the COVID-19 Vaccine?
This system connects with hospitals and clinics in order to help people schedule vaccine appointments or receive a record of vaccinations being given in their area. While it may sound simple enough, it's important to know all the steps in order to make sure you fill in everything correctly and get the vaccine as soon as possible. To do that, VAMS has supplied a user's manual.
Dr. Brieze Keeley Bell breaks down COVID-19 safety for cancer patients
Steps for Signing Up Online
Create and activate your VAMS account
After you've signed up for VAMS and have activated your account, there's some information you'll need to provide. This includes your personal/contact information, medical history, insurance information, and your organization/employment affiliation.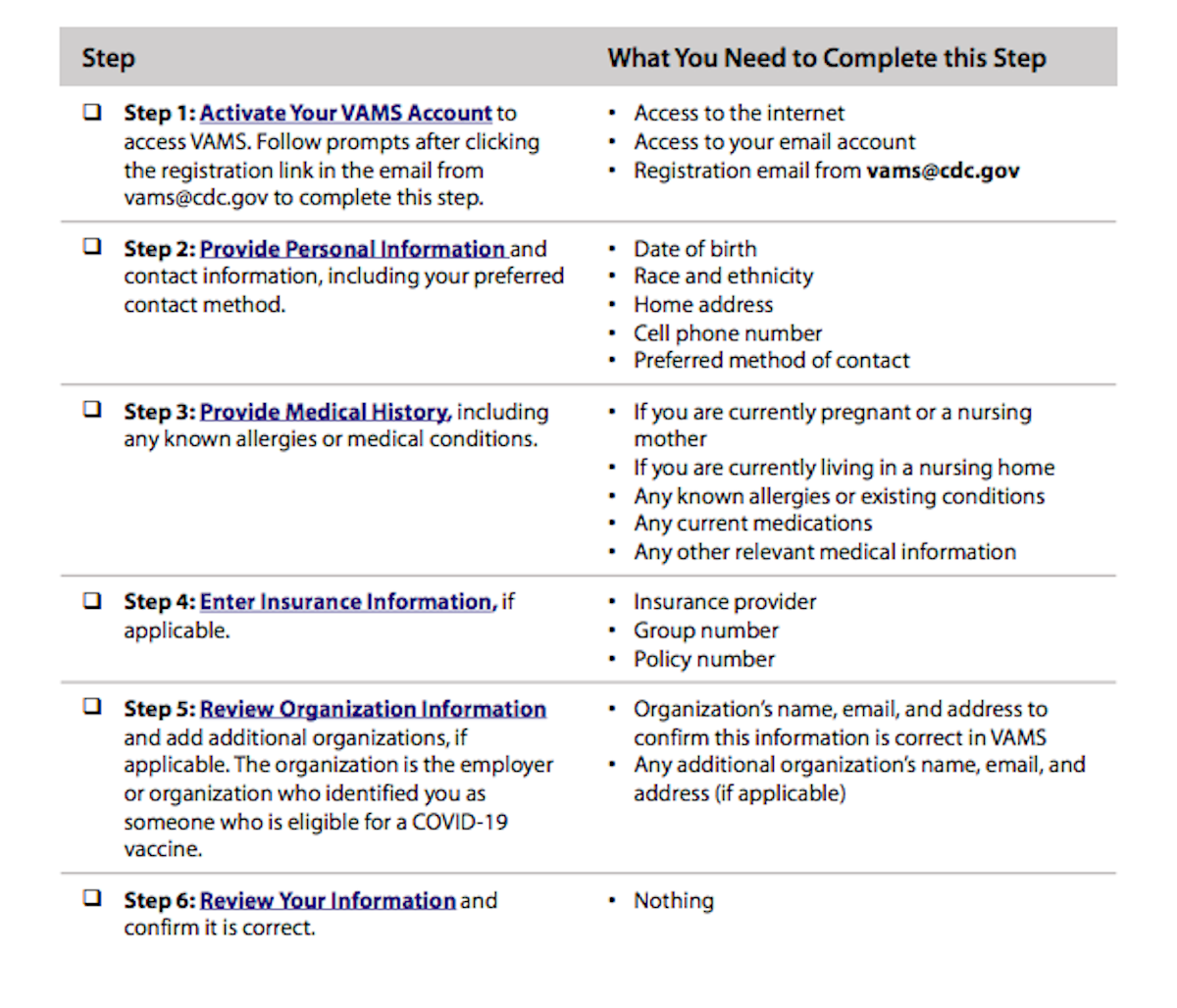 Schedule your vaccination appointment
Once your account is activated, you can go to the home page to see a tab labeled "my appointments" and click on the "schedule appointment" button. That'll direct you to the clinic location page, and once you plug in your zip code, you will be able to find clinics offering vaccination appointments near you. PRO TIP: filter results by 5, 10, or 20 miles away to get clinics closest to you. Once you see the clinic you prefer, click on it and then click the "next" button.
Related: Outrage Over Lack of COVID-19 Vaccines as People With Cancer Struggle to Get It: 3 Things to Try
Once you click "next," a calendar will appear. Click on the ideal day of your appointment and from there a chart will pop up showing available times during the day in blue (non-available times are in grey). Click on the time, and then click "next."
Once you click "next," click the submit button at the bottom of the screen. From there, you'll receive a code that you can present at the appointment.
If you ever need to reschedule your appointment, click "cancel appointment" on the page with your code. Only one appointment can be made at a time. Pro tip: make sure to get to your appointment early.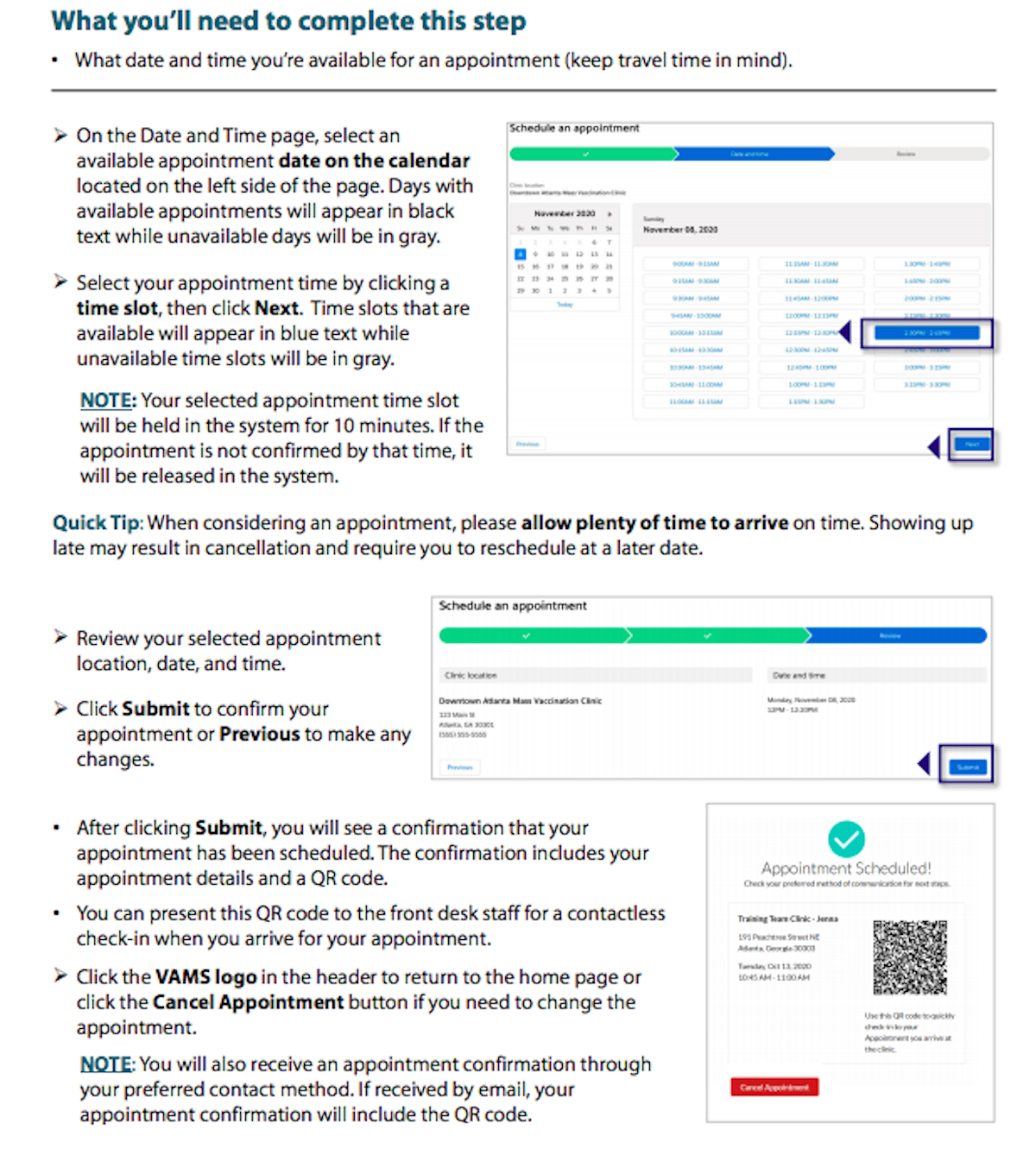 At the date and time of your appointment, present your appointment code to the front desk of the hospital/clinic. From there, get vaccinated!
Related: More Than 80% of Black Americans Say They Don't Trust COVID-19 Vaccine Safety; What Does That Mean for Those With Cancer?
Learn more about SurvivorNet's rigorous medical review process.