Meeting While Fighting AML
21-year-olds Molly Gorczyca and Ryan Smith met while they were both fighting Acute Myeloid Leukemia (AML) at nearby hospitals.
The two experienced similar symptoms of extreme fatigue, which led to their AML diagnosis.
Gorczyca and Smith both underwent bone marrow transplants, a stay in the ICU, and multiple rounds of chemo. They are both out of the hospital now and have been dating for 7 months.
In the face of illness we must find moments of joy — and for two 21-year-old's fighting Leukemia — that's just what happened. Molly Gorczyca and her boyfriend Ryan Smith share their story with
SurvivorNet; 
they caught our attention with a recent post to Twitter showing pictures under the heading: "How it started" and "How it's going."
Molly met her boyfriend Ryan while they were both undergoing treatment for the same type of cancer, Acute Myeloid Leukemia (AML). The New Jersey and Pennsylvania natives hit it off amidst chemo and transplant surgeries — because no one understands what you might be going through better than someone going through the same thing.
Read More
Related: Tik Tok Star Tia Stokes, 34, Contracts COVID-19 While Fighting Acute Myeloid Leukemia: 'Faith Over Fear'
Gorczyca shared a heartfelt Tweet about their origin story, writing: "How it started:" with an image of an early message exchange between her and Ryan, and "How it's going:" with adorable pictures of the pair now.
How it started: How it's going: pic.twitter.com/IRuMgBwCCA

— molly (@molly1gorczyca) October 13, 2020
Their Symptoms That Led to Diagnosis
Before getting their diagnosis, Molly and Ryan were each primarily focused on their respective sports. Molly played field hockey for Rowan University, and Ryan was on his basketball team at a difference college.
Molly tells SurvivorNet, "I did workouts in the spring. Was hanging out with my friends; we all lived on campus together, and were living the student-athlete life."
Acute Myeloid Leukemia (AML) — What Are The Symptoms?
But then things changed. Molly was diagnosed in April 2019 with Acute Myeloid Leukemia, after a few things began to feel different. "I was doing a lot of conditioning [for field hockey] because it was the off-season. I love to run and eat a lot. But I was having extreme fatigue. There were bruises all over my body and my spine, and I completely lost my appetite." Sensing something was up, Molly went to the doctor to get bloodwork done, and that's when she received her diagnosis. "You think: It's never going to happen to me, until it does," says Molly, of getting her cancer diagnosis.
Related: How To Recognize Symptoms Of Acute Myeloid Leukemia
Ryan had a similar experience, feeling extreme fatigue. "I was working 8-hours shifts, then I'd go workout for three and half hours. I noticed I was extremely fatigued and I couldn't perform as much as I wanted to in basketball." He also recalls being pale under his eyelids.
Ryan sought out expert advice; his doctor first thought it was an iron deficiency. "For me, it took a while to diagnosis it," says Ryan. "There were no signs of leukemia. After doing a bone marrow biopsy, that's how the doctors found it."
Treatment Stages
Following her AML diagnosis, Molly was immediately admitted to Children's Hospital Philadelphia for her first round of chemo and then spent over a week in the ICU. She had complications from the treatment. "I had bad lung problems after I finished chemo and had to be intubated," she says.
Related: Stem-Cell Transplants to Treat Acute Myeloid Leukemia: What You Need to Know Before, During, and After
After she left the ICU, she did four rounds of chemo; following each round she would go home to recover and then return to the hospital for another round. In her fourth round of treatment, she received a bone marrow transplant from her brother, who was a 100% match.
What Acute Myeloid Leukemia (AML) Patients Should Expect During A Bone Marrow Transplant
Following treatment, Molly stayed at the Philadelphia Ronald McDonald House, so that she could be close to the hospital if needed. (Later, after they started talking, Ryan came to see Molly at the Ronald McDonald House.)
Ryan also received a bone marrow transplant; his was from a donor. He did three rounds of chemo. "The second round was really taxing on my body, and I ended up in the ICU in late September 2019. I stayed there for three weeks. I did lots of rounds of chemo just to keep me in remission while they found a bone marrow transplant donor."
Both felt fortunate to not have their treatment be overly impacted by COVID-19. Ryan's bone marrow transplant was performed in April 2020; it was delayed two weeks but could have been worse.
How They Met
Molly reached out to Ryan after seeing a post on Facebook about an athlete her age fighting the same disease. Molly tells SurvivorNet, "We started chatting and became a support system for each other. And ended up going from there. He came and visited me last November when I was recovering at Ronald McDonald. After that, we started going to basketball games together, and we've been together 7 months now." And the rest is history.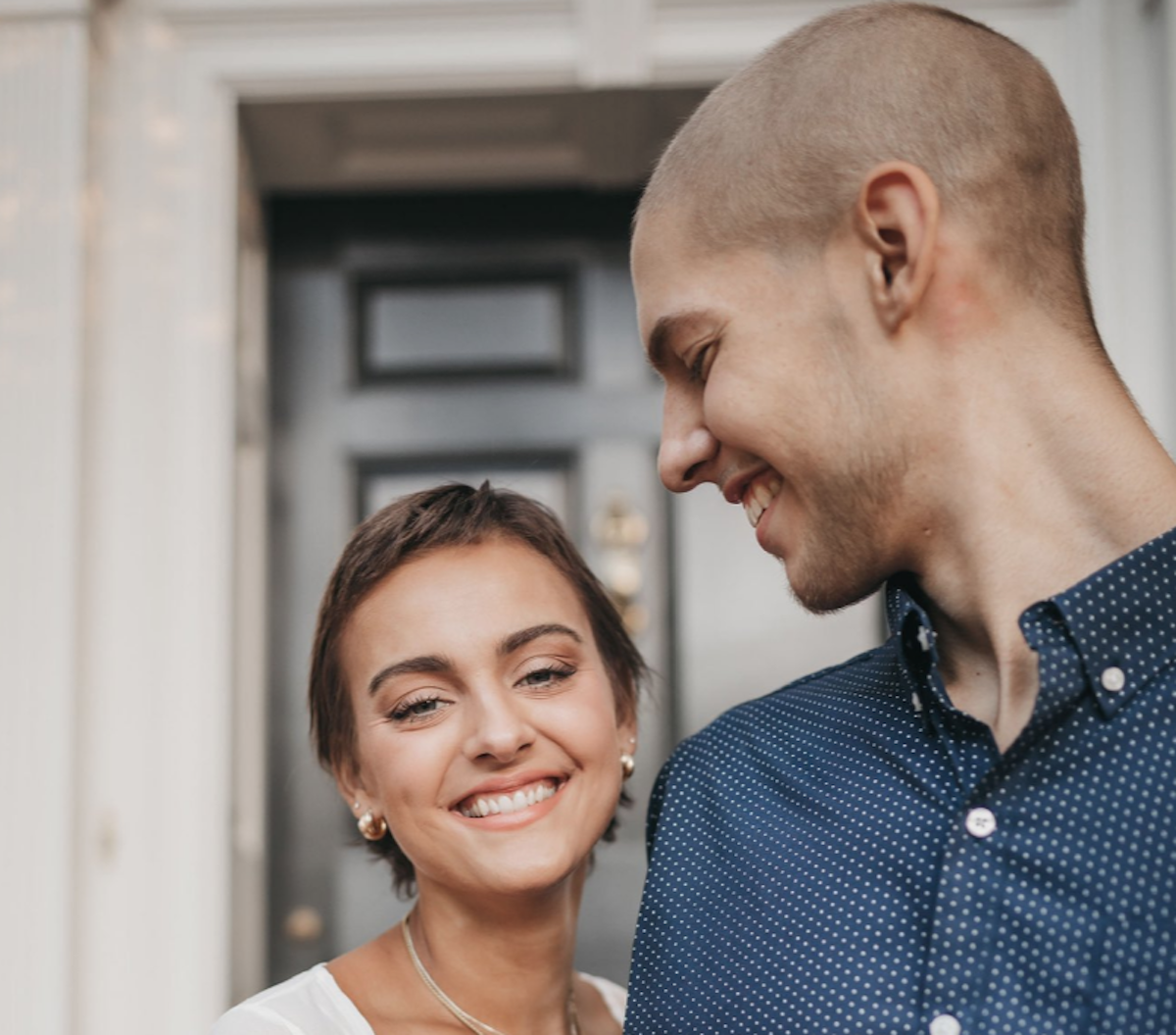 Support System
As you can imagine, the two have been a tremendous support for one another during treatment, and in remission. They're also fortunate to have the support of their families and their respective teams – field hockey, and basketball. Both Molly and Ryan credit their fellow athletes, as well as their coaches, with providing a huge amount of support to them while undergoing their fight against AML.
Related: Selma Blair, 48, Shares Birthday Message to Best Friend, Who Supported Her Through Chemo & MS, Has Important Message for Others Fighting Illness
Ryan calls his fight against cancer a "very humbling experience. Gives you a huge new perspective on life. There were many people in way worse situations than I was. I'm forever grateful for how blessed I am. And the cancer is a daily reminder: Whatever we go through, we can see it was a blessing."
The Benefit of Support Networks for Cancer Patients
Learn more about SurvivorNet's rigorous medical review process.