A cancer patient is waiting to learn when she can have the chemotherapy that is keeping her alive after being displaced by Hurricane Ida.
Christy Lorio, 41, was diagnosed with stage IV colorectal cancer in 2018 after suffering a seizure while studying abroad in Ireland.
Read More
The seizure was a result of the cancer having metastasized to Lorio's brain, and as part of her treatment she receives chemo every two weeks.
Lorio is now closing in on two months without her full chemo treatments though, having just returned home after a six-week sojourn in Sedona, Arizona.
During the time she did not receive the immunotherapy drug she takes with her chemotherapy after getting her doctor's permission.
The New Orleans-based writer and photographer was set to resume her treatments this week when a storm that had failed to draw much notice suddenly strengthened into a category 4 hurricane and took aim at Louisiana.
Lorio is now one of the many who finds herself facing an uncertain future as she is still unsure when residents will even be allowed to return to Louisiana, let alone when she will be able to get her next round of chemo.
"I'm a stage IV cancer patient, which means I'm on chemo for the rest of my life. And I have to get a chemotherapy drug called Avastin, every other week," explains  Lorio.
Further complicating the situation is the fact that it has been close to two months since Lorio last received chemo.
"I was in Arizona for six weeks this summer, and so I wasn't able to get my Avastin out there with my doctor approving you know taking a break from it so I can enjoy my life," Lorio tells Survivor Net. "And I really need to have this drug because it helps the chemo work."
Lorio had initially planned to stay in New Orleans and had her appointment initially rescheduled to Wednesday. She now has no idea when she might be able to make an appointment.
This would make most people justifiably hysterical, but Lorio is far too pragmatic.
"It's funny because I had a colonoscopy on Friday morning and then I was just really tired because I couldn't sleep the night before so it took like a five-hour nap during the day," she says "And in that five-hour nap the hurricane progressed into a category 3, category 4."
Lorio and her husband were on the fence up through Saturday morning, before eventually deciding to pack the car, grab the dog, and head out of harm's way.
"This is not my first rodeo. I evacuated from [Hurricane] Katrina 16 years ago, so I knew kind the drill," says Lorio. "So I brought my chemo pills with me, and because I'm supposed to start taking them on a Wednesday, so I was able to at least, you know, do that."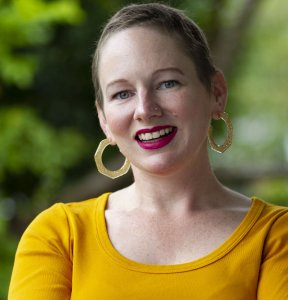 She was also hoping to have stitches removed this week from a skin biopsy after learning she had stage 0 melanoma, but that too will have to wait.
Lorio had been diagnosed with melanoma last year, and the biopsy was done to examine a susicious mole.
Instead, Lorio is concentrating on what she can control. After three nights in Birmingham, Alabama, she and her husband are getting ready to travel to Hattiesburg, Mississippi so they can be close to the Lousiana state border when the mandate banning entry is lifted.
The hurricane and evacuation coming as a COVID pandemic rages across the state only makes things more complicated, but as Lorio says: "I just have to live my life."
She is incredibly cautious about COVID she says, but did still manage to contract the virus in September.
"I was asymptomatic, and I didn't know. I did in hindsight have some symptoms, because I had gone on a two or three-mile run, and my body felt like I had just run a marathon," recalls Lorio.
She only discovered this months later when she contacted her survivorship doctor.
"I'm in menopause. I'm 41. I was diagnosed at 38. But I'm in menopause because of pelvic radiation so I said, 'Hey, should we do a bone density test? I'm feeling really fragile right now,'" says Lorio. "And turns out I had COVID. It showed up on a PET scan, with the ground glass."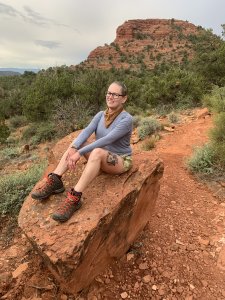 But it will take more than a stage IV diagnosis, canceled chemo appointments, or COVID to keep Lorio down.
"I'm definitely stage IV and, but I went hiking up 10,000 feet last year and this year I had a really difficult backpacking trip in the Grand Canyon, and so I'm fortunate that I'm healthy enough, besides the cancer, to be able to do these things, so I'm going to take advantage of that as long as I can," says Lorio.
"I literally don't know when I'm gonna die. I just have to live my life."
Learn more about SurvivorNet's rigorous medical review process.
---