Breast reconstruction after a single or double mastectomy involves personal decisions, time to consider what's available, and sometimes a good amount of patience.
"I think many women are trying to find their 'normal' after cancer, and our appearance is a big issue for many of us," says Jenna*, 35, who had double mastectomies when she was 34, following a breast cancer diagnosis.
Read More
One set of questions involves how to address nipple reconstruction, or whether to pursue it at all. Prosthetic nipples, which attach with adhesive and are made of silicone, can be a help while a woman is making her reconstruction choices—or can be  her final selection. Costs range from $25 for off-the-shelf styles to $200 or more for a custom-made set. Some insurance plans cover prosthetic nipples.
'I'm glad there are options to support us'
"My plastic surgeon suggested that I try prosthetics, as I was on the fence about having permanent reconstructed nipples," Jenna recalls. "I like that they are not permanent and that I did not have to have another surgery. I like the freedom to wear clothes that might work a little more easily without them."
When she does wear them, the prosthetics help Jenna to feel more confident. "I like them to the extent that they make me feel more 'like a woman' when I'm naked," she explains. "I think it helps with intimacy. I can be insecure about not having nipples, and they help me with that feeling."
In the end, Jenna opted against permanent nipple reconstruction and is happy to have the prosthetics available. "I'm glad there are options in many different forms to support us," she says.
Related: Dating Post-Mastectomy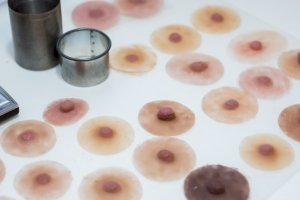 Emotional recovery
Prosthetic nipples are waterproof, and the medical adhesive used with them can usually last for about a week before needing to be reapplied. Depending in part on the frequency of wear, they can last for months or years before needing to be replaced. There are many types and brands to choose from.
Melissa Ackerman, an OB/GYN on faculty at St. Peters University Hospital in New Brunswick, NJ, and a breast cancer survivor herself, is heartened to see these choices expanding for women post-mastectomy.
"I can see why some women would choose prosthetics," she says. "One less surgical procedure, and they give options. There may be times when you want to have a smoother appearance without them, and then times when you might want them there. Having any sort of nipple gives a more complete reconstruction appearance—which can be important for emotional recovery, especially in the years immediately following the mastectomies."
Related: AnaOno Is Lingerie for—and Modeled by—Breast Cancer Survivors
'I feel sexy, but…'
Monica, 36, discovered prosthetic nipples essentially by accident, after her breast cancer diagnosis and mastectomies last year. "I was given some in a breast-cancer-survivor beauty bag," she says. "I like how they look under a lace or sheer bra. They give it a sexier look—but I'm not dependent on them to feel sexy."
In Monica's case, the prosthetics offered a chance to address an issue that had bothered her. "My natural nipples were always something I was a bit uncomfortable with," she says. "I didn't feel like they were the 'right' color or size to go with my body. After I had kids, they became darker and larger, and my insecurity grew. In my first meeting with the breast surgeon, I opened with, 'First things first, I hate my nipples. I do not want to save them.'"
"I'd spent a lot of time finding bras padded enough to hide my nipples," she continues, "so losing them wasn't traumatic for me—but I still felt odd being 'blank.' I kept thinking, 'I feel sexy, but does my husband find me sexy?'"
Monica's original plan was to get three-dimensional nipple tattoos, another reconstruction alternative.
"I was really looking forward to having control over what my tattooed nipples would look like," she says. "To be able to 'correct' something I'd always felt was wrong with me was exciting."
But now, she feels her reconstruction might be complete without them.
"Not having nipples at this point feels more natural to me than having them," she says. "And my husband doesn't care either way. I think we women sometimes worry too much about not seeming sexy. He still finds me attractive. I'm very back-and-forth on whether I'll get the tattoos."
Related: Julia Louis-Dreyfus Is Thriving Post-Mastectomy
These nipples…do what?
For Cynthia, now 58, prosthetic nipples were one stop on a long reconstruction road, after she had breast cancer and mastectomies at age 42.
"After my 13th breast-reconstruction surgery [due to small complications and the need for revisions], I was tired of looking at myself in the mirror and looking like Humpty Dumpty, still not all pieced back together," she remembers. "I decided to research prosthetic nipples online. I found a physician in South Florida who had created some in various skin tones, and I ordered them."
"The first time I tried them," she continues, "I finally felt that my reconstruction journey could soon be over. I felt like I was back in one piece again." Echoing Jenna's sentiments, she recalls that "I felt like a woman again. I could use these nipples whenever I needed to feel more feminine."
But here's where things took a somewhat unexpected turn. "The medical team that sold the nipples had a special—offering a free set of glow-in-the-dark nipples with a certain amount spent," Cynthia recalls. "Since I was not sure what skin tone would look best on me, I'd ordered several sets. When I opened the package with the glow-in-the-dark nipples—I fired them babies up that night! And they were fun. I wore them when I wanted to feel a little mischievous and spunky. And I got to surprise my husband in the bedroom."
In the end, Cynthia did opt for permanent nipple reconstruction—in a particularly creative way. "After my 14th surgery," Cynthia continues (yes, 14th!), "I felt like my reconstruction was finally complete, other than my nipples. I chose to have 3-d tattoos. Of course, being extra special like I am, I could not go with the norm. I chose to have daisy-shaped nipples. A woman named Renee, in Ft. Lauderdale, was my tattoo artist. She stated she never had anyone ask for that option, but she was more than happy to accommodate my wishes. She drew them on first with a Sharpie, and then we decided on the pattern and how many petals we wanted in our flower, and we were set to go."
Cynthia's lengthy reconstruction process had come to a successful, if unconventional, conclusion. "Now I have flowers all the time," she says, "and they make me happy."
*Survivor name changed for confidentiality
Learn more about SurvivorNet's rigorous medical review process.