Tarek El Moussa, the much-adored co-star of "Flip of Flop" on HGTV, is opening up about how his unique cancer journey has left him happy, healthy and rebuilt.
"I've absolutely changed a lot," the 37-year-old told Us Weekly. "How I think, how I feel, my mindset, my thoughts on things. I've completely rebuilt myself and it's a very, very good feeling."
Read More
Tarek, who hosts "Flip or Flop" with his now ex-wife Christine El Moussa, 35, first learned he had thyroid cancer in 2013, after a sharped eyed viewer who happened to be a registered nurse noticed a lump on his throat while watching him on television.
Six years later, Tarek now says he's beaten cancer and is moving forward, newly enriched, with his life.
"I had an opportunity in my life to experience some very, very traumatic days. From cancer and divorce, where divorce [from Christina] was debilitating to me," he told Us Weekly. "I know what real pain feels like, if that makes sense. Years ago before I knew what pain felt like, I look at it now and I'm [like], 'This is child's play, this is a walk in the park.' However bad things can be today, I compare them to how they were and I know it'll never be like that again."
Luckily for Tarek, thyroid cancer is generally considered to have a very good prognosis, with over a 99 percent survival rate (survival for 5 years after after diagnosis). The affected organ, the thyroid, is a butterfly-shaped gland at the bottom of the neck which produces hormones that help the body regulate some of its other functions — heart rate, blood pressure, body temperature and weight.
"It's not the greatest thing to have but it's extremely treatable," says Dr. Renee Moadel, Assistant Professor in the Department of Radiology (Nuclear Medicine) at Montefiore Hospital in New York City.  With this disease, she says, "you have your whole life ahead of you."
El Moussa's most recent social media posts reflect on the past few years, which have seen a lot of difficulties, including his illness. "What I've learned over the past few years is that happiness really heals you…it healed me☺️ I'm going to save this and make sure I remember to read it as often as possible," El Moussa recently wrote. The post itself reads "I hope that you become filled with so much happiness that it fills every part of you."
After El Moussa learned he was cancer free in 2016, he posted a photo with his then wife Christina. "Rough couple of years.. Today I Went in for another cancer screening and it was all clear! I remember the day we took this photo," he wrote.
In his new interview with Us Weekly, El Moussa discussed the difficult impact of his thyroid treatment. "I think it was November, December, January, I was not doing well. I was really sluggish, and slow, and cloudy, and brain fog," he explained. "I was feeling depressed, I was losing all my hair, so I finally went to my doctor. Somehow, my body wasn't accepting my thyroid medication. What happened was, I became super-hyper thyroid."
But he seems to be feeling healthy now. "My doctor, he told me no more tests and it's totally clear and I'm cancer free," El Moussa told Us. "So, that's some pretty good news. … I feel really, really great."
And overall, the hardest part of his current life is missing his former wife Christina, now that their marriage is sadly asunder. "My life's been going really well and everything's great, I'm super happy. The only thing missing in my life is a best friend and that's one thing I do miss about a relationship," he told Us. "I'm thinking about it, I'm hopeful about it. I'm not jumping in to anything. I feel like there's hope for me."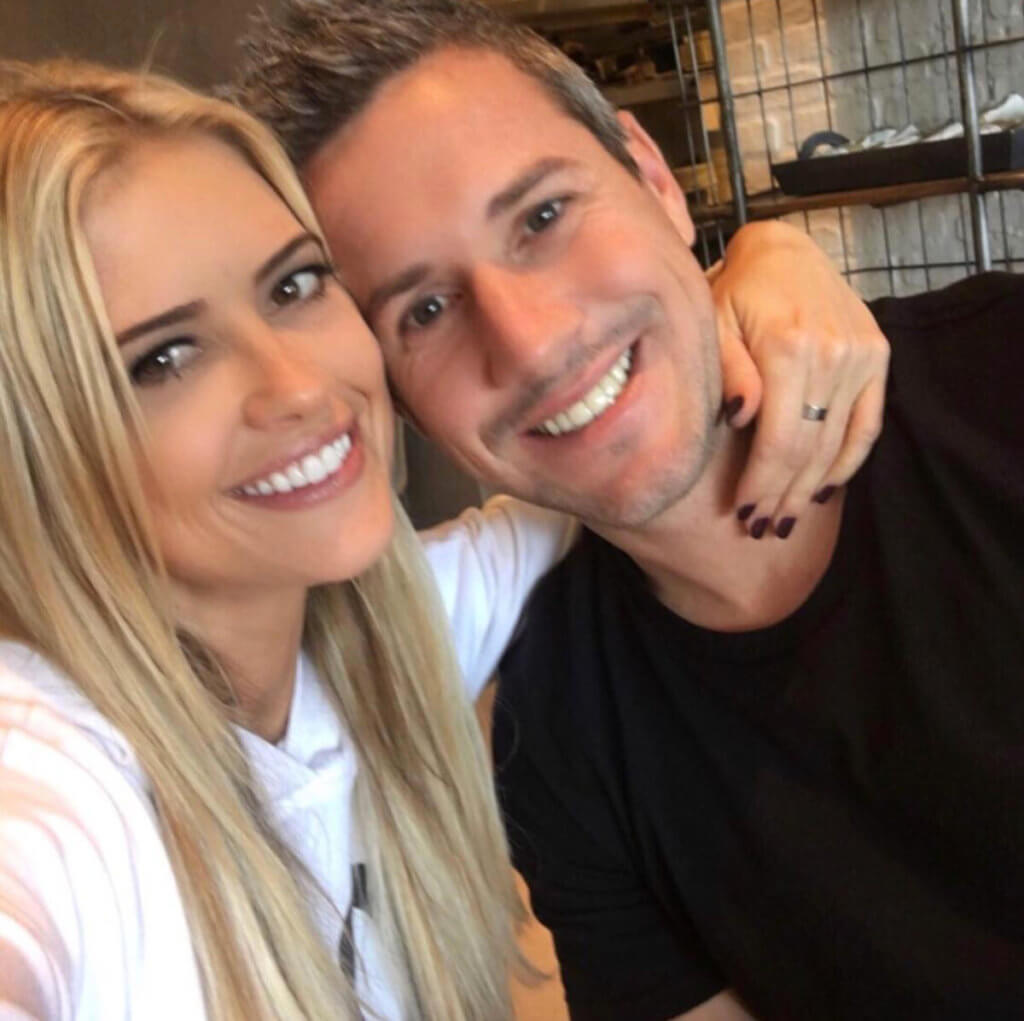 Christina El Moussa, 35, with new husband British TV star and divorced dad Ant Anstead, 40
Christina, for her part, has moved on, even though she still tapes "Flip or Flop" with her ex. Less than a year after her divorce with Tarek was finalized, she married the British television personality Ant Anstead, 40, a divorced dad who hosts a show about cars.
Tarek's definitely been getting in some quality time with his two children with Christina, Taylor, 9, and Braden, 4. That time, especially after cancer, has become especially meaningful. "For those of you that know my story and health struggles I can say standing tall and proud I'm the best version of "me" humanly possible. Now…the best thing I did was go home and take my kiddos to play at the park, you can see true love in their eyes and their huge smiles.❤️❤️❤️ life is short folks! Happy Monday!"
Aside from filming season 8 of Flip or Flop and beginning a decorating show, El Moussa says he is using Instagram to inspire his fans.  "I know what real pain feels like and I know what it feels like to be inspired," he noted. "I love helping and inspiring people because I know the feeling that you have when you feel good versus the feeling you have when you feel bad."
Learn more about SurvivorNet's rigorous medical review process.