For magician and illusionist Criss Angel, whose son Johnny Crisstopher's cancer relapsed earlier this year, presenting the Make-A-Wish Foundation's Magic Wand award this past weekend was profoundly personal.
"I was somebody who used to just work with children that were sick. Then I had a son who was diagnosed with pediatric cancer," Angel told Entertainment Tonight at his MINDFREAK show at Planet Hollywood Resort & Casino, where he gave out this year's Magic Wand Award. (The award reportedly is given to a volunteer who helps make wishes come true.)
Read More
"I understand, with a son who just had a relapse, what it's really like, moment by moment, and how difficult it is to look at your child who should be worrying about what toy they're playing with. Instead, they're worrying about treatment that's literally putting poison into their body," he told ET.
Johnny was first diagnosed at 2 years of age with acute lymphoblastic leukemia (ALL). After being in remission for a short time, his cancer has returned; he began treatment earlier this month.
"My son will be 8 years old when he's done and six years of his life, he has been doing chemo treatments. I am going through this now," Angel said.
The award, which Angel was given in 2016 in honor of the time and effort he spent making wishes come true for sick kids, was presented to Stephanie Driscoll, whose daughter Avery died in 2016 at age 12 of a tumor in her brain, according to 3 News Las Vegas. At the age of 9, Avery got her wish to go to Walt Disney World with her family. She became an ambassador for the Make-A-Wish Foundation.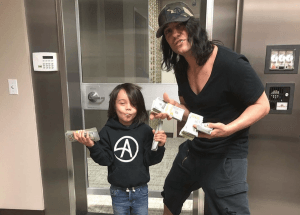 "Stephanie [Driscoll] has been a friend. Her family is beautiful and amazing," said Angel. "Her little daughter, Avery, was truly an angel. I had the honor of knowing her for years, seeing her when she was in remission, seeing her when she had relapsed. There is nothing more important in the world than these kids."
Throughout his son's treatment, Angel set a goal of raising $1 million for pediatric cancer research and treatment, and launched the Johnny Crisstopher Children's Charitable Foundation.
A charity event the magician held in September 2016 boasted a star-studded lineup and achieved Angel's fundraising goal of $1 million.
Information about Childhood Acute Lymphoblastic Leukemia
There are two main types of lymphoblastic leukemia: chronic and acute. While patients can live with chronic leukemia for a long time, acute leukemia can progress quickly, and if not treated, can be fatal within a few months.
Acute lymphoblastic leukemia (ALL) is a cancer that occurs when the bone marrow makes too much of a type of white blood cell called lymphocytes, according to the National Cancer Institute. However, it is the most common type of childhood cancer, and three out every four cases of childhood leukemia are diagnosed as acute.
Signs of childhood ALL include fever and bruising, and the disease can be detected using tests that examine the blood and bone marrow. Over time, there has been a lot of improvement in treatments for childhood leukemia.
There are several different approaches to treating the disease, and the treatment plan will depend on the type of ALL the child has. Chemotherapy, radiation, chemotherapy with a stem cell transplant, and targeted therapy are all considered standard treatment, according to the American Cancer Society.
Playing the Role of Cancer Caregiver During Childhood ALL
SurvivorNet has spoken with other parents whose children have cancer. Jane Wexler, for instance, whose son Justice is a survivor of ALL, previously told us that "being a caregiver is a huge job. … It's really hard to see your child going through this. … If it could be me, I'd take it in a second."
And she noted how much advocating and other work is needed. "There are a lot of components to dealing with cancer, so you don't have that much time for yourself," she said. "I try to stay strong but sometimes you just need to cry."
She also stressed the importance of just hanging out with her son and enjoying the time spent together. "I realize," she said, "that it's very precious."
Learn more about SurvivorNet's rigorous medical review process.
---