The idea behind immune checkpoint inhibitors originated from studying the mechanism of action of the immune system and the outcome of the failure in its processes that lead to diseases like autoimmune disorders.
Autoimmune diseases mean that the body is attacking its cells. Researchers developing cancer drugs are attempting to recreate that effect. But instead of the immune system attacking itself, it will be trained to attack the tumor or the malignant cells. This is what doctors are referring to when they talk about checkpoint inhibition.
What are checkpoint inhibitors?
Read More
Simply put,
checkpoint inhibitors
are a class of immunotherapy drugs that specifically target proteins found either on immune or cancer cells to prevent their binding together. The advent of checkpoint inhibitors in treating cancer is that it doesn't kill cancer cells directly, but it stimulates the immune system to find the cancer cells and attack them while hopefully not affecting other surrounding healthy cells. "Each doctor or clinician tends to have his or her favorite advances depending … on the field. If I had to choose broadly in oncology, I think there are three or four themes. One is the increasing role of immune checkpoint inhibitors,"
Dr. Wui-Jin Koh
, senior vice president and chief medical officer at the National Comprehensive Cancer Network, tells SurvivorNet.
How do checkpoint inhibitors work?
Checkpoint inhibitors work on the background knowledge that the immune system can protect our bodies by getting rid of any foreign cell that isn't produced in the body. It sets out to do this by identifying specific proteins (also known as checkpoint proteins) that are only found on normal cells; when it finds them, it binds to this cell to mark it as safe and leave it be.
However, sometimes cancer cells can trick the immune system by displaying these same proteins and bind to the immune cells, switch them off and start to divide and reproduce, which manifests in the onset of cancer.
Nevertheless, checkpoint inhibitors can help with this by specifically targeting these proteins found on normal or cancer cells to prevent this binding and keep the immune cells alert to any foreign cells to be able to find and stop cancer cells.
Which cancers are treated with immune checkpoint inhibitors?
So far, the United States Food and Drug Administration FDA has approved 9 checkpoint inhibitors to treat 12 types of cancers. These cancers include the following:
Lung cancer
Liver cancer
Bladder cancer
Breast cancer
Skin cancer
Cervical cancer
Colon and rectal cancer
Head and neck cancer
Kidney cancer
Stomach cancer
Hodgkin lymphoma
Types of immune checkpoint inhibitors
As of yet, there are three types of immune checkpoint inhibitors, and they all follow the same mechanism of action with a slight difference in the protein they will block to help boost the immune system to destroy cancer cells.
PD-L1 and PD-1 inhibitors
PD-L1 is a protein found on cancer cells while PD-1 is a protein found on normal cells. When they bind to each other, the immune system fails to recognize the cancer cell and switches off its defense mechanism marking the cancer cell as a normal cell.
Antibodies that target PD-L1 on cancer cells play a critical role in preventing the binding between normal and cancer cells (PD-L1 and PD-1) which activates the immune system (specifically T-cells) to recognize the cancer cell and stimulate an immune response.
CTLA-4 inhibitors
Similarly, CTLA-4 is an immune checkpoint found on T-cells, so by inhibiting the binding process, it switches on the immune system to find and attack cancer cells.
LAG-3 inhibitors
Moreover, LAG-3 is also an immune checkpoint found on immune cells that switches on the immune system by inhibiting its interaction with cancer cells. Relatlimab is the name of the checkpoint inhibitor that functions in this process. Currently, it has been validated for treating Melanoma skin cancer.
Table 1. Displaying several of the most commonly used drugs and the type of cancers they treat: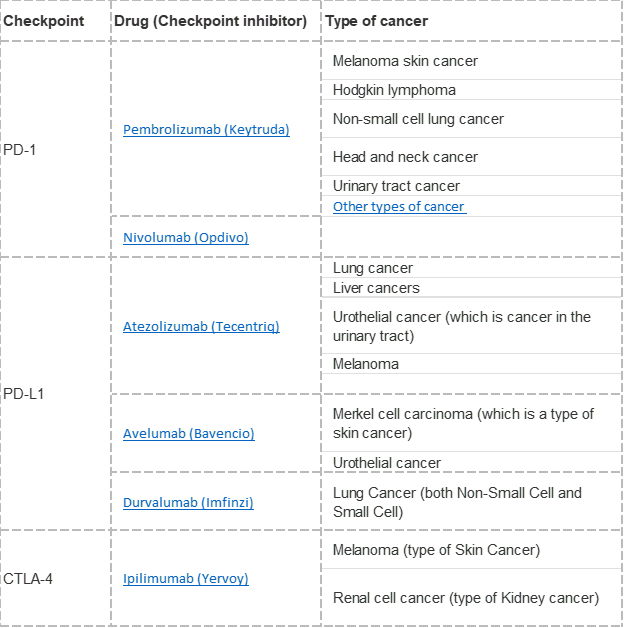 What are examples of immune checkpoint inhibitors?
Even though we're just scratching the surface when it comes to immune checkpoint inhibitors, it's no secret that it has revolutionized the way cancer treatment is approached. Up to now, these are the FDA-approved checkpoint inhibitor drugs and the type of cancer they target:
Table 1. Displaying several of the most commonly used drugs and the type of cancers they treat:
When might you have these drugs?
The choice of when and what drugs to have will be determined by your doctor depending on many aspects from your health condition to the results of your genetic code.
Dr. Scott Strome, Dean of the College of Medicine and Vice Chancellor for Health Affairs at the University of Tennessee Health Science Center says, "In order to know if you're a viable candidate for checkpoint inhibitors as a treatment for your later-stage cancer, check with your doctor."
Dr. Strome recommended that patients should first have their genetic code tested first by a healthcare professional before initiating treatment to determine the best treatment option available.
He also revealed that he had treated several Melanoma patients with checkpoint inhibitors and no traceback of the disease.
Pros and cons of immune checkpoint inhibitors
When it comes to immune checkpoint inhibitors, the potential is there, and there's no denying it. As much as this treatment option holds a new promise of treating cancer, there are some disadvantages associated with it.
Pros
Unlike traditional cytotoxic chemotherapy , immunotherapy has the potential to be less toxic and more targeted to cancer cells
The side effects are relatively well-tolerated and can be managed when caught early
When it works and the patient responds, it can have long lasting benefits
Cons
Sometimes the immune system can go into overdrive and overplays due to the treatment:
It's extremely costly
Not all patients respond to treatment and there's no way to know beforehand
less evidence on the long-term side effects and their impact on the patient's quality of life compared with more traditional therapies
Some side effects are long lasting and may not be reversible
Side effects of immune checkpoint inhibitors
The side effects of immune checkpoint inhibitors differ from patient to patient depending on many factors, these include:
The health state of the patient before starting the treatment
Type of checkpoint inhibitor
Dosage of checkpoint inhibitor
Other therapies used with the checkpoint inhibitor
Taking this into consideration, you can find below some of the side effects associated with checkpoint inhibitors immunotherapy:
Skin color changes, rashes, itchiness, inflammation
Fatigue, weakness, and tiredness
Diarrhea, constipation, and stomach pain
Coughing
Chest pains
Loss of appetite
Joint pain
Aching muscles
Dry cough and breathlessness
Infusion reactions (from the site of injecting the drugs)
Autoimmune reactions (where the body may attack other organs in the body because of overstimulating the immune cells, which causes other comorbidities, these health conditions can differ according to the organ affected)
Here are some of the rarer but more serious adverse effects that can happen:
Diabetes (due to inflamed pancreas)
Hepatitis (due to liver inflammation)
Inflamed heart muscle
Inflamed kidney or kidney failure
Changes in thyroid gland activity
Nervous system disorders like trouble breathing and numbness
Inflamed pituitary gland
Hence, it's pivotal to follow up with your healthcare provider, get regularly tested, and report any side effects immediately.
Who should be excluded from immune checkpoint inhibitor treatment?
Patients who have autoimmune disorders should have a discussion with their doctor regarding the risks and benefits of immunotherapy as this is usually considered a contraindication to treatment with checkpoint inhibitors. This is mainly because autoimmune patients get treated with immunosuppressants (a type of medication that suppresses the immune system to avoid having flare-ups). It can also make existing autoimmune conditions worse.
The idea behind immune checkpoint inhibitors is to stimulate the immune system to find and attack cancer cells. So, by giving autoimmune patients who also have cancer immune checkpoint inhibitor drugs, they will be more at risk of toxic adverse effects or boosting their disease symptoms that may end up attacking their healthy organs.
Nevertheless, all hope is not lost yet for autoimmune patients, as a new clinical trial sponsored by the National Cancer Institute (NCI) is in progress to find out the safety and efficacy of using immunotherapy on cancer patients with pre-existing autoimmune disorders.
The Bottom Line
The important thing to remember is immune checkpoint inhibitors are much more targeted in their approach. As a result, they tend to be more effective and have fewer side effects. Additionally, because they work with the body's natural defenses, they have the potential to be more durable and long-lasting than other types of cancer treatments. Whether immune checkpoint inhibitors are the right treatment option for you is a decision that should be made by you and your healthcare provider. However, it is important to remember that these treatments hold great promise for many people with cancer.
Learn more about SurvivorNet's rigorous medical review process.
---