Listening to Marcia Cross talk about anal cancer, you wonder why taboos still exist for cancer survivors. With a few words and a story about surviving a disease many people have never heard of, this remarkable woman manages to remove the shame around getting sick, and instantly invite cancer survivors of all types into a better way of talking about their experiences.
In an interview with SurvivorNet, the 57-year-old actor, perhaps best known for her role on ABC's hit show "Desperate Housewives," says that even though she's beaten cancer, she's not sure some of the fear around the disease will ever go away.
Marcia Cross on the Impact Cancer Had on Her Marriage
Marcia Cross discusses the impact cancer has had on her family life.
Read More
By speaking out publicly, Cross has become a powerful advocate for greater awareness of anal cancer and the risk of HPV.  She is determined to help remove the stigma around the disease.
Cross' experience, as you would expect, has had a profound effect on her life. She tells SurvivorNet that it taught her to cherish the important moments, no matter how small Cancer, she says, also affected her family life, especially since her husband, Tom Mahoney, had previously faced his own cancer battle.
Cross' diagnosis came about a decade after her husband was diagnosed with throat cancer, and the actor said both cancers were linked to the human pappilomavirus (HPV).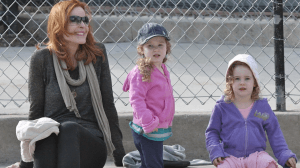 "I had never heard of HPV until my husband [was diagnosed]," Cross tells SurvivorNet. "We probably both carried it for most of our lives."
HPV is a sexually transmitted infection, and certain strains of it can lead to several different cancers — including throat and anal cancer. The most common cancer associated with HPV is cervical cancer. The HPV vaccine, which hit the market in 2006, is extremely effective at protecting people from the strains of HPV that can lead to cancer, and is now being recommended for children before they hit their teen years. Still, many people are unaware of the risks associated with HPV.
Cross points out that HPV awareness is a relatively new phenomenon — and many people around her age don't know carrying it can increase their cancer risk.
"There's just a vast vacuum of lack of knowledge about HPV and how it spreads, how we carry it, what happens to it when you have it. … I feel like most of the people my age, [or a] couple generations younger, couple generations older, have never heard of it," she says.
RELATED: Don't be Swayed by Myths: The HPV Vaccine Is Safe
That's why Cross is dedicated to spreading awareness about HPV and its link to cancer. She was very open with fans on social media as she recovered from treatment, sharing updates about things like hair loss and getting her strength back. Through her candor about her cancer experience and her work advocating for anal cancer awareness, the actress is hoping to help remove the taboo regarding the disease.
"For some reason this is our last taboo," Cross says. "Our last body part that we just haven't talked about and now I'm going the other way. I really think that people should revere their anuses because you can lose a breast, you can lose a kidney … but we have one beautiful anus and you want it to be healthy."
RELATED: 'If I Had Breast Cancer, You Wouldn't Hear from Me': Marcia Cross Opens Up about Her Anal Cancer Battle
Cross credits a persistent doctor with catching her cancer early, and urges others to be vigilant about cancer screening.
"It's vitally important that every gynecologist give their patients digital rectal exams," Cross says. "It's life or death, so you put on your big girl underpants and you get over it and you get to [doing] what you've got to do."
HPV Can Cause Cancer in Men too
Learn more about SurvivorNet's rigorous medical review process.