Actor Marcia Cross, a star of the ABC hit series "Desperate Housewives," and her husband, Tom Mahoney, have shared an unusual journey, one filled with the stress of not one, but two cancer diagnoses. But they have come through it, Cross tells SurvivorNet in an exclusive interview, thanks to the love and mutual support that's been a hallmark of their marriage.
"Dealing with cancer in a marriage, it's complicated. It takes a lot of patience and love," Cross says.
Read More
Mahoney, now 61, was diagnosed with throat cancer about a decade ago. And when Cross was diagnosed with anal cancer in 2018, it brought up some complicated feelings for both them and their family.
RELATED: Actress Marcia Cross Says She's Lucky to Have Beaten Cancer, but that Feeling of Safety Is Gone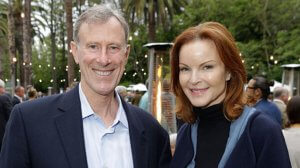 Getting Through Cancer — Together
Cross says her diagnosis, which came out of the blue, naturally created a great deal of anxiety and stress, and not just in her marriage.
"I have the most wonderful daughters," Cross tells SurvivorNet, "but their initial reactions were anger. You don't know how to process it, it's bad news. Eventually they were so loving and supportive of course, but in the first moment … you're not supposed to be that person, you're the mother! You're not supposed to be sick."
And of course, she says, "we had a history with cancer, so it brings up more trauma."
As for her relationship with her husband, Cross says that during her cancer journey she wasn't always aware of how her struggle impacted him. Mahoney, she says, was amazing — there for her when she needed him, and an all-around great caregiver. But she didn't consider the emotions that would resurface for him.
"My husband … he's a do-er, probably like most men," Cross says. "He took care of those kids. He was fantastic. When I needed him, I would say, 'I need you now.' My husband had already been traumatized and then he was around me going through it, and it didn't even occur to me until a doctor said, 'You know, this might be bringing up a lot of feelings for your husband.' I was like, 'Oh!' Because, of course all I was thinking about was myself!"
"We're all people with pros and cons and weaknesses and strengths," she adds.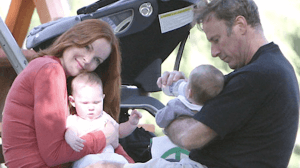 The Connection to HPV
Both Cross' anal cancer and Mahoney's throat cancer diagnoses were linked to HPV, Cross says, a sexually transmitted infection extremely common in the U.S., which can lead to several types of cancer.
Since being treated for the disease, Cross has become dedicated to spreading awareness about both HPV and taking the stigma away from having anal cancer. She points out that many people around her age are unaware that HPV can lead to cancer — which may lead to people forgoing necessary screening.
Marcia Cross' Survivor Story
Learn more about SurvivorNet's rigorous medical review process.