At the People v. Cancer conference, hosted by The Atlantic LIVE in collaboration with SurvivorNet, actor and cancer survivor Marcia Cross stepped-up her brave campaign to remove the stigma and shame around HPV and anal cancer. Cross, 57, is best known for playing the character Bree Van de Kamp on the hit ABC show "Desperate Housewives." She was treated for anal cancer and has become a powerful advocate in the last year.  At the event, she was also very forthright about her journey through cancer, advocacy, and parenthood. Even as a survivor and a parent, Cross said she did initially hesitate before ultimately having her twin daughters, Savannah and Eden, now 12, get vaccinated for HPV.
"I definitely grappled with fear about the HPV vaccine [for my daughters]," Cross, who was diagnosed with anal cancer two years ago, said before a large crowd of attendees, emphasizing that while she knows the vaccine helps prevent the strains of the virus that can cause cervical, anal, testicular, oral and other cancers — concern and fear of the unknown are part and parcel of being a parent.
Read More
For some parents, the unfounded myths surrounding such vaccines as well as the stigma of associating young girls with sex can beat out the science. But cancer specialists tell SurvivorNet an established body of research has proven the vaccine to be extremely safe.
"It's easy to be of two minds about it," Cross said on stage.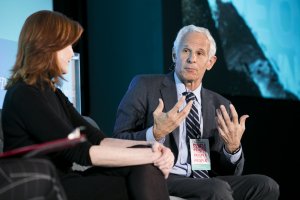 The sexually transmitted virus was the cause of Cross' anal cancer, and was likely the cause behind her husband Tom Mahoney's throat cancer, she has said. Both Mahoney and Cross are now cancer-free, and their daughters have received their first round of the vaccine.
It's Time We Cleared Up Some Misconceptions About HPV
Cross made a strong argument that people of all ages, not just teens and young adults, need to be aware of the health risks posed by HPV. Anal cancer is one of the disease that can be caused by the virus.
"We also need to look at the older populations and make sure that they don't fall through the cracks," she said.
"Pardon me," Cross added with a smile, after the audience chuckled at her choice of the word "crack."
RELATED: Marcia Cross' Anal Cancer: Why We Need to Stop Using Words Like "Taboo"
Cross was acknowledging those who reached the age of sexual maturity before the development of the vaccine, which hit the market in 2009 under the brand name Gardasil. The vaccine is recommended by many doctors for young men and women between the ages of 9 and 12 (before they reach sexual maturity).
"There are generations — my generation, the generation before me, maybe — that don't know about HPV," Cross continued. "And the reason that's a problem in my eyes is that HPV is on the rise in post-menopausal women, and that's precisely when they're backing off from Pap smears. So I think we need to educate that population that they need to get digital rectal exams, and they need to take their symptoms very seriously if they think they have a hemorrhoid."
Phenomenal day at The Atlantic's #PeoplevCancer.
It was an honor to be there.
xoxo m.❤️ https://t.co/pLZA7yXSUl

— Marcia Cross (@ReallyMarcia) November 13, 2019
At the same talk, Dr. Marshall Posner, director of Head and Neck Oncology at Mount Sinai's Tisch Cancer Institute, also emphasized that the vaccine was not just for the young: "I think it's reasonable to get it up through your seventies," he said.
Reversing the Stigma Surrounding Anal Cancer
Cross also discussed the stigma surrounding HPV-linked anal cancer — the reason, she said, that she was such a vocal advocate. "If I had had breast cancer, you would never have heard from me," she said with a small laugh. "I would have moved on with life because there are plenty of people talking about it."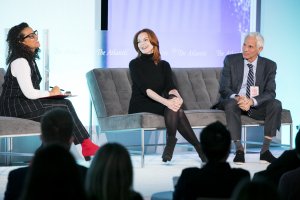 Post-diagnosis, she said, she'd gone online and learned that many diagnosed with anal cancer were "dealing with gobs of shame and lying about it." That's when Cross realized she wanted to use her celebrity status to reverse the stigma.
"In spite of the optics, I care deeply about saving lives," Cross told CNN in June. "To that end, the important thing to do is educate the public about HPV. It's so common that nearly every person who is sexually active will get it at some point in their lifetime."
HPV and Cancer Risk
According to the U.S. Centers for Disease Control and Prevention (CDC), HPV is the most common sexually transmitted infection in the country. Roughly 80 million Americans have it right now.
"HPV is ubiquitous," Justine Almada, executive director at the HPV and Anal Cancer Foundation, previously told SurvivorNet. "The primary risk factor for getting it is being a human being."
Most of the time, the infection goes away on its own and doesn't cause any symptoms. But other times, when a person contracts a specific "high-risk" strain of HPV, their body may have more difficulty shaking the virus, which can linger.

Dr. Jessica Geiger, a medical oncologist specializing in head and neck cancer at Cleveland Clinic Cancer Center, previously explained to SurvivorNet how the lingering virus can ultimately cause cancer: "Over time, meaning decades after we were first exposed, the virus gets into our DNA, and likes to settle in the tissues of the cervix or the back of the throat [or anus], and can ultimately cause changes that form cancer," she said.
Dr. Jessica Geiger of the Cleveland Clinic spoke with SurvivorNet about HPV-linked throat cancer.
Learn more about SurvivorNet's rigorous medical review process.
---