Heartburn Drug Recalls -- What You Need To Know
Last September, pharmaceutical companies voluntarily recalled the off-the-shelf heartburn drug Zantac (generic name: ranitidine) after it was found to contain low-levels of NDMA, a cancer-causing substance
Now, drug companies are pulling from shelves two versions of prescription ranitidine and prescription nizatidine capsules, used to treat ulcer and heartburn, due to their containing elevated amounts of the cancer-causing substance
However, there are other drugs that work similarly to Zantac and are believed to be safe alternatives, including Pepcid and Tagamet
A new round of recalls for generic Zantac medicines were announced by the U.S. Food and Drug Administration (FDA) due to concerns that they contain elevated amounts of a substance called N-Nitrosodimethylamine (NDMA), which the World Health Organization has deemed a "probable human carcinogen."
Two versions of ranitidine (best known by the brand name Zantac) as well as a drug called nizatidine have been taken off the shelves by their manufacturers after the FDA advised companies to recall their ranitidine if testing shows levels of NDMA above the acceptable daily intake. The agency posted the results of its testing of ranitidine samples and has asked companies to conduct their own laboratory testing.
Read More
Appco Pharma
LLC is voluntarily recalling prescription ranitidine hydrochloride capsules, while
Denton Pharma Inc.
 is voluntarily recalling  prescription ranitidine tablets (150 mg and 300 mg).
Ranitidine decreases the amount of acid created by the stomach, and is approved for the treatment of multiple illnesses, including ulcers and gastroesophageal reflux disease.
Additionally, drug company Mylan voluntarily recalled a drug used to treat ulcer and heartburn, prescription nizatidine (capsules) — brand name Axid — which was also found to contain traces of the same carcinogenic substance.
Zantac Pulled from Shelves
Late last summer, the FDA first warned that the common heartburn drug Zantac may contain traces of NDMA.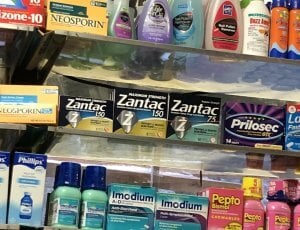 This resulted in Zantac being recalled by manufacturers. Major retailers also stopped sales on their versions of Zantac after the warning.
RELATED: Another Company Recalls Its Generic Zantac — What Should Heartburn Sufferers Take Instead?
The FDA did not directly call for people to stop taking Zantac or the generic version of the drug, but did advise people to speak to their doctors about taking some sort of alternative heartburn medication.
"Anyone with an existing inventory of the product should quarantine the recalled lot immediately," the FDA report said.
Heartburn Drugs and Cancer Risk
How much NDMA Zantac contains still remains unanswered. Data from the FDA hasn't quite matched up with data from other investigations, and the industry is still trying to come to a consensus. If the levels of the chemical in Zantac are as low as they are smoked meat and fish, the risk of taking an occasional Zantac would, accordingly, be the same as eating these foods every so often. Doctors are waiting for the final data to come out, but in the meantime, a lot of drugmakers have stopped selling Zantac (or their generic versions of it), figuring it's best not to risk it.
"In all my years treating patients, I have yet to see major side effects from Zantac," Dr. Koufman said. "But I'm not recommending it at this time until all the data comes in [to the FDA]."
Safe Alternatives to Zantac
When Zantac was recalled, SurvivorNet spoke with Dr. Jamie Koufman, one of the country's leading experts in acid reflux and heartburn, who said for now it's probably a good idea to switch to another heartburn drug if you take Zantac.
Fortunately, the other drugs that fall into the same "H2 Blocker" class as Zantac—including Tagamet and Pepcid—were tested by the FDA, too, and did not contain the carcinogenic chemicals, so Dr. Koufman said she's still recommending those.
RELATED: The Zantac Recall–Pepcid and Tagamet Are Good Options to Avoid Cancer Risk
But importantly, Dr. Koufman said she is not recommending drugs in the other class of heartburn drugs, proton pump inhibitors (or "PPIs"). These drugs include Prilosec, Prevacid, and Protonix (among others).
Learn more about SurvivorNet's rigorous medical review process.
---