Jane Fonda's Cancer Battles
Jane Fonda, 85, has been praised as a "hero" by a fellow actress and we can't help but think about how she maintained strength and optimism after battling breast cancer, non-Hodgkin's lymphoma, and skin cancer.
The actress and activist beat breast cancer in 2010 and skin cancer on her lip in 2018. She announced she was in remission from non-Hodgkin's lymphoma earlier this year.
According to various studies, it appears to be possible that Fonda's breast cancer treatment could have contributed to her blood cancer.
One study, published in the National Library of Medicine, states "Among women, breast cancer is the most prevalent type of cancer and the top cause of cancer deaths. Following chemotherapy or radiotherapy, patients with breast cancer are at greater risk of developing non-Hodgkin lymphoma, the most prevalent hematological cancer."
As Jane Fonda, 85, was recently praised as a "hero" by fellow actress Mariska Hargitay, we can't help but look back at the Oscar-winning star's brave battles with breast cancer and blood cancer. We're also curious as to whether or not her breast cancer treatment contributed to her blood cancer years later.
Fonda—who beat breast cancer in 2010, had skin cancer on her lip in 2018, and announced this year she'd now in remission after battling non-Hodgkin's lymphoma—stood by Hargitay as the 59-year-old "Law & Order: Special Victims Unit" star received the Sisterhood Is Powerful Award at the 2023 Women's Media Center Awards just last week.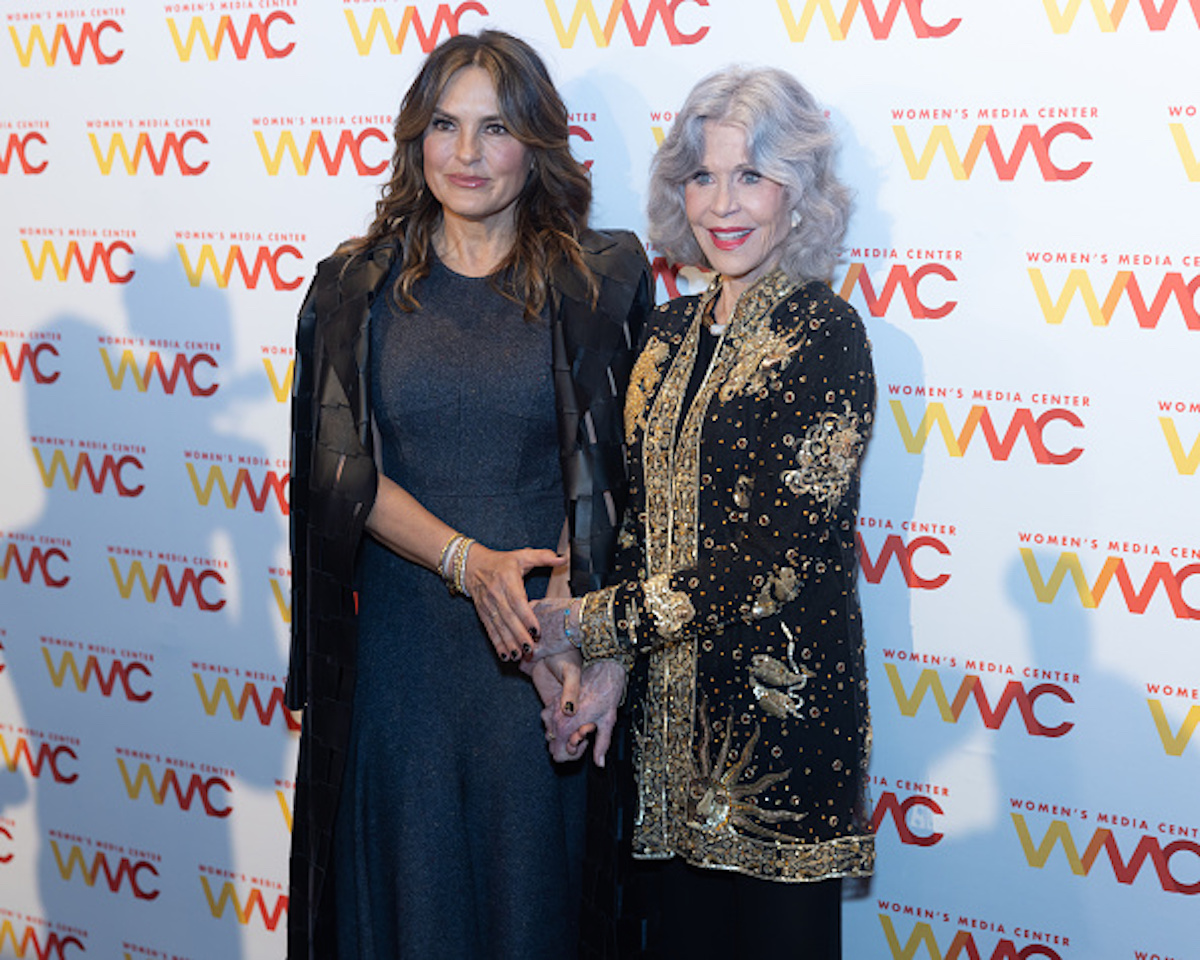 Read More
During Hargitay's award acceptance speech, she opened up about her late mom who would have been 90 this year and passed away when she was just three, according to
People.
Recounting how she stood by Fonda's side on the red carpet prior to the event, Hargitay said, "I met the magnificent Jane Fonda tonight, who obviously is one of my heroes and mentors. And as the photographers were standing in front of me, they said, 'Mariska, Jane. Mariska, Jane.'" Hargitay reportedly told Fonda amid her speech, "I thank you for that moment.
"And I thank you for being able to stand next to you. And I also feel that you invoked my mother here tonight. And I bring her in here, in this moment, because I think she would love this night."
The legendary Fonda is someone we can all look up to as she's maintained optimism and strength following her life-changing diagnoses.
Jane Fonda's Cancer Battles
Fonda announced in September 2022 that she had been diagnosed with non-Hodgkin lymphoma, a type of cancer of the immune system, also described as blood cancers of lymphocytes. However, it wasn't the actress' first bout with the cancer.
Non-Hodgkin Lymphoma: Learning More About Your Tumor
She faced breast cancer back in 2010 (and had a lumpectomy) and skin cancer removed from her lip in 2018.
In an emotional post announcing her most recent diagnosis, Fonda wrote that, "this is a very treatable cancer … so I feel very lucky."
View this post on Instagram
"I've been diagnosed with non-Hodgkin's Lymphoma and have started chemo treatments," she wrote. "This is a very treatable cancer. 80% of people survive, so I feel very lucky."
Fonda continued, "I'm also lucky because I have health insurance and access to the best doctors and treatments. I realize, and it's painful, that I am privileged in this.
RELATED: Non-Hodgkin Lymphoma: It's More Than Just One Type
"Almost every family in America has had to deal with cancer at one time or another and far too many don't have access to the quality health care I am receiving and this is not right. We also need to be talking much more not just about cures but about causes so we can eliminate them."
Fonda underwent chemotherapy for treatment. Though she handled her first treatments "quite well," her last two were "rough." Thankfully, doctors told her she was in remission in December 2022.
Meanwhile, the Academy Award winner revealed in 2010 that she experienced a breast cancer scare after doctors discovered a small, non-invasive tumor.
Fonda underwent a procedure at the time, and her representative declared her "cancer-free."
In 2016, Fonda had a mastectomy before the Golden Globe Awards.
Dr. Ann Partridge explains when women should consider a mastectomy during breast cancer treatment
However, Fonda's battle with cancer didn't stop there.
In 2018, while speaking to the "TODAY" show, Fonda addressed bandages on her face by explaining she had a cancer taken away from her lip.
"Well, the world is falling apart, what's a lip?" Fonda asked. "Yeah, they did (biopsy it.) I'm going to be fine, thanks."
Did Jane Fonda's Breast Cancer Treatment Contribute To Her Blood Cancer?
It's possible that Fonda's breast cancer treatment may have contributed to her blood cancer as, according to the National Cancer Institute's Division of Cancer Epidemiology & Genetics (DECG), secondary cancers arise in approximately one in five people who previously battled cancer.
"As the population of cancer survivors continues to grow, from 3.5 million in the 1970s to over 17 million today, there is a great need to understand the long-term health of this population," the cancer institute explains.
"Nearly one in five cancers diagnosed today occurs in an individual with a previous diagnosis of cancer, and these 'second cancers' are a leading cause of morbidity and mortality among cancer survivors. Research into the etiology, prevention, and treatment of second cancers has the potential to improve public health, guide clinical management of survivors, and provide further insight into the mechanisms of carcinogenesis."
Additionally, the institute states, "For decades, clinicians and epidemiologists have recognized that radiotherapy and certain chemotherapies may increase risk for developing a second cancer.
"DCEG investigators study groups of patients with a range of malignancies and varying treatment modalities. This helps to identify risks so that oncologists can refine treatment plans to deliver the most effective treatment dose with the least risk for future cancers."
Additionally, a study published in the National Library of Medicine states, "Among women, breast cancer is the most prevalent type of cancer and the top cause of cancer deaths. Following chemotherapy or radiotherapy, patients with breast cancer are at greater risk of developing non-Hodgkin lymphoma, the most prevalent hematological cancer.
"However, cases of synchronous breast cancer and lymphoma at the time of initial diagnosis have been documented, meaning that lymphoma is not always caused by therapy."
Another study, published in Frontiers of Oncology found an increased risk of secondary primary cancers among long-term breast cancer survivors.
Additionally, a 2019 study of people with breast cancer who were treated at Memorial Sloan Kettering suggests that "in some people, leukemia-causing gene mutations may be present in blood cells from the time that breast cancer is originally diagnosed, before chemotherapy is ever given."
According to the Memorial Sloan Kettering Cancer Center, approximately "70% of secondary acute leukemias occur in people who have been treated for breast cancer. (The rest are in people treated for other types of cancer, mostly other solid tumors.) Around 0.5% of people treated for breast cancer eventually develop a secondary leukemia, a type of blood cancer.
Leukemia is similar to lymphoma in that both cancers originate in the body's lymphocytes.
What is Lymphoma?
Lymphoma is a cancer of the immune system, which begins in a specific kind of white blood cell called a lymphocyte, located in the body's lymphatic system. It is one of about 100 different types of blood cancers that affect nearly 200,000 Americans every year.
In cases of lymphoma, the lymphocytes multiply and build up in the lymph nodes and other tissues, making it more difficult for your immune system to launch an effective attack against invading germs.
As a result, the body becomes more prone to infections and other illnesses.
The disease is broken up into two main categories: Hodgkin Lymphoma and non-Hodgkin Lymphoma.
Doctors make a determination by examining the white blood cells within the body.
If they are unable to detect the Reed-Sternberg cell (a giant cell derived from B lymphocytes), then it is classified as non-Hodgkin. If the cells are present, then it is classified as Hodgkin.
Non-Hodgkin Lymphoma Treatment: Finding the Right Fit for You
Contributing: SurvivorNet Staff
Learn more about SurvivorNet's rigorous medical review process.
---