Jane Fonda, 84, Praised As 'Indomitable' By Friend And Co-Star Lily Tomlin, 83 Over Cancer Fight
Actress Lily Tomlin praises co-star and friend Jane Fonda as 'Indomitable' amid cancer fight
Fonda, 84, revealed on Instagram back on September 2 that she had been undergoing chemotherapy treatments after a diagnosis of non-hodgkins lymphoma
The post from Fonda read 'This is a very treatable cancer. 80% of people survive, so I feel very lucky.'
Non-Hodgkin's lymphoma is a type of cancer that affects the body's immune system
Symptoms include swollen lymph nodes, abdominal and chest pain, fevers, fatigue and weight loss
Jane Fonda, 84, has a new description – "indomitable" — thanks to her friend and acting co-star Lily Tomlin, 83, who appears to be in awe of Jane's brave new battle over non-Hodgkins Lymphoma.
"She's very forthright and talkative about what's going on with her in all respects," Tomlin, told 'PEOPLE' magazine about her longtime pal at the 2022 Toronto International Film Festival.
Read More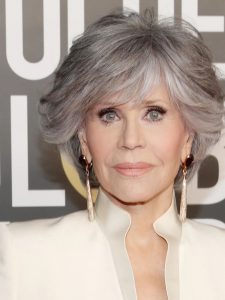 "And she's like, 'So are you gonna come to my next fundraiser?'" Tomlin joked. "That's her main objective."
On September 2, Fonda revealed on Instagram she had been undergoing chemotherapy treatments for six months already, and was optimistic about her prognosis.
View this post on Instagram
"This is a very treatable cancer. 80% of people survive, so I feel very lucky," she posted for her nearly two million followers, along with a selfie.
Tomlin says simply, that's Jane.
"First thing, she says, 'Don't worry, it's really treatable," Tomlin said of Fonda's public disclosure. "It's one of the most treatable forms that you could possibly have."
Fonda and Tomlin's friendship spans more than four decades since meeting in 1977 at Tomlin's one-woman show "Appearing Nitely."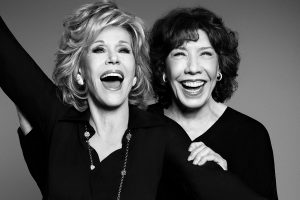 They then starred together in the hit women's liberation film "9 to 5" in 1980, followed by numerous other projects together, including Netflix's longest running series "Frankie and Grace."
"We both have been told by women who have faced terrible things that watching 'Grace and Frankie' has kept their head above water, given them hope," Fonda shared earlier this year about the Emmy-nominated show.
Meantime, the Daily Mail reported exclusively this week that Fonda was spotted out in public in Los Angeles looking casual but also wearing a mask for the first time since her cancer revelation.
She was seen sitting cross-legged in a pair of black slacks, a black jacket, and with a grey scarf thrown over her shoulders outside waiting at a car wash while her car was being cleaned.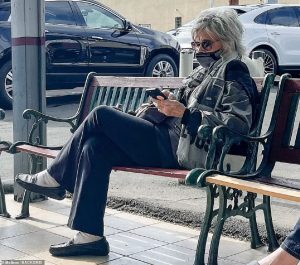 The thrice-married star, is a two-time Oscar winner, and was previously diagnosed with both breast and skin cancer, the latter of which she blamed on sunbathing.
Jane Fonda's Non-Hodgkin Lymphoma
Non-Hodgkin's lymphoma is a type of cancer that affects the body's immune system, with symptoms including swollen lymph nodes, abdominal and chest pain, fevers, fatigue and weight loss.
The cancer can occur at any age, but it's most common in people 60 and over, according to the Mayo Clinic.
As a result, the body becomes more prone to infections and other illnesses.
Related: Keytruda Extends Life for Those Fighting Hodgkin Lymphoma & It's Now FDA-Approved as Treatment
The disease is broken up into two main categories: Hodgkin Lymphoma and non-Hodgkin Lymphoma.
Doctors make a determination by examining the white blood cells within the body.
If they are unable to detect the Reed-Sternberg cell (a giant cell derived from B lymphocytes), then it is classified as non-Hodgkin. If the cells are present, then it is classified as Hodgkin.
In a lengthy post on her official blog, Fonda a shared a spirited update on her health.
"Today, about 3 weeks from my first chemo session, I must tell you that I feel stronger than I have in years," adding that she's "'deeply moved and uplifted by the expressions of love from fans."
Fonda has been open about the realities of getting older, admitting her "whole body hurts" because of osteoporosis, a condition that weakens bones, making them fragile and more likely to break.
"The fact that I hurt a lot – my body hurts – is a surprise to me, and it's not because of all that working out," she said in an earlier blog post.
"It's genetic. My father Henry had it, my brother Peter had it. Your cartilage disappears and then it's bone on bone, and then "ow," she wrote. "But we live in a time where you can just get a new one."
Jane Fonda's Other Cancer Battles
The Academy Award winner revealed in 2010 that she experienced a breast cancer scare after doctors discovered a small, non-invasive tumor. Fonda underwent a procedure at the time, and her representative declared her "cancer-free." In 2016, Fonda had a mastectomy before the Golden Globe Awards.
However, Fonda's battle with cancer didn't stop there. In 2018, while speaking to The Today Show, Fonda addressed bandages on her face by explaining she had a cancer taken away from her lip.
Related: Celebrities, Musicians and More We Loved and Lost to Cancer in 2019
"Well, the world is falling apart, what's a lip?" Fonda asked. "Yeah, they did (biopsy it.) I'm going to be fine, thanks."
In 2018 Fonda had a cancerous growth removed from her lower lip, which was likely basal-cell carcinoma (the most common form of skin cancer).
'I just had a cancer taken from my lip. I thought it was going to heal in time before I came before you, but it's fine. I just want to explain it. I don't normally go around like this.
Choose the Right Sunscreen and Use it Often
Learn more about SurvivorNet's rigorous medical review process.
---