Thriving after Lymphoma Treatment
Actor Jeff Bridges has had many a health battle over the last couple of years including his lymphoma, now in remission, and his intense experience with COVID-19.
But now his cancer is in remission, and he's readying himself for the premier of his new series The Old Man. We even have a sneak peak at what Bridges' character will look like with a new photo release from the series.
Lymphoma is a type of blood cancer. Early symptoms of the disease can be tricky to notice as they may include swollen lymph nodes, fatigue or unexplained weight loss.
Cancer will change your life, but we've seen survivors thrive time and time again. Ovarian cancer survivor Marecya Burton, for example, found her new passion after beating the disease. And breast cancer survivor Fernanda Savino says that cancer brought her a new appreciation for her relationships and her body.
Jeff Bridges is back in action. And now we have a sneak peak of the legendary actor's triumphant return to our TV screens following his lymphoma treatment.
Bridges, 72, is the star and executive producer of The Old Man – an FX show based on Thomas Perry's bestselling novel of the same name. He plays Dan Chase – a former member of the CIA who's now being hunted by an assassin (Gbenga Akinnagbe). And we can already tell from recently released pictures that Bridges will be playing a character that's rough and rugged as ever.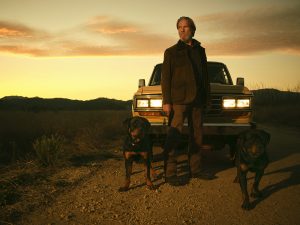 Read More
The cast will also include stars like John Lithgow, Amy Brenneman, Alia Shawkat, and E.J. Bonilla. The show is set to be released on
June 16, 2022
, with the first of its seven total episodes, but its premier has been a long time coming. Filming for the series shut down in March 2020 during the onset of the COVID-19 pandemic and once more down the road after Bridges' cancer diagnosis.
Jeff Bridges' Cancer Journey
Bridges broke the news of his cancer diagnosis in October 2020 via social media. He announced his lymphoma diagnosis saying, "I have a great team of doctors, and the prognosis is good." He also thanked his followers for their "prayers and well wishes" and threw in a friendly reminder to vote.
 

View this post on Instagram

 
He continued to inform fans about his health with various posts on social media and updates under the "Latest" tab on his website. And on Sept. 13, 2021, Bridges gave two very important updates.
"The 9" x 12" mass has shrunk down to the size of a marble," Bridges wrote announcing that his cancer was in remission.
RELATED: Actor Jeff Bridges, 71, Announces His Cancer Remission and a Recovery from COVID-19: 'The 9" x 12" Mass Has Shrunk Down to the Size of a Marble'
He also shared the news that he had a harrowing battle with COVID-19 that was, thankfully, "in the rear view mirror."
"Covid kicked my ass pretty good, but I'm double vaccinated & feeling much better now," he wrote.
In another entry posted that day that was originally written on March 28, 2021, he shared more details about his experience with the virus.
"On January 7th I get a letter, from the place where I"m getting my chemo infusion for the cancer. The letter tells me I may have been exposed to the COVID-19 virus at their joint," Bridges wrote. "Soon after, my wife Sue and I share an ambulance to the ICU. We both got the 'Rona."
He goes on to share that while his wife spent five days in the hospital, he was there for five weeks.
"The reason I'm there so long is because my immune system is shot from the chemo. My dance with Covid makes my cancer look like a piece of cake," Bridges wrote. "This brush with mortality has brought me a real gift… It's a matter of opening ourselves to receive the gift. We, (I) often want some other gift that life isn't giving us. I mean, who would want to get cancer & covid? Well… it turns out I would. I would, because I get to learn more about love, & learn things that I never would have if I never got it."
Most recently, during the virtual panel discussion on March 29, 2022, to promote The Old Man, Bridges shared that he was feeling "terrific" since beating lymphoma.
Understanding Jeff Bridges' Cancer: Lymphoma
Lymphoma – like leukemia, myeloma and myelodysplastic syndromes (MDS) – is a type of blood cancer. Blood cancers can affect the bone marrow, blood cells, lymph nodes and other parts of the lymphatic system. The Leukemia & Lymphoma Society reports that every 3 minutes, one person in the U.S. is diagnosed with a blood cancer.
More specifically, lymphoma is a cancer of the immune system that begins in the white blood cells called lymphocytes. Lymphoma begins when lymphocytes develop a genetic mutation that makes them multiply much faster than normal. This mutation also forces older cells that would normally die to stay alive. From there, the quickly multiplying lymphocytes collect and build up in your lymph nodes, the small glands in your neck, armpits, and other parts of your body.
What Kind of Lymphoma Do You Have? Why Your Type Matters
We don't know the specific type of lymphoma that Bridges had, but it's important to note there are more than 40 different types of the disease. Hodgkin lymphoma and non-Hodgkin lymphoma are the main two sub-categories with the latter being more common.
The type of white blood cells linked to the disease determines the distinction. If doctors are unable to detect the Reed-Sternberg cell – a giant cell derived from B lymphocytes – then the cancer is categorized as non-Hodgkin lymphoma.
You might be at a higher risk for lymphoma if you:
Have been infected with the HIV or Epstein-Barr virus
Had an organ transplant
Have a family history of lymphoma
Have been treated with radiation or chemotherapy drugs for cancer in the past
Have an autoimmune disease
Symptoms
One thing to note about lymphomas is this type of cancer often creeps in quietly, without symptoms. And even when symptoms do show up, they don't necessarily point directly to cancer. In a previous interview with SurvivorNet, Dr. Elise Chong, a medical oncologist at Penn Medicine, explained that lymphoma symptoms could be difficult to detect.
Sneaky Lymphoma Symptoms Often Lead to a Late Diagnosis
"The symptoms of lymphoma, especially if you have a low-grade lymphoma, often are no symptoms," Dr. Chong explained. "People say, but I feel completely fine, and that's very normal."
People with lymphoma do not always have symptoms, but common ones are:
Swollen glands in your neck, armpit or groin
Fever
Chills
Night sweats
Unexplained weight loss
Feeling tired
Swelling in your stomach
No matter what, it's important to communicate anything unusual happening to your body with your doctor. Even if there's nothing to worry about, it's good to rule out the possibility of more serious issues.
Thriving as a Cancer Survivor
A cancer diagnosis will change your life. But as we've seen in the case of Bridges, it is more than possible to thrive on the other side of your cancer journey.
Take Marecya Burton, for example. She was diagnosed with ovarian cancer at just 20 years old. Burton was a college student-athlete looking forward to graduation at the time, but all that had to change when she was forced to move home to start treatment.
Former College Cheerleader Reinvents Herself After Surviving Ovarian Cancer
"That was definitely challenging for me," Burton said in a previous interview with SurvivorNet. "I was looking forward to graduating."
She also had planned on pursuing a law degree after graduation – another dream she had to give up.
RELATED: 'Up in the Clouds': Model and Ovarian Cancer Survivor Ash Foo, 24, Is Seeing Her Dreams Come True as a Billboard of Her Now Stands in NYC
"I really had to, in a sense, put my life on hold," she said. "Sometimes I look at where I am, and I can't help but wonder, would I be further had I not had my diagnosis?"
But instead of law school, Burton found a new passion: teaching. She became a high school teacher in Baltimore, Maryland, and she's since made peace with her new direction in life.
"I wouldn't change my career for the world," she says. "It's so fulfilling."
Other survivors, like Fernanda Savino, have said that cancer gave them a whole new perspective on life – one that has allowed her to appreciate both her body and her relationships more than ever.
'Cancer Brought Me So Many Lessons' Says Survivor Fernanda Savino; It Can Change Your Perspective On Life
"I'm a lawyer, and I used to be such a workaholic," Fernanda previously told SurvivorNet. "I would work for long hours, and I would never make room for doctor appointments or anything like that.
"I started to take care of my health and be more respectful to my body, to me. I started to exercise more."
Like so many others, Fernanda also said she relied on a lot of support from her loved ones – something she'll always be grateful for.
"I had all the support … my family, my friends, even the ones that weren't so close, they always were present," she said. "I don't know how I would have gotten through all of this without them."
Learn more about SurvivorNet's rigorous medical review process.