Maria Farmer Battles Cancer and Epstein
Jeffrey Epstein survivor Maria Farmer is planning to write a book about her life while she is recovering from surgery in her ongoing battle with non-Hodgkin lymphoma.
Farmer was the first woman to report Epstein to the FBI after he allegedly assaulted her with Ghislaine Maxwell.
Farmer, 51, dealt with debilitating symptoms for years before doctors discovered a brain tumor and then cancer.
The first woman to report accused sex trafficker Jeffrey Epstein to law enforcement is writing a memoir while she recovers from recent surgeries related to her ongoing battle with
hodgkin's lymphoma
.
Maria Farmer, 51, tells SurvivorNet that her cancer battle will be part of the book, as will the years she spent trying to identify what was causing her so much pain.
Maria Farmer's Cancer Diagnosis
Read More
Farmer spent years trying to manage debilitating symptoms that would come and go at various times. She would be dizzy or at times lose her hearing, and always without any warning.
She eventually learned in early 2019 that she had a rare brain tumor. She underwent targeted radiation to treat the growth, and a few months later said that she felt relief for the first time in years.
That relief did not last long, however, and Farmer says that within days she was once again dealing with many of the same symptoms.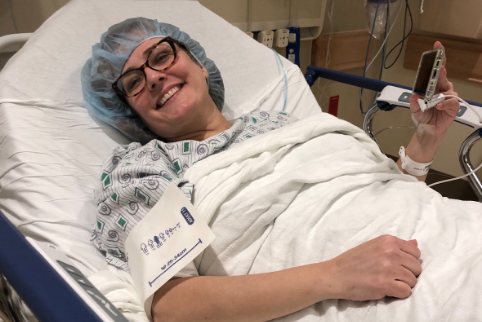 At a follow-up appointment, her doctor performed a scan, and found multiple masses in her mediastinal tissue. Biopsies were inconclusive so the masses were removed and Farmer set about recovering from surgery.
The masses then returned in early 2020, and soon after Farmer was diagnosed with hodgkin's lymphoma.
Her medical bills piling up, it was a fellow Epstein victim who stepped in to save the day before Farmer started chemotherapy.
Virginia Roberts created a GoFundMe page that raised $100,000 for Farmer. She got even more good news when she learned that Ghislaine Maxwell had been indicted as she was undergoing that first round of chemotherapy.
Speaking Out About Jeffrey Epstein and Ghislaine Maxwell
Farmer's memoir will cover her life, from her youth in Kentucky to her time at art school in New York City all the way through to her assault and then subsequent fallout she endured when she tried to report Epstein and Ghislaine Maxwell to authorities. (Epstein died by suicide in 2019 while he was awaiting trial on sex trafficking charges; Maxwell is currently in jail awaiting trial.)
Farmer says that the two ruined her career, threatened her life, and ultimately drove her out of New York. An attempt to reclaim her narrative in 2002 also fell apart after Vanity Fair editor Graydon Carter allegedly cut her allegations from an article about Epstein at the pedophile's request. He would later say it was because the reporting did not meet the magazine's standards for publication.
It was not just her word against Epstein's at the time either, as she spoke to reporter Vicky Ward alongside her mother and younger sister, Annie.
Annie was also one of Epstein's victims.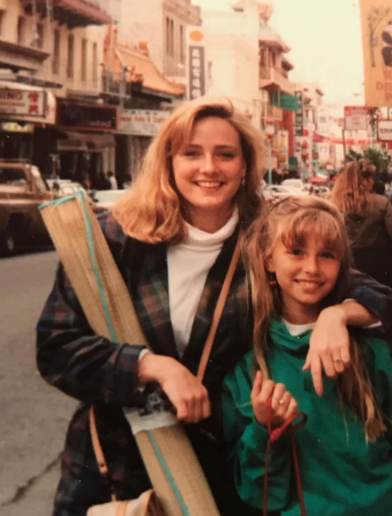 It would be almost 20 years until Farmer was heard from again, reemerging in 2019 to help support the claims of other Epstein survivors in court. That transition from artist to advocate was inspired by her cancer battle she says, recalling how once she learned about her brain tumor she became angry.
"I missed so much of my life. The art I never got to make, the parties I never go to attend, the husband and the kids and the wedding, it was all taken away from me I realized," says Farmer.
That clarity made her deeply upset at first she says, but then she knew what she had to do and filed an affidavit detailing her assault, breaking her silence more than 20 years after she was ignored by both law enforcement and the press.
She launched this public battle between hospital stays and time in her studio. Farmer would go on to create paintings that depicted Epstein and his enablers as reptiles.
Jeffrey Epstein Grooms, Assaults Farmer Sisters
Farmer had been working for Epstein for some time when the alleged assault took place.
It all began with a fateful meeting at her senior showcase in 1995 at the New York Academy of Art. Epstein allegedly used the event as a hunting ground for years, and on the night he met Farmer he told her that if she sold him a painting for half its asking price he would help her career.
Soon after, she found herself working for Epstein in a variety of positions, including as an art advisor and for a brief time manning the door at his New York City townhouse.
"I witnessed a number of school-age girls coming to the home, some of the young girls would be wearing their school uniforms. The girls would come into the NY mansion and then would be escorted upstairs," says Farmer.
She was then commissioned to make a painting for Epstein's friend Les Wexner, ad flew out to Ohio to work for the man. It was an exciting time for Maria, who had also been asked to submit artwork for the Oscar-winning film As Good As it Gets.
It was while she was in Ohio that the alleged assault took place.
"They asked me to come into a bedroom with them and then proceeded to sexually assault me against my will," explains Farmer, who recalls fleeing from the pair and barricading herself in a room while attempting to contact local law enforcement.
Farmer Reports Epstein and Maxwell
Unlike many of Epstein's victims, Farmer was not underage at the time. That did not change the fact that she had been assaulted, and upon returning to New York she decided to file a report.
"I went to the New York Sixth Precinct police department for help and they counseled me to contact the FBI to make a report about the assault in Ohio," says Farmer.
When she called the FBI though, no action was taken, despite her allegations that she had been transported to Ohio from New York, assaulted, and then held captive.
Instead, she claims that she watched in horror as Epstein and Maxwell remain unscathed and set about destroying her life and livelihood.
They called everyone from curators and gallery owners to buyers and other artists according to Farmer, while also taking a break to allegedly threaten her life. She was terrified and lived in fear that the two would find her, forcing her to constantly move until she finally just left New York City.
Epstein Targets Little Sister Annie
Things then got worse when she learned that he sister Annie, then still in high school, had also been assaulted by Epstein and Maxwell.
"Epstein took us to a movie in New York and during the movie he held my younger sister's hand and was rubbing her in a sexual manner without my knowledge," says Farmer, who did not learn about this until after she had filed her reports with law enforcement.
Epstein then called the girls' mother and said he would like to help Annie get into a program in Thailand. Soon after, while Farmer was in Ohio, Epstein flew Annie to his ranch in New Mexico.
"She was only 15 at the time and they directed her to take off all of her clothes and get on a massage table," recounts Farmer of what she was told by her sister.
The two then began to "inappropriately touch" Annie recalls Farmer of her sister's account. Annie was admitted into the program in Thailand soon after, and it was actually while there that she called her big sister to reveal what had happened at Epstein's ranch.
Annie would join her sister in 2003 for the Vanity Fair interview, an act of bravery that would not be revealed for another 17 years.
That story was never told though, like the stories of so many Epstein victims. But Farmer is ready to change that.
Farmer plans to lay low for the next two months before getting back to work as an advocate and now an author.
"Predators should be worried," says Farmer.
Grades of non-Hodgkin Lymphoma
Making the diagnosis of non-Hodgkin lymphoma is the first step in getting patients the right treatment,  but doctors still need more information before prescribing care. One important piece of knowledge doctors need is the grade of the cancer they're dealing with, meaning how quickly or slowly the cancer is likely to grow and spread.
Slow-growing cancer is called low-grade, or indolent. Faster-growing cancer is called high-grade, or aggressive. This information is part of the pathology report that your doctor will receive after you have a biopsy. "The pathology report is the most important part of the decision-making," Dr. Lawrence Piro, medical oncologist and president and CEO of the Angeles Clinic & Research Institute, said in a previous interview.
Low-Grade Lymphoma
Low-grade, or indolent lymphoma grows very slowly, and isn't likely to change dramatically. Under the microscope, these cells look a lot like normal cells. "You wouldn't expect to wake up one morning and suddenly find the disease has changed dramatically and is now really troubling you," says Dr. Piro.
People diagnosed with low grade lymphoma may have few symptoms, and rather than beginning immediate and aggressive treatment, they may be advised to have frequent visits with their doctor so their disease can be monitored.
"Some lymphomas are so low-grade that you don't even have to treat them; you can just observe them," says Dr. Piro. "It might be every several months, where the doctor examines you, palpates your lymph node, checks your weight, makes sure you're eating well, and checks to make sure the lymphoma isn't having any adverse effects on your body." As long as it isn't and things stay the same, you can continue to be monitored and observed, and may not need any treatment.
With low-grade lymphoma, explains Dr. Piro, doctors aren't really looking for a remission. "We're not really caring so much about whether every last lymphoma cell in your body is gone," he says. "Instead, we're looking to manage your survival." With low-grade lymphoma patients, doctors are more focused on making sure that the disease doesn't progress and that patients remain healthy.
At some point, low-grade lymphoma may change character and start growing more quickly, even morphing into a higher-grade lymphoma. For instance, lymph nodes may become larger and start looking more obvious or causing problems. "Or it might be you're losing weight, because the lymph nodes are so large in your abdomen that they're pressing on your stomach. Or you're having fevers and feeling ill. It can be many reasons," says Dr. Piro. At that point, patients may be re-categorized as having a higher grade lymphoma, and may need to begin treatment.
High-Grade Lymphoma
The cells of high-grade, or aggressive lymphoma look less like normal cells under the microscope. These faster-growing lymphomas often spread to lymph nodes and organs throughout the body, and they're more likely to cause symptoms and require immediate, intensive treatment. Fortunately many types of high-grade lymphoma respond very well to treatment.
Just as there are dozens of different kinds of non-Hodgkin lymphoma, there are also many types of treatment: chemotherapy, radiation, immunotherapy, stem cell transplants, etc. The specific type of therapy recommended for each patient depends on what type of lymphoma they have, what areas of their body are affected, and how quickly the lymphoma is growing and/or spreading.
"You may get an initial therapy that may work for many years," says Dr. Piro. "You may go into remission but then have a relapse years later. So then you start on another therapy." The idea is to create a therapeutic plan that extends survival for as long as possible. And, says Dr. Piro, "Often even high-grade lymphoma is curable."
One thing that can be confusing is the difference between grade and stage. Grade is a measure of the way a cancer grows and is obtained from the pathology report. Stage is where all the cancer has spread in the body and is determined from tests such as CT scans and PET scans. It is always helpful to ask your doctor to tell you the grade and the stage of your cancer to better understand what treatment options are right for you.
Learn more about SurvivorNet's rigorous medical review process.
---