Jeopardy! Champ Christine Whelchel Ready To Return
Jeopardy! champion and breast cancer survivor, Christine Whelchel, 37, is gearing up for game show return during Tournament of Champions
She shocked fans during her initial 'Jeopardy' winning streak when she appeared on the show without her usual wig.
Hair loss is a common side effect of cancer treatments like chemotherapy, a treatment for breast cancer.
Women ages 45 to 54 with an average risk of breast cancer should get mammograms annually.
Jeopardy! champ Christine Whelchel, 46, is ready to make a comeback after shocking fans of the show during her last appearance when she took off her wig on TV revealing her status as a breast cancer survivor.
Whelchel told the U.S. Sun newspaper she's "stronger than ever" ahead of the upcoming Tournament of Champions.
Read More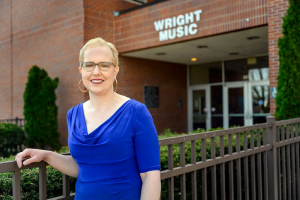 "I feel like I should be stronger physically, when I taped I was only three months out from chemotherapy," she said. "On Reddit, they've classified me as an underdog so I'd be happy to mess with everyone's fantasy bracket."
The four-day Jeopardy! contestant earned $73,600 during her initial winning streak last season, where she had two viral TV moments.
The first was accidentally under-wagering by $1 leading to one of the season's two rare tiebreakers.
The second moment was deciding to play without her long-haired wig, revealing a pixie cut instead.
"It just it made sense," she said. "It [the wig] didn't feel like me anymore."
Jennings remarked: "You might notice Christine looks a little different today."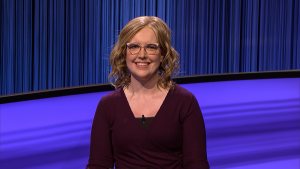 She told the alum-turned-host during the Q&A segment, "After the winnings, I decided that I didn't need to hide behind a wig anymore, and I wanted to normalize what cancer recovery looks like."
Related: Complete Guide to Wigs for Cancer Patients: Cost, Types and Where to Buy
One Twitter fan wrote at the time: "She is truly a fighter."
"Love this" wrote another.
Ken even remarked on Christine's last game "I have a feeling we won't be seeing the last of Christine Whelchel" – he was correct.
"It's not like I get recognized when I walk into Kroeger or something, but the people who are into jeopardy and know me are excited for me."
Whelchel compared the game to sport.
"Jeopardy is very much like NFL football, an 'any given Sunday' kind of thing – anyone who has gotten this far, its a case when anything can happen," she said.
That includes being called back again for the all-winners tournament hosted by host Ken Jennings, 48, who is splitting hosting duties permanently with actress Mayim Bialik, 46.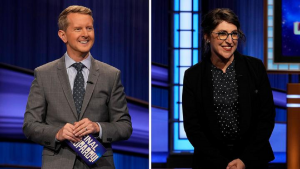 Both were tapped to fill-in as hosts for the show after the death of beloved, longtime host Alex Trebeck.
The tournament airs starting October 31st.
The tournament has taken place since 1964, spanning back to the Art Fleming era, who hosted for 20 years before Alex Trebek's treasured tenure starting in 1984.
Christine's Cancer Journey & Treatment
Whelchel learned she had breast cancer in March of 2021.
"One of the first things I did after being diagnosed was to take the 'Jeopardy!' test," she told Jennings with a smile, adding she even auditioned the night before her surgery.
Whelchel is now "cancer-free" though she has not revealed what kind of surgery she had.
It was likely either a mastectomy or a lumpectomy, which are common surgical treatments for cancer of the breast that involve the full removal of a breast or a lump from the breast, respectively.
A mastectomy is a type of treatment that involves the full or partial surgical removal of one or both breasts. A unilateral mastectomy refers to the removal of one breast. Some people may opt to have reconstructive surgery following a mastectomy.
In an earlier interview, Dr. Andrea Pusic, the chief of plastic surgery at Brigham and Women's Hospital, speaks with SurvivorNet about helping women feel good after they've been through breast cancer. "So I perform primarily reconstructive surgery on patients who've had breast cancer and perform their reconstruction," she says.
"So effectively when a woman has breast cancer, not all women need to have a mastectomy," explains Dr. Pusic. "But when the doctor does recommend a mastectomy, then a woman needs to understand her options for breast reconstruction. So the goal of that first meeting is to help her feel comfortable, to get to know our team, for us to get to know her, and then to start to lay out the options in a way that's easy to understand."
When Should You Consider a Mastectomy?
Screening for Cancer in the Breast
Mammograms are the screening tool for detecting breast cancer and early signs of cancer in the breast tissue. When it comes to breast cancer, mammograms save lives. Early detection is critically important and it can mean broader treatment options as well. Women ages 45 to 54 with an average risk of breast cancer should get mammograms annually.
For women with an elevated risk of breast cancer – this means they either have a history of breast cancer in the family, or they have the BRCA1 or BRCA2 gene mutation – they should begin screening even earlier, before age 45.
While getting a mammogram, ask about dense breasts, which may obscure cancer. The technician will be able to do determine whether or not you have dense breasts.
When Should I Get a Mammogram?
Learn more about SurvivorNet's rigorous medical review process.
---