Joan Collin is Living Fully After Her Sister's Passing
Legendary actress and author Dame Joan Collins was recently photographed in some glam pool-side photos.
Collins' sister Jackie Collins passed away approximately eight years ago, at age 77, after privately battling stage four breast cancer for six years. Their mother also battled the disease.
There are thousands of genes that can cause cancer risk. Some woman have a higher risk of developing breast cancer because of an inherited BRCA gene mutation.
BRCA is comprised of two genes BRCA1 and BRCA2, which work as tumor suppressors. When either of these genes is altered, damaged DNA cannot be repaired properly, leading to an increased risk of breast and ovarian cancers. There are several different genetic tests available to find out if you have the BRCA1 or BRCA2 gene mutation.
If you have been diagnosed with breast cancer in the past, or have a family history of this cancer, you should discuss the genetic aspects of the disease with your physician.
Legendary actress and author Dame Joan Collins, who rose to fame in her role as Alexis Carrington on the hit '80s drama TV series "Dynasty," appears to be thriving at 90 years old—as she was recently photographed in some glamorous pool-side photos, alongside with her stylist and friend Rene' Horsch in Provence, France.
We're happy to see Collins living life to the fullest after the loss of sister Jackie Collins, a beloved English romance novelist and actress, approximately eight years ago. Jackie passed away on September 19, 2015, at the age of 77 after privately battling stage four breast cancer for six years.
Read More
RELATED: Why Did Jackie Collins Ignore the Lump in Her Breast? Documentary 'Lady Boss' Sheds Light on the Best-Selling Author's Cancer Battle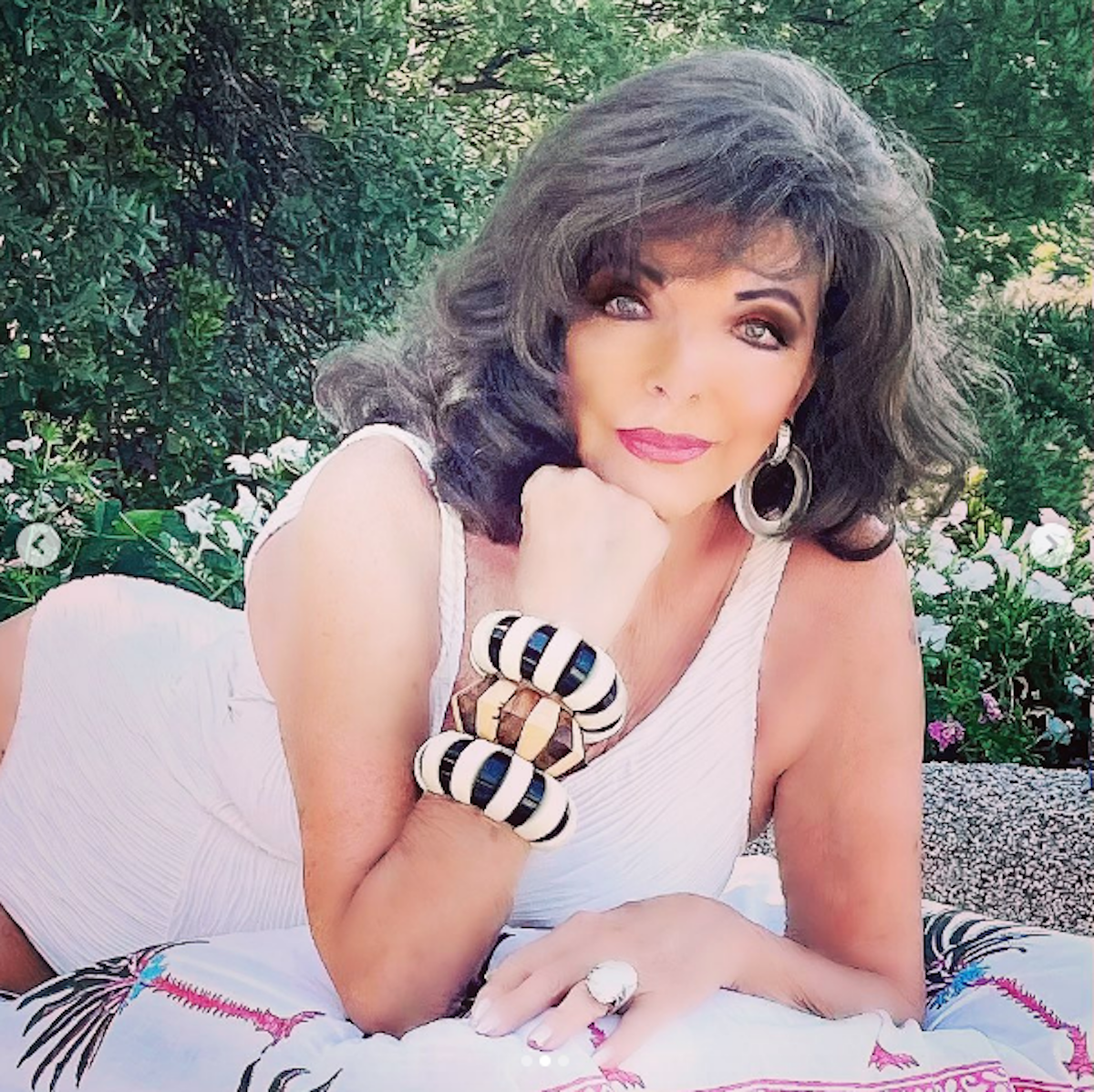 Horsch share a few beautiful images of Collins from a recent pool day, including himself in one of the photos, writing, "
Drinking #icecoffees #poolside
with the Dame @joancollinsdbe … "Slide 👈🏻 left to see the #glamour photos I took this morning #friends #filtered #fun #fashion #stylist #summer #yeahyeahyeah."
The first photo shared featured Collins in the pool next to Horsch and both of them smiling with a drink in their hand.
Collins looked incredible in a white one-piece swimsuit, gold earnings, a large sunhat and oversized sunglasses, next to her friend, who had his hair slicked back and black sunglasses on.
The second image featured Collins, with a full-face of makeup, laying near the pool with her hand on her chin, with thick bangle bracelets and other fun jewelry.
The third photo showed Collins to be sitting by the pool with her legs stretched out in front of her, as she shows off her fit body in what appears to be the same swimsuit, but different jewelry. Instead she donned gold anchor-shaped earnings and black ombre sunglasses.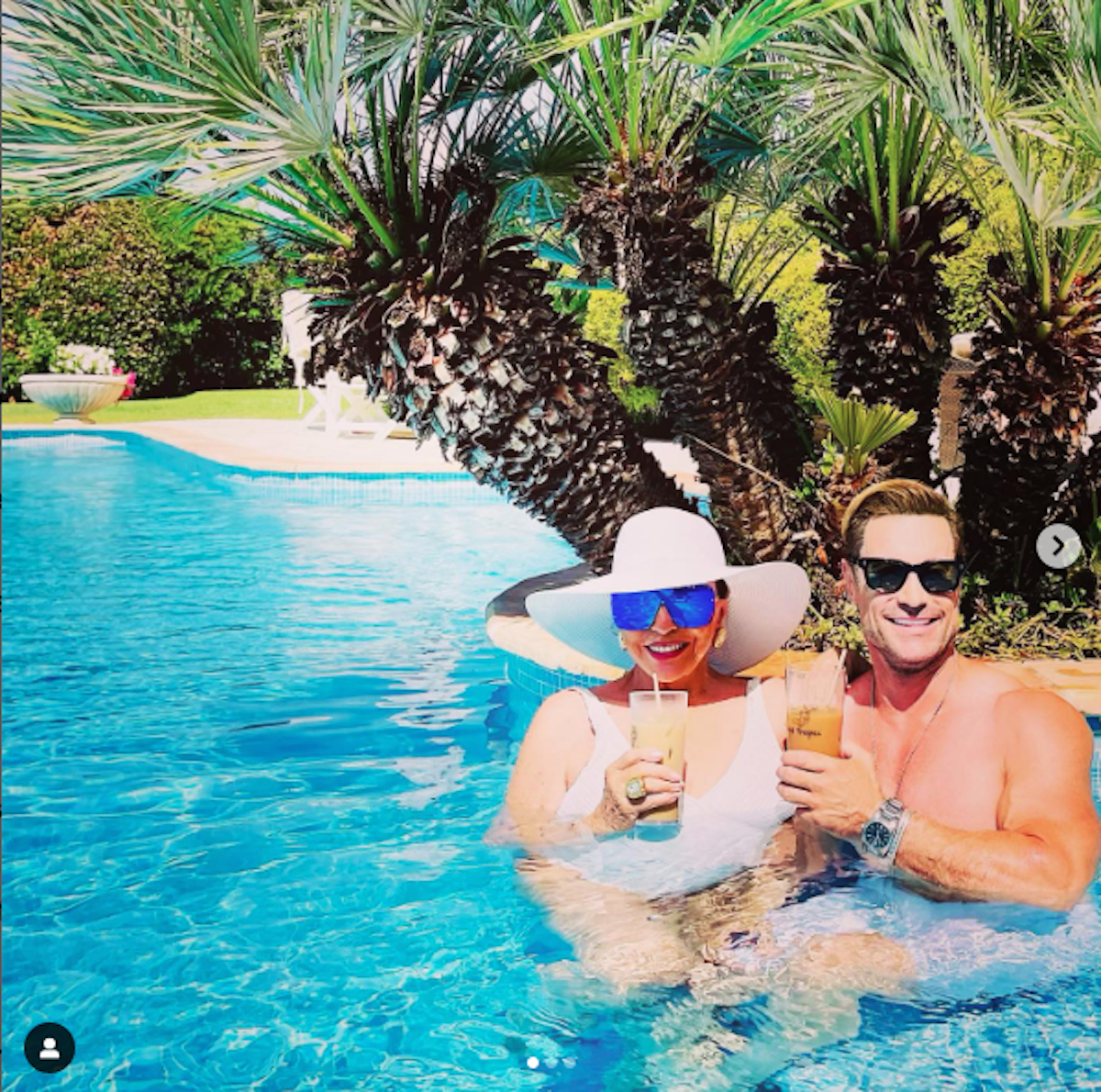 However, when a critic commented to complain how the pictures were "sooo airbrushed," he simply replied, "Yup… #filtered … that's what makes them fashion photos – when was the last time you looked in a Vogue, Harper's Bazzar, Vanity Fair, W magazine?"
In response to a more uplifting comment praising how good the 90-year-old Golden Globe Award-winning actress looks and slamming the harsh comment about the filtered photos, Horsch wrote," Right on! .. I always find it ironically funny that the snide remarks are usually from people on social media that don't have a profile photo … or if they do, it's a flower, or a cat, or a dog.
RELATED: Remembering Jackie Collins Years After She Lost Her Secret Battle With Stage IV Breast Cancer: 'She Gave A Great Deal of People A Great Deal of Pleasure'
He continued, "DJC's whole career is built on beauty & glamour … Hollywood has been airbrushing since it began making films. It's fantasy and why we all go to the movies to escape the dull drums of everyday life … I'm just saying. It's meant to be fun & beautiful"
Collins, a mother of three, also took to her own Instagram page to share one of her new glam photos, writing captioning the post, "Whilst daydreaming by the #swimmingpool in #provence this morning … @rene_horsch took this nice picture."
Meanwhile, Collins, who has been vacationing in St. Tropez, France, was recently spotted with 58-year-old actress Elizabeth Hurley at a restaurant in France.
RELATED: Actress Joan Collins Mourns 'Brave' Goddaughter Who Died from Colon Cancer: 'You Fought a Great Fight'
"With Mommy Dearest- the one and only @joancollinsdbe – at work and play #sttropez #The Royals," Hurley, who plays Collins' daughter Helena on the E! series "The Royals." On the show, Collins played The Grand Duchess Alexandra of Oxford.
Remembering Joan Collin's Sister Jackie, Who Passed Away From Breast Cancer
We're happy to see Joan Collins doing well after the tragic death of her sister Jackie back in 2015.
Jackie Collins, a best-selling author and mother of two who taught the world about sex and self-indulgence, had passed away from stage four breast cancer after secretly battling the disease for six years. She was 77 at the time of her death.
Surprisingly, her sister Joan Collins only learned the news two weeks before her passing.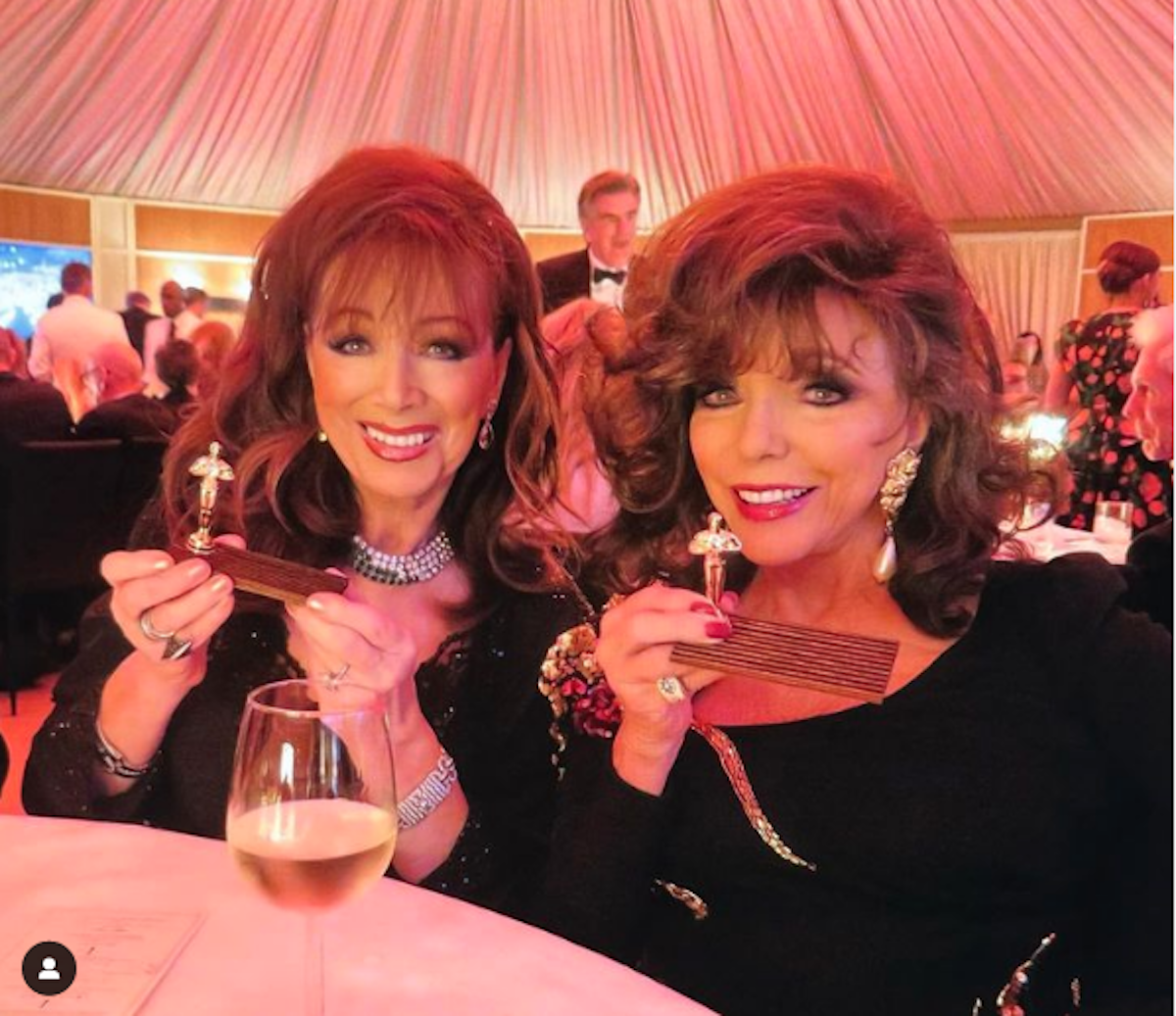 Jackie's death could have been avoided had she not waited more than two years to get a lump in her breast checked. CNN films previously released a documentary commemorating the life of this powerful storyteller with Lady Boss: The Jackie Collins Story, back in 2021.
According to CNN's documentary, we learned that Joan and Jackie's mother, Elsa, was a "warm, nurturing angel," Joan revealed in the film, and Jackie worshipped their mother.
Their mother ultimately was diagnosed with breast cancer, the sisters were instructed by their father to stay quiet about it. "You are not to mention that she has cancer, we don't use that word. She's got a virus, she has a bad flu … it was really terrifying how strongly he felt about it."
Elsa died in 1962. "Cancer was a word in the 1960s you just didn't say," Joan said in an earlier interview with Piers Morgan.
Decades later, in 2007, Jackie felt a lump in her breast but chose not to worry about it.
"I'm not dealing with this, because in my mind I decided it was benign," she told People in an interview  just five days before her death.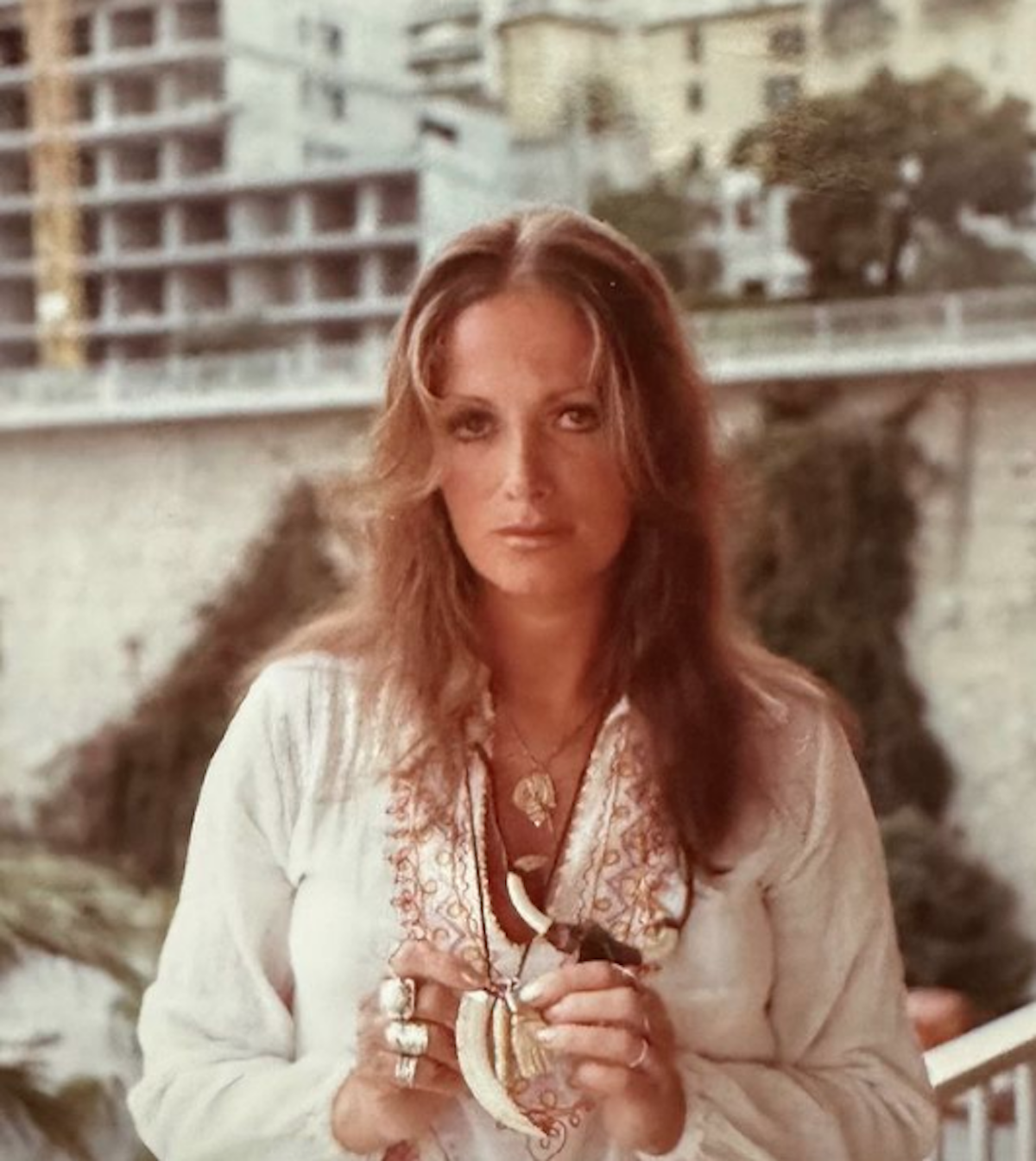 Despite her mother passing away from breast cancer, Jackie unfortunately followed in the same secretive path and wasn't proactive about addressing it. She finally agreed to go to the doctor after she was having trouble walking; The cancer had already spread to her bones.
Related: When Breast Cancer Spreads to the Bones
"Tiffany, you're going to be so mad at me," her daughter recalled of her mother finally letting her in on her secret. "I've got a lump … in my breast." Jackie had had it for at least two years.
Jackie intended to live life until the end and thankfully eventually started advocating for women to get checked. It shocked everyone that such a strong woman could allow this to happen to herself. She said she was very sorry, but initially asked her family not to tell anyone, which was like her father all over again.
"I know we're all told to do it, but some of us are too stupid, and I was one of them," Jackie had admitted. "That was my choice and maybe it was a foolish one, but it was my choice. Now I want to tell people it shouldn't be their choice …"
RELATED: Understanding Gene Mutations in Your Metastatic Breast Cancer Diagnosis Is Crucial to Your Treatment
For three months after Jackie passed, her sister Joan cried every day. She recounted her sister's life as "incredible."
BRCA Gene Mutations and Breast Cancer
In understanding how women's risk of breast cancer is heightened if the disease is hereditary, it's important to understand the role BRCA gene mutations play in breast cancer risk, and what these gene mutations actually are.
RELATED: Major Advance: PARP Inhibitor Pill Extends Life For Women With High Risk Breast Cancer & BRCA Mutations
For starters, BRCA is two genes (BRCA1 and BRCA2). According to the National Cancer Institute, BRCA1 (BReast CAncer gene 1) and BRCA2 (BReast CAncer gene 2) are genes that produce proteins that work to repair damaged DNA.
The BRCA genes are sometimes referred to as tumor suppressor genes since changes, or mutations, in these genes can lead to cancer.
Everyone is born with two copies of each of the BRCA genes, one inherited from each parent. If either parent carries a BRCA gene mutation, there's a 50-50 chance the child will carry it as well.
When BRCA1 or BRCA2 have certain mutations, or changes, men and women are at a higher risk level for several cancers, most notably breast and ovarian cancer in women.
According to the National Cancer Institute, 55 to 72 percent of women who inherit a harmful BRCA1 variant will get breast cancer by the time they reach 70 to 80 years old. Similarly, 45 to 69 percent of women who inherit a harmful BRCA2 variant will get breast cancer by that same age.
The percentage of women in the general population who will get breast cancer in their lifetime? About 13 percent.
"If a woman has one of these mutations the genetic BRCA1 and (BRCA)2 mutations, it puts her at basically the highest quantifiable risk for getting breast cancer," Dr. Elisa Port, a surgical oncologist at Mount Sinai, told SurvivorNet. "We typically say between the 60 (percent) and 80 percent range."
When Cancer Runs in the Family: Survivor Amy Armstrong On The Importance of Genetic Testing
If you have a family history of cancer, like Jackie and Joan Collins, genetic testing could be one way for you to find out if you have harmful genetic mutations that increase your risk of developing certain cancers. Ask your doctor if genetic testing is right for you.
Dr. Port explained, "We now feel that casting a wider net with genetic testing is probably very prudent because finding out that one has a cancer predisposition gene can definitely change their course, their risk for cancer and what they might want to do about it."
When to Consider Preventative Surgery for Breast Cancer If You Have a BRCA Mutation
People who have a family history of breast or ovarian cancer may want genetic testing, especially if they have one or more relative(s) who received their diagnosis before age 50. But what do you do if you are at an increased risk for breast cancer because of BRCA mutations?
Dr. Freya Schnabel, the director of breast surgery at NYU Langone Medical Center, says there are three options.
"The first option is intensive surveillance," Dr. Schnabel told SurvivorNet in an earlier interview. "And this is an option that focuses on early detection of disease if it should occur."
The second option comes in the form of medication to lower the risk of getting breast cancer.
"Tamoxifen is the one we use in young women, and then aromatase inhibitors can also be used in post-menopausal women, that have been associated with lowered risk for developing hormone sensitive breast cancer," Dr. Schnabel said.
"So these medications have to be taken for five years, but have a meaningful reduction in the risk of developing breast cancer, especially for BRCA2 carriers."
Is a Preventative Mastectomy Right for Me?
Prophylactic (preventative) surgery is the third option. "This is the option that will lower a woman's risk of getting breast cancer as low as we can get it, because the strategy here is to do surgery to remove the breast tissue as completely as we can," Dr. Schnabel explained.
She continued, "When these operations are done prophylactically, certainly, no muscles are removed. And, in addition, there is no necessity to remove any lymph nodes, so that we take away some of the side effects and risks that are associated with that piece of the surgery.
"By newer surgical techniques, patients having prophylactic mastectomies will frequently have the option for having the surgery done in a way that preserves the nipple and areola."
According to Dr. Elisa Port, preventative mastectomies are "really quite effective if done thoroughly." She says they reduce the risk of developing breast cancer from the highest risk level of 80 to 90% down to the lowest risk level of 1 or 2%.
That being said, there are risks to consider. According to the Cleveland Clinic, a prophylactic mastectomy has the risk of bleeding, infection, loss of sensation in the breast and dissatisfaction with your appearance post-surgery.
RELATED: What Are the Options if You Have a High Risk of Developing Breast Cancer?
Because of this, it's important to weigh the benefits with the risks with your doctor. If you discover you have a BRCA gene mutation, your doctor can help you understand your unique circumstances and what options may be best for you.
Genetic Testing For Breast Cancer Can Be Life-Saving For Some: For Others, It Only Causes Confusion and Stress
Questions To Ask Your Doctor:
If you have been diagnosed with breast cancer in the past or have a family history of this cancer, you should discuss the genetic aspects of the disease with your physician:
Do I have genetic mutations that increase my risk of developing breast cancer? Knowing your mutational status can help you manage this risk through diligent cancer screenings or regular physician visits.
If I do have a genetic mutation, should my children be tested as well? Genetic mutations may make it more likely for your children to develop breast cancer.
I was tested in the past for genetic mutations, but should I be tested again? New genes that contributed to an increased risk of breast cancer are being discovered day in, day out. Even if you have tested negative for mutations in the past, it may be worth it to get retested for some of the new genetic mutations.
Contributing: SurvivorNet Staff
Learn more about SurvivorNet's rigorous medical review process.
---