An Umpire Legend and Throat Cancer Survivor
MLB Umpire Joe West recently broke the umpiring record when he stood behind the plate for his 5,376th regular-season game.
West is a throat cancer survivor. He was lucky enough that doctors caught his cancer early. His treatment consisted of radiation.
Throat cancer is a type of head and neck cancer where cancerous cells begin in the throat, voice box or tonsils. It is an HPV-related cancer, so it's important you know about the HPV vaccine, particularly for your children between ages 9 and 12.
MLB Umpire Joe West is now officially in a league of his own after standing behind the plate for his 5,376th regular-season game to break the most games umpired record.  Many people know about his commitment to America's favorite pastime, but did you know he is also a throat cancer survivor?
Before the Chicago White Sox beat the St. Louis Cardinals on Tuesday, MLB Baseball Commissioner Rob Manfred, former Commissioner Peter Ueberroth and White Sox owner Jerry Reinsdorf greeted West. The White Sox announced West's achievement with a video on the scoreboard featuring West's umpiring friends and country music's Garth Brooks praising his impressive feat. St. Louis pitcher Adam Wainwright also offered his congratulations when he met West at the plate to shake his hand. Hall of Famer Bill Klem previously held the umpiring record.
Read More
"It was tough to hold back a tear or two, but Tom Hanks said there is no crying in baseball, so you can't do it,"
West told The Associated Press
, referring to Hanks' iconic line in the movie
A League of Their Own
. "It was a very nice thing."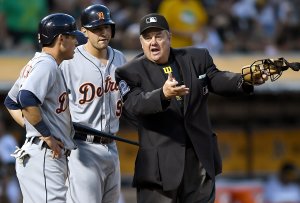 West was a star quarterback at Elon University in the early 1970s before he brought his umpiring career to the MLB in 1976 when he was just 23 years old. Over the course of his career, he has worked the World Series six times and had 193 total ejections.
West's MLB legacy is an interesting one. Over the years, he's had various squabbles with players and managers alike. According to The New York Times, MLB players have voted him onto polls for being both the best and the worst umpire in baseball. Some fans and foes alike also know West as "Country Joe" or "Cowboy Joe" because he's dabbled as a country singer and songwriter.
He's already announced that the 2021 season will be his last, but West's legacy will likely live on after we stop seeing him behind the plate. Despite being one of the most famous umpires to date, not everyone knows he is also a throat cancer survivor. When West was dealing with his laryngeal cancer battle in 2012, he was determined to get back to the game as soon as possible. He considers himself fortunate because his course of treatment involved radiation, but he avoided chemotherapy.
RELATED: Celine Dion Says Her Late Husband, René Angélil, Is 'Part of Our Lives Every Day' 5 Years After He Lost His Battle With Throat Cancer
"I was really lucky 'cause they caught it in time, and I got a clean bill of health from the ear, nose and throat people just the other day," West said in a 2017 WEEI radio show. "Of course they did say you know you have some acid reflux, but we think that's from you yelling at people so behave yourself."
Understanding Throat Cancer
Throat cancer is a type of head and neck cancer where cancerous cells begin in the throat, voice box or tonsils. Some of the main causes of this subset of diseases include smoking, drinking alcohol, a diet lacking in fruits or vegetables, acid reflux disease and the human papillomavirus (HPV).
RELATED: Breaking: HPV Vaccine Not Recommended For Adults Over 26, Per New American Cancer Society Guidelines
The American Cancer Society recommends that boys and girls get the HPV vaccine between ages 9 and 12. The organization also stresses that teens and young adults through age 26 who are not already vaccinated should get the HPV vaccine as soon as possible. Dr. Jessica Geiger, a medical oncologist at Cleveland Clinic Cancer Center, explains the link between throat cancer and HPV in a previous interview with SurvivorNet.
Get the Facts: What Do We Know About HPV-Linked Throat Cancer?
"There are no screening guidelines to screen for throat cancer, unlike cervical cancer with pap smears. And there are no standard tests to determine if you harbor the (HPV) virus," she said. "However, there is no concern that you're going to spread this cancer to your partner or to anyone else, because at this point your partner has already been exposed to the virus and likely cleared it."
What is Laryngeal Cancer?
Joe West had a specific type of throat cancer called laryngeal cancer which begins in the voice box, or larynx. The larynx is a part of the throat that contains the vocal cords which allow you to speak. The National Cancer Institute says that tobacco-product use and high alcohol consumption can affect your risk of developing the disease.
Rocker Eddie Van Halen, 64, Says He Got Throat Cancer From Putting Metal Guitar Pick in His Mouth – Is That Possible?
According to the National Cancer Institute, possible symptoms of laryngeal cancer include:
A sore throat or cough that does not go away
Trouble or pain when swallowing
Ear pain
A lump in the neck or throat
A change or hoarseness in the voice
It's important to note that although addressing these signs could lead to a laryngeal cancer diagnosis, these symptoms can result from many different issues. Having one or any number of them does not necessarily mean you have laryngeal cancer. Either way, if you develop any of these symptoms or you're ever concerned about your health, you should see your doctor right away.
Learn more about SurvivorNet's rigorous medical review process.