Looking Forward to the 10-Year Mark
Judy Perkins will be in medical textbooks for years to come for being the first person to be declared free of metastatic breast cancer after a course of immunotherapy.
Since SurvivorNet last checked in on Perkins, she says "nothing has really changed" — music to our ears.
What's the next milestone Perkins is looking forward to? The 10-year mark. "They (doctors) tell me they will release me (from annual screenings) after 10 years."
In a remarkable triumph of experimental medicine, Judy Perkins, the 55 year old woman who was the first person to be cured of metastatic breast cancer with immunotherapy, says that now five years later, she has no evidence of disease and is thriving. She calls herself a "unicorn."
Her name will go down in history; she will be in medical textbooks for years to come for being the first person to be declared free of metastatic breast cancer after a course of immunotherapy. Her story is a remarkable one, and she's using it to remind other breast cancer warriors that there's hope.
Read More
We last checked in with Perkins (who will be 56 years old next week) around this time last year; as
National Breast Cancer Awareness Month
comes to a close, SurvivorNet checked in with Perkins again to see if anything has changed for her in the last year.
Fighting Cancer With the Body's Own Cells: The Immunotherapy Revolution
Looking Forward to the 10-Year Mark
"Things haven't really changed," she tells SurvivorNet. And this is one of the only times in the cancer community when those words are music to our ears. "I'm continuing to go back to the (National Institutes of Health) for scans," she says of her surveillance plan. "They now have me on the annual plan, so I only have to go back once a year, and things there remain very uneventful, for which I am quite happy."
As a breast cancer survivor, going back to her doctor just once a year for scans is a major milestone. "I was (originally) going back up there (to Bethesda, Md.) every two months and then they extended it to three months, and four months, and six months. And now, finally, I've graduated to the annual plan."
What's the next milestone Perkins is looking forward to? The 10-year mark. "They tell me they will release me after 10 years," she says. "There are other people who have been on this path and apparently after 10 years, they set us free."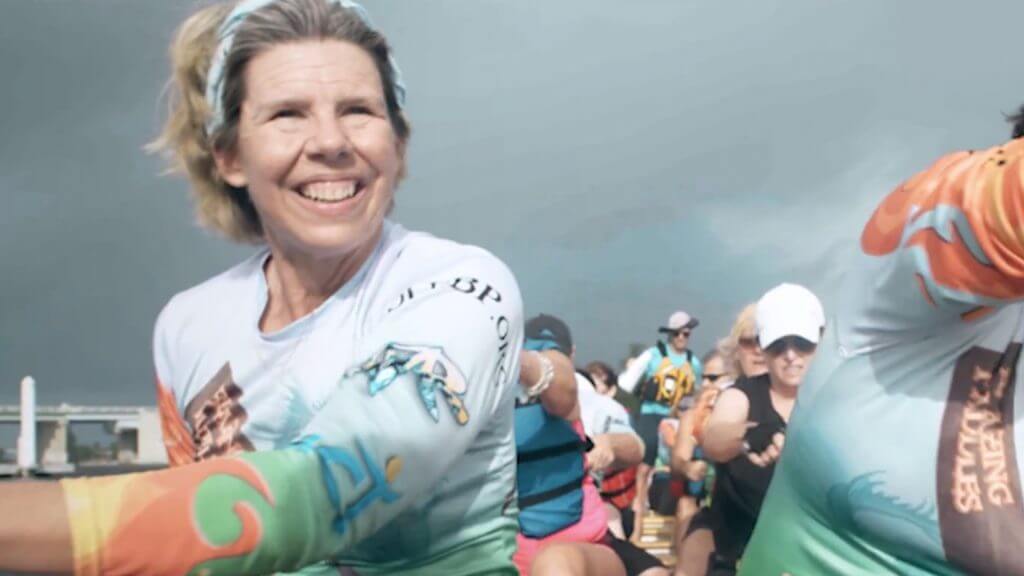 Staying Active: Judy Perkins' Various Adventures
Going to Maryland every year for her annual scans isn't all bad, however. "They give me a free government-paid trip when I go up there and I usually roll it in with a backpacking trip, so I don't mind going up and seeing friends and having a little bit of a boondoggle, although they do poke and prod me, and that part I won't miss."
A backpacking trip? Yes! Perkins says she's always been an active person, and cancer inspired her to identify a bucket list and get to work on it.
Related: 'I'm Not Worried About My Cancer Coming Back' — Checking in With Judy Perkins, the First Metastatic Breast Cancer Patient to be Cured With Immunotherapy
"Even before I got involved with this trial, while I still had some good time, I started doing adventures like rafting down the Grand Canyon or going on a trek to Nepal, things like that," Perkins says. "Then once the clinical trial essentially cured me, I've continued that, so I continue enjoying hiking and backpacking and long distance paddling."
Perkins says she recently arrived back home in Florida after a 70-mile backpacking trip in Pennsylvania (yes, 70 miles!) and she's even completed a few long-distance kayaking trips this year.
Continued Advocacy Work
Perkins says that when she got sick, she got very involved with the National Breast Cancer Coalition, and through that organization has become more involved with other groups.
The Promise of Immunotherapy for Cancer Treatment
She currently sits on the board of the NCI — the National Cancer Institute Institutional Review Board — which is a group that reviews clinical trials that are coming online. Perkins is on the late-phase emphasis side, "which means we're looking at clinical trials that are for adults, and also beyond stage one trials, trials that are likely to have more efficacy."
"I enjoy being involved with that," she adds. "We look at consent forms, make sure that patients understand what they're getting themselves into (and) what the risks and benefits are. We try to make sure that the forms are clear and understandable and so there are several of us patient advocates on that board. I enjoy that work quite a bit."
She also continues to go to breast cancer conferences; she even works as a patient advocate for a metastatic breast cancer call line. "I work that on Monday mornings and try to help people who are just diagnosed with metastatic breast cancer," she says. "I try to talk them off the edge of the cliff, so to speak."
"There's kind of that first shock and awe phase of getting a cancer diagnosis that it's sometimes helpful to speak to someone who's in the trenches or has been in the trenches and can help you start to manage the day-to-day and the new reality."
Judy Perkins' Cancer Journey
In 2003, Perkins was diagnosed with early-stage ductal carcinoma in situ, or DCIS, breast cancer. (DCIS is a non-invasive breast cancer.) Her diagnosis prompted her to get a mastectomy — breast cancer surgery that removes the entire breast. But in 2013, her cancer came back, and this time, it was metastatic, or stage 4.
Metastatic Breast Cancer: You Are Not a Statistic
The standard treatment options (like chemotherapy and targeted therapies) weren't working, and in 2015, Perkins learned of an immunotherapy trial at the National Cancer Institute, which is part of the National Institutes of Health in Bethesda, Md. (There are several immunotherapy clinical trials currently underway as well.)
Related: Understanding How Immunotherapy Works
The specific immunotherapy trial Perkins was part of, and is still part of today, is a type of adoptive cell therapy known as tumor-infiltrating lymphocyte, or TIL, therapy. During the trial, doctors removed some of her T cells, identified the ones which could recognize the cancer and then harvested those in a lab. Several months later, the cells were infused back into her body to attack the tumors. The treatment was a success; Perkins has been cancer-free since 2016.
Dr. Steven Rosenberg, chief of surgery at NCI and a pioneer in the field of immunotherapy, tells SurvivorNet that Perkins was one of the first patients "to teach us that by carefully looking at (her) body's immune cells, we could identify cells that uniquely recognize her cancer, and by growing them in a lab and giving her enough of them, we could actually cause the cancer to regress completely."
Tumor-infiltrating lymphocyte therapy is still considered an experimental treatment that's being developed for treating solid tumors; there are various ongoing clinical trials using TIL therapy in solid tumor cancers, as well as blood cancers. Perkins says, "I'm a very weird anomaly," as the treatment worked extremely well for her, but not so much for others in the clinical trial. But it should be noted that TIL therapy is showing great promise.
The clinical trial that treated Perkins is still ongoing, and she remains part of it today. But as of last week, the trial has been suspended while new and better facilities needed to expand the trial await approval.
Learn more about SurvivorNet's rigorous medical review process.
---