Katie Couric could not discuss death with her first husband after his stage IV cancer diagnosis, revealing it scared her even to bring up the topic.
The former Today host lost her husband Jay Monahan to colon cancer when he was just 42 and admits her fears and inability to accept the reality of the situation made it difficult to have specific conversations at that time, particularly about the possibility that he would not beat the disease.
Read More
"I was so worried about letting go of hope because I didn't want Jay to spend whatever time he had left just waiting to die," Couric tells
People
. "I think it takes extraordinary courage to be able to face death, and I think I was too scared, honestly."
Instead, Couric found solace outside the home.
"Working was my salvation," recalls Couric. "If I was doing a cooking segment, I couldn't be thinking about, you know, Jay's latest scan. It helped me maintain my sanity."
Monahan passed away in 1998, leaving Couric, a widow with two young daughters at the height of her fame.
She writes about her regrets in her new memoir Going There, and how she would have handled things differently if given a chance.
"I did everything I could to keep Jay alive," says Couric. "Looking back, I wish I had done a better job helping him die."
She describes the year between his diagnosis and death as "scary for everyone."
Couric used her platform to become the most famous and vocal advocate for colorectal screenings in the wake of his death.
That advocacy culminated in Couric getting a colonoscopy live on Today in 2000, two years after Monahan's death.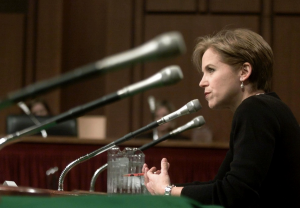 The Journal of the American Medical Association published a study that found the number of Americans who received colonoscopies increased by approximately 50 percent in the nine months following Couric's segment. That study noted that breast cancer screenings remained stagnant over that same period as proof of the Couric Effect.
"Screening wouldn't have crossed our minds for Jay when he was diagnosed at 41," said Couric while appearing on Today.
"My hope is that we figure out a way to do even broader screening and that we can save even more lives, but until then, people need to pay attention, they need to talk to their doctors."
Couric added: "And they need to get screened."
Grieving A Loved One After Cancer Diagnosis
For many family members and friends of cancer patients, the grieving period begins after diagnosis. Katie Couric is one of those people, revealing her inability to discuss death with her husband Jay Monahan after his stage IV colon cancer diagnosis.
The grieving process is one of the many things that Dr. Marianna Strongin discusses in her weekly SurvivorNet column, "Strong In Cancer."
Dr. Strongin, a licensed clinical psychologist and founder of Strong In Therapy Psychology, shared a few tools to help navigate grief in one of her recent columns.
"The five stages of grief are denial, anger, bargaining, depression, and acceptance. These labels are tools to help us frame and identify what you may be feeling. They are not linear and can occur in a variety of ways," noted Dr. Strongin.
"As you find yourself experiencing some of these stages, it is important to remember that the emotions you are feeling are meaningful yet temporary. If you approach them with compassion, kindness, and eventually acceptance, you will come away from this period in your life more connected to your resilience and strength.'
She also gave readers a trick to help them absorb particularly devastating news, suggesting that they use Dr. Tara Brach's acronym RAIN.
"RAIN stands for: RECOGNIZE and pause to notice; ALLOW, or accept your current experience; INVESTIGATE, by pinpointing what is happening in your mind and body; then NURTURE, by bringing compassion to yourself," explained Strongin.
Prioritizing Mental Health During Cancer Battle
Colorectal Cancer Screenings
In addition to advocating for screenings, Couric has also been vocal about lowering the screening age for colonscopies.
Couric saw some movement on that front earlier this year when the U.S. Preventive Services Task Force released its revised recommendations in May.
In its new recommendations, the USPSTF lowered the age at which it recommended screenings to 45 while at the same time urging clinicians to offer the option of a screening to those between the ages of 76 and 85 deemed to be in good health.
"Discuss together with patients the decision to screen, taking into consideration the patient's overall health status (life expectancy, comorbid conditions), prior screening history, and preferences," the panel said.
The USPSTF accepted forms of testing for colorectal cancer are:
High-sensitivity guaiac fecal occult blood test (HSgFOBT) or fecal immunochemical test (FIT) every year
Stool DNA-FIT every 1 to 3 years
Computed tomography colonography every five years
Flexible sigmoidoscopy every five years
Flexible sigmoidoscopy every ten years + annual FIT
Colonoscopy screening every 10 years
Understanding Options With Stage IV Colon Cancer
Learn more about SurvivorNet's rigorous medical review process.
---