Comfortable in Her Own Skin
Kim Kardashian has been a role model for psoriasis sufferers around the world, speaking openly about her frustrating struggle with the autoimmune disease, and even posting pictures of her flare-ups on her Instagram page from time to time.
The mom-of-four was recently photographed looking very dressed down on a low-key outing with her oldest daughter, North, 9, and she didn't bother covering up a large psoriasis scar on her leg.
Psoriasis affects up to 3.2 percent of the U.S. population, according to the American Academy of Dermatology. If you ever start to notice red, scaly spots on your body, it is recommended that you see a dermatologist right away, so you can get a proper diagnosis and the care you need.
Kim Kardashian may have a polarizing fan base, but we're all about role models who can help other feels better about themselves, especially in the psoriasis department!
The Kardashians star had been privately dealing with the autoimmune disease since age 25, but in recent years, she's been trying to show that you shouldn't be embarrassed by a condition that you can't help, even if it's frustrating at times.
Read More
The mom-of-four
was photographed
looking very dressed down on a low-key outing with her oldest daughter, North, 9, and she didn't bother covering up a large mark from a psoriasis scab on her leg. Kim knows she gets photographed everywhere she goes, and she could have easily chosen to wear leggings instead of what looks like an athletic, oversized sweatshirt dress.
Not only is Kim quite candid about psoriasis in her interviews these days, but the aspiring lawyer's actions do even more to help the community of psoriasis sufferers out there. For the global star to show that there's nothing to be embarrassed about goes a long way to help de-stigmatize this uncomfortable autoimmune disease.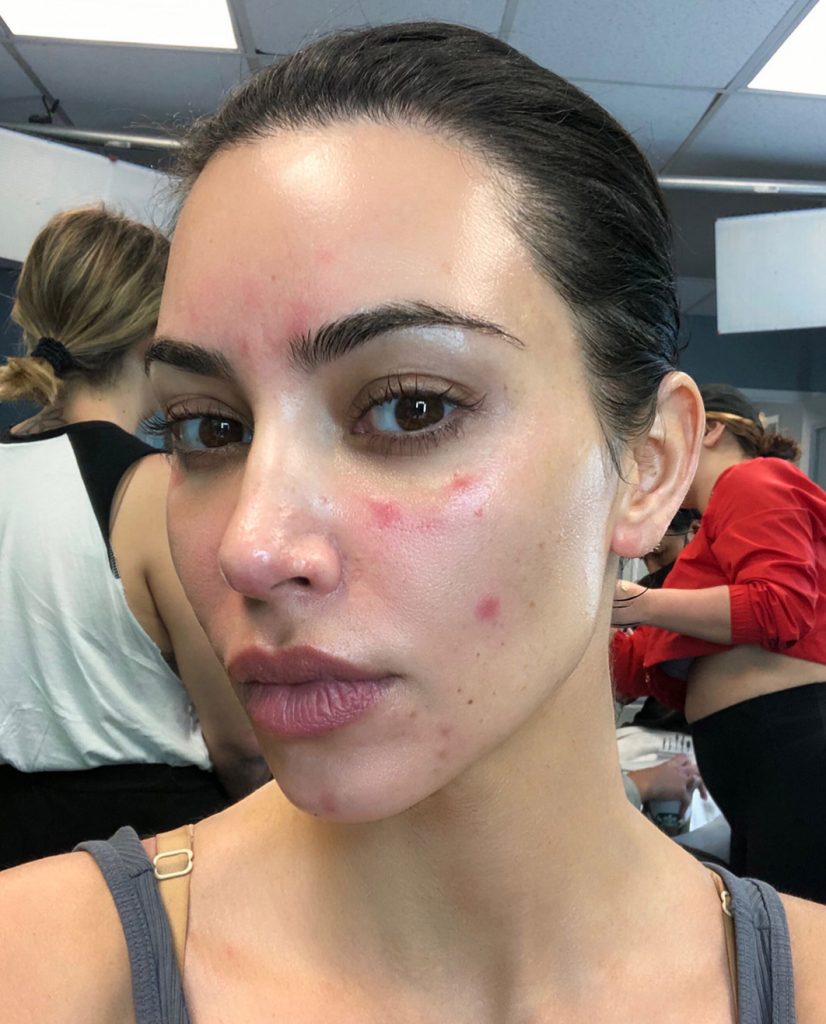 Kim Kardashian's Psoriasis Struggles
"When I was 25, I had my first psoriasis flare-up," Kim wrote in a self-written piece for Poosh, a company belonging to Kim's sister, Kourtney Kardashian. "I got a common cold, and since psoriasis is an autoimmune condition, this triggered it.
"It was all over my stomach and legs. Luckily, in my apartment complex at the time, my neighbor was a dermatologist. I showed it to him, and he said to come into the office and he would give me a shot of cortisone and then hopefully it would go away (since it was my first big outbreak)."
Related: Kim Kardashian Shares Photo of 'Painful But Worth It' Tightening Treatment on Her Stomach After 'Stress-Induced' Psoriasis Eruption
Kim's psoriasis completely went away for about five years before returning in her early thirties. Now, it's become something she's learned to live with ever since.
"Although the spots are unpredictable, I can always count on my main spot on my right lower leg, which consistently stays flared up," she wrote. "I have learned to live with this spot without using any creams or medication—I just deal.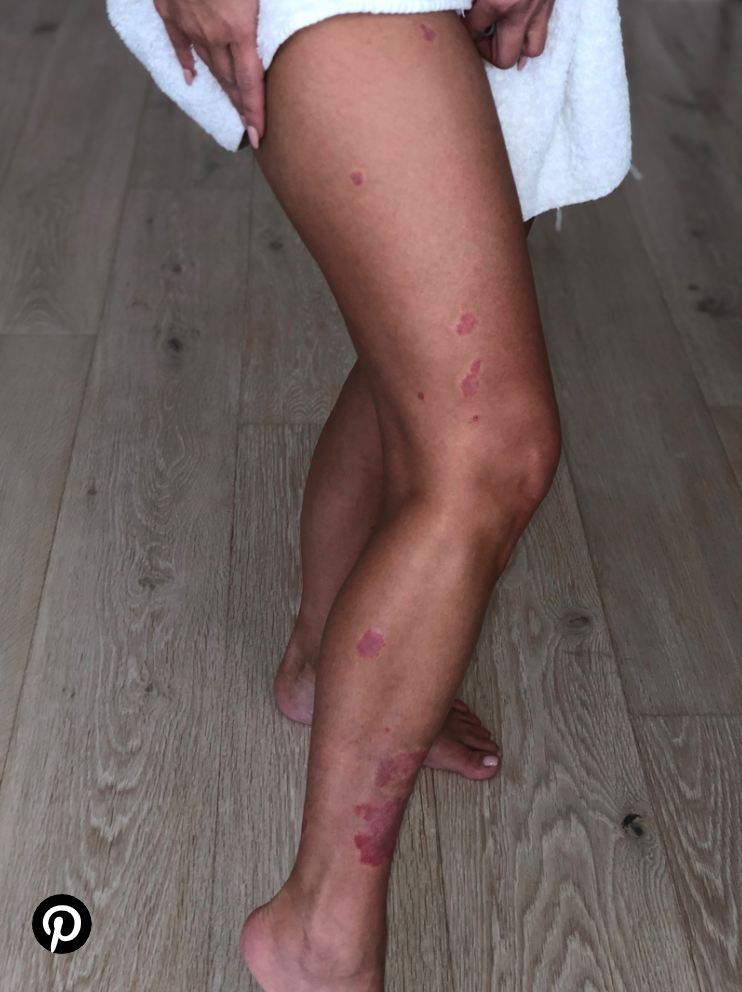 "Sometimes I cover it up and sometimes I don't. It doesn't really bother me."
Kim has also said that eating a plant-based diet has helped her psoriasis. In a recent article by Poosh, Kim says that going plant-based has helped her in multiple areas of her life.
"It's made me more mindful about how what I put in my body affects me, not just psoriasis but also my mood, my stress levels, my energy, everything," she said.
Related: How Celebrity Stress Can Trigger Unwanted Psoriasis Outbreaks On Leann Rimes, Kim Kardashian And Cara Delevinge
One of the things she loves to drink as a part of her diet is a sea moss smoothie.
"The sea moss smoothies are great because they're very anti-inflammatory," she said. "I try to eat as many anti-inflammatory and antioxidant foods as possible."
In addition, Kim shared her advice for others struggling with their self-confidence as a result of psoriasis.
"You have to get to a place where you just feel comfortable and own it," she said. "Be able to realize it's a part of you."
Understanding Psoriasis
Psoriasis, in general, is a condition that affects up to 3.2 percent of the U.S. population, according to the American Academy of Dermatology. It can cause the development of red, itchy patches on the skin. But there are many different types of the disease with plaque psoriasis being the most common.
"Psoriasis is a chronic, auto-immune skin condition where you have red, scaly patches on the skin," Dr. Saakshi Khattri, a dermatologist/rheumatologist at Mount Sinai Health System, previously told SurvivorNet. "It is a chronic condition, which can ebb and flow. You can have good days and bad days."
What is Psoriasis? Understanding the Different Types and Symptoms of This Rare Skin Condition
People with psoriasis are often asymptomatic, but uncomfortable outbreaks can happen. That being said, psoriasis patches can vary in how they look on the skin. You might have a few spots with scaling similar to dandruff or rashes covering a large portion of your body. The most common places to see psoriasis patches are the lower back, elbows, knees, legs, soles of feet, scalp, face and palms.
Related: Supermodel Cara Delevingne, 30, Isn't Ashamed To Show Scabs On Her Legs As She Enjoys Beach Time With Sienna Miller: She's Open About Her Psoriasis
"Some patients report itching [or a] burning sensation, but that doesn't tend to be the norm. It certainly can happen," Dr. Khattri explained. "Then if you have psoriasis in the genital area, it can feel uncomfortable just because it's in a very sensitive part of the body. But for the most part, it tends to be asymptomatic."
Symptoms associated with psoriasis include:
Red patches of skin covered with silvery scales
Small scaling spots
Dry, cracked skin that may bleed or itch
Itching, burning, or soreness
Thickened or ridged nails
Swollen or stiff joints
If you ever start to notice red, scaly spots on your body, Dr. Khattri recommends you see a dermatologist right away so you can get a proper diagnosis, and the care you need.
How LeAnn Rimes Bravely Posed Nude To Show Off Her Psoriasis Rashes Triggered by Pandemic Stress
Contributing by SurvivorNet staff.
Learn more about SurvivorNet's rigorous medical review process.