Cara Delevingne, Psoriasis Fighter, Reveals Psoriasis-Affected Legs
Supermodel Cara Delevingne, 30, recently revealed marks on her legs while on vacation in Spain with Sienna Miller.
Psoriasis is rare relapsing (chronic) autoimmune skin condition that is characterized by red, itchy patches that form on the affected person's skin.
Delevingne proudly showed off her psoriasis earlier this year at the MET Gala; she continues to be a role model for people with this condition.
Thirty year old British supermodel Cara Delevingne was recently vacationing in Ibiza, Spain, with actress Sienna Miller, 40, and
displayed marks on her legs
which are likely related to her psoriasis.
Delevingne is a hero for people like herself who suffer from psoriasis, a skin condition that causes flaky patches of skin. She famously hit NYC's last Met Gala, exposing her bare skin during a flare-up, and regularly advocates for the disease, which can be extremely uncomfortable and embarrassing for many.
Read More
Related: Cara Delevingne, After Bravely Revealing Her Psoriasis Scabs And Sores, Celebrates 30th With Sienna Miller and Margot Robbie In Spain
The Hammersmith, London, native seemed to be enjoying her holiday with friends, soaking up the sun!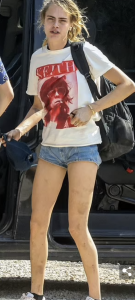 Cara Delevingne's Psoriasis Advocacy
We love how Delevingne continues to display her struggles with her skin.
Cara Delevingne has modeled for glamorous luxury brands such as Chanel, Dior, and Burberry, but we think nothing makes more of a statement than Delevingne striking a pose at NYC's Met Gala last May, blatantly showing patches of psoriasis on her elbows.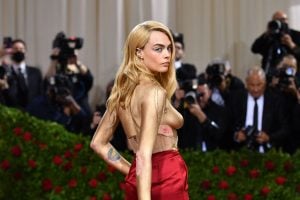 For a public figure like Delevingne to help reduce the shame of the disease and use her platform to redefine beauty, flaws, and all is what makes a true role model.
Related: Supermodel Cara Delevingne, 29, Shocks Fans By Exposing Her Skin Scabs And Rashes On The Red Carpet: How She's Inspiring Psoriasis Survivors
Initially arriving to fashion's biggest night in a red pantsuit, the British stunner removed her blazer to reveal her top half and breasts covered in gold body paint, leaving her elbow patches exposed and free of paint, on full display.
Although the situation wasn't overly ideal, and Delevingne has admitted that she gets flare-ups during stressful times (like fashion week), she could have altered her look to hide her flaws but thankfully chose not to. And she gained some new fans along the way who thanked her for her bold choice.
Understanding Psoriasis
Psoriasis is rare relapsing (chronic) autoimmune skin condition that is characterized by red, itchy patches that form on the affected person's skin. These plaques (patches) occur when the life cycle of skin cells is sped up (hyperproliferation), which results in excess cells building up on the skin (creating inflammation of the skin's epidermis and dermis).
Related: 'Can Psoriasis Cause Fertility Problems?' And Other Psoriasis Myths Debunked; Understanding This Autoimmune Skin Condition
People who have this condition may not even know they have it as it often is asymptomatic until an outbreak occurs, with outbreaks being reported to sporadically occur, lasting anywhere from 1 month to 12 months.
Common symptoms associated with psoriasis include:
Small scaling spots
Swollen or stiff joints
Burning, itching, or soreness of the skin
Small scaling spots
Cracked and dry skin that may itch or bleed
Ridged or thickened nails
Red patches of skin covered with silvery scales
What is Psoriasis? Understanding the Different Types and Symptoms of This Rare Skin Condition
Contributing: Marisa Sullivan
Learn more about SurvivorNet's rigorous medical review process.