Relatable is the New Sexy
Kim Kardashian, 41, may be one of the sexiest stars on the planet, but the reality for the reality star is … she admittedly suffers from an often uncomfortable autoimmune condition called psoriasis.
Ahead of the Met Gala, the SKKN mogul's intense diet to squeeze into late icon Marilyn Monroe's dress, in fact, triggered a painful outbreak for the Allure cover star.
Kim opened up to the beauty outlet about the stressful situation, which many fellow psoriasis sufferers can relate to. Well, maybe not borrowing Marilyn's dress for one of the most A-List events of the year … but surely having similar insecurities in public. Bottom line, we admire Kim's advocacy for the disease.
Psoriasis is a skin condition that causes red, itchy patches to develop on the skin. It is a chronic disease, which means that it does not have a cure. Fortunately, symptoms can often be managed with different treatments and, for some, even lifestyle adjustments.
Kim Kardashian, 41, may be having her Marilyn Monroe moment as one of the sexiest stars in the world—and even rocked the late icon's dress at NYC's Met Gala—but in reality, she admittedly suffers from an uncomfortable autoimmune condition called psoriasis, which makes her a lot more … well,
real
.
The SKIMS founder says she dropped 15 lbs to squeeze into Marilyn's dress, and recently admitted to Allure that the intense diet actually triggered a stressful psoriasis flare-up ahead of the big annual gala.
Read More
"Psoriasis broke out over my body and I got psoriatic arthritis, so I couldn't really move my hands,"
Allure
's August 2022 cover model said. "I had to go to a rheumatologist who put me on a steroid. I was freaking out. I cut out the meat again, and it's calmed down."
 

View this post on Instagram

 
While stealing the show at this year's biggest night in fashion, the Keeping Up With The Kardashians star talked about her strict diet to squeeze into the rhinestone-embroidered number that Marilyn wore to sing "Happy Birthday" to President John F. Kennedy in 1962.
Related: Supermodel Cara Delevingne, 29, Shocks Fans By Exposing Her Skin Scabs And Rashes On The Red Carpet: How She's Inspiring Psoriasis Survivors
"I tried it on and it didn't fit me. I said, 'Give me three weeks.' I had to lose 16 pounds down today," Kim told fellow psoriasis sufferer LaLa Anthony, who was working for Vogue on the red carpet.
 

View this post on Instagram

 
"It was such a challenge. It was like a [movie] role. I was determined to fit [into] it. I haven't had carbs or sugar in about three weeks. We're having pizza and donut party back at the hotel [after the Met Gala]," she said.
The aspiring lawyer, who just launched SKKN, her new skincare line, expressed that she would "still do anything to look and feel youthful."
"It's not easy when you're a mom and you're exhausted at the end of the day or you're in school, and I'm all of the above."
Kim Kardashian's Psoriasis
Kim experienced her first psoriasis flare-up at age 25 after she battled a common cold, which she says may have triggered the outbreak. Her mother and momager, Kris Jenner, 66, also suffers from this autoimmune disease.
"My journey has been very different from my mom's, but I see so many similarities as well. She had it in her scalp and all over her body, and I'd see it all the time and remember her going to the tanning salon to try and ease it. Getting UV rays directly on the spots really helped my mom," she shared on sister Kourtney's Poosh lifestyle site. "For me, however, that remedy would burn the areas and cause them to itch, so I always felt helpless. I am the only child my mom passed down her autoimmune issue to. Lucky me, lol."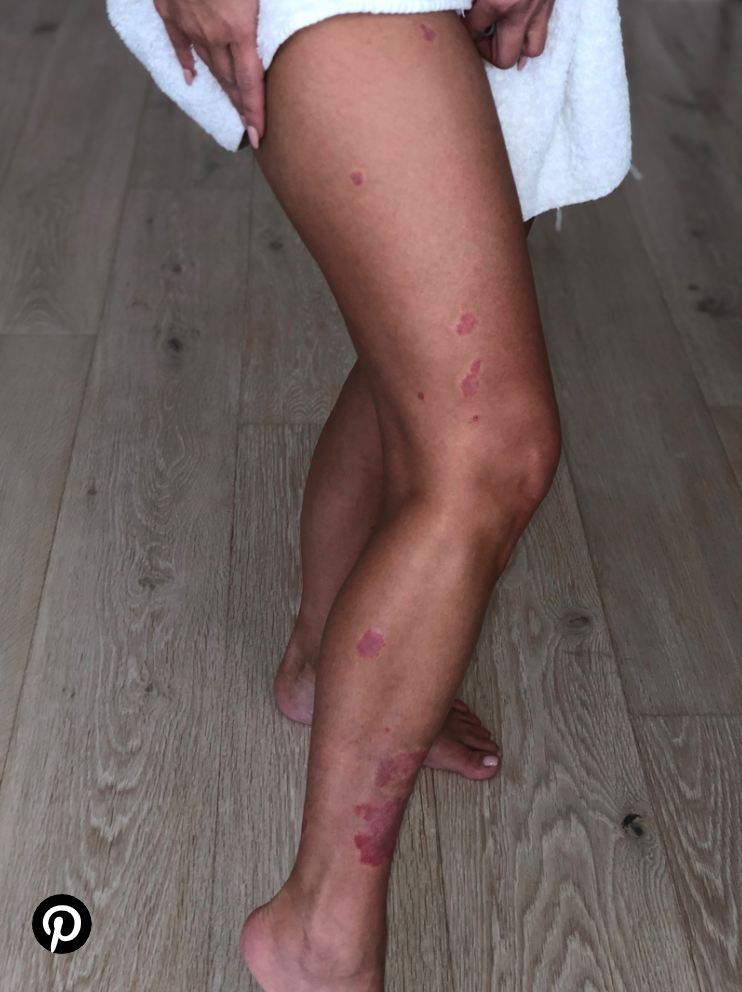 At the time of her first flare-up, Kim got a cortisone injection from a dermatologist and luckily the spots, which were mainly on her stomach and legs, disappeared for around five years. Then it came back. Since then, she said her skin has been "unpredictable," but Kim isn't letting the frustrating condition bother her these days.
"I've become extremely comfortable with my psoriasis. No matter where it is on my body, sometimes I am fine with showing it off and other times I don't want it to be a distraction, so I cover it up with body makeup," she wrote.
What is Psoriasis? Understanding the Different Types and Symptoms of This Skin Condition
Kim tries to minimize stress and manage symptoms with healthy lifestyle choices like eating a plant-based diet.
"I hope my story can help anyone else with an autoimmune disease feel confident that there is light at the end of the tunnel."
Learning More About Psoriasis
Psoriasis is a skin condition that causes red, itchy patches to develop on the skin. It is a chronic disease, which means that it does not have a cure. Fortunately, symptoms can often be managed with different treatments and, for some, even lifestyle adjustments.
The disease is rare; only about 3.2% of the U.S. population has it, according to the American Academy of Dermatology. Still, there have been major developments when it comes to treating psoriasis in recent years.
"Psoriasis is a chronic, auto-immune skin condition where you have red, scaly patches on the skin," Dr. Saakshi Khattri, a dermatologist/rheumatologist at Mount Sinai Health System, tells SurvivorNet. "It is a chronic condition, which can ebb and flow. You can have good days and bad days."
Related: How Ex-MTV VJ La La Anthony, 39, Uses Baking Soda to Fight Her Psoriasis 
Dr. Saakshi notes that while anyone can develop psoriasis, the disease is more common in people between the ages of 30 and 50. Researchers believe genetics, as well as environmental factors, may play a role in the development of psoriasis.
If you are suffering from psoriasis, go see a dermatologist who can help determine the treatment plan best for you. Just know that you don't have to suffer alone. There are many things you can do to help lessen the severity or completely clear your symptoms.
Psoriasis and Lifestyle Changes
Since psoriasis is known as an autoimmune disease, which is typically an inflammatory condition where the body mistakenly attacks your own cells, there are certain natural lifestyle changes that you can incorporate that won't put as much stress on the body. In turn, the flare ups may diminish, or clear up completely for the lucky ones.
"Naturally, humidity and the sun work for me," a psoriasis patient tells us. "This [condition] popped up when I was 35. As I got older is when it slowly started appearing; on my elbows, my legs, my scalp—little by little I was a mess. And nobody in my family has it," he adds.
Related: How Olympic Swimmer Dara Torres Battled Shame & Anxiety Over Having to Wear a Swimsuit While Covered with Psoriasis Scabs 
For some, the sun will exacerbate symptoms. Salt water from the ocean, however, can be good for clearing up skin conditions.
Also, eating an anti-inflammatory diet can reportedly help immensely for controlling flare-ups.
Some people with psoriasis try to combat its distressing effects by following a paleo diet.
Related: Your Top 10 Psoriasis Questions Answered; Learning About This Bothersome Skin Condition and How to Manage It
A paleo diet, by definition, mainly consists of meat, fish, vegetables, and fruit, and excludes dairy or grain products and processed food.
According to the Paleo Diet website, "Foods that cause inflammation include refined carbohydrates, wheat and other cereal grains, soda and other sugar-sweetened beverages, margarine, shortening and lard, and processed meats."
Related: How Phototherapy — Which Exposes Patients to UBV Light — Can Treat Psoriasis
These types of foods can cause insulin (a hormone that controls our blood sugar) to spike in our bodies, which can contribute to inflammation and also alter our gut health, meaning change the ration of good bacteria vs. bad bacteria, which can wreak havoc on the body.
Overall, getting an adequate amount of rest and 7-8 hours of sleep every night is a tried and true method of putting less stress on your body, therefore lessening the severity of certain conditions like psoriasis.
Learn more about SurvivorNet's rigorous medical review process.