On September 7th, Lance Mackey, a four-time winner of the Iditarod Trail Sled Dog Race across Alaska and one of mushing's most legendary figures, passed away at the age of 52. His father, Dick Mackey, the 1978 Iditarod champion, announced the death on Facebook, attributing the cause to cancer. Through his highs and lows, Mackey was always admired for his scrappy attitude, his imaginative race tactics, his sincerity, and his love for his dogs. The Iditarod Trail Sled Dog Race organizers mourned the loss on their instagram:
Read More
Lance embodied the Spirit of the Race, the tenacity of an Alaskan musher, displayed the ultimate show of perseverance and was loved by his fans. Our condolences go out to his family, friends, fans and the mushing community.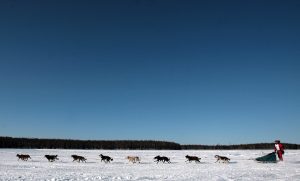 Lance belonged to a well-known family in the realm of dog racing: his father co-founded Iditarod. Lance's mother Kathie raced in the Women's North American Championship Sled Dog Race when she was seven months pregnant with Lance. And his half-brother Rick won in 1983.
From early on Mackey never let cancer stand in the way of his competitive drive. After being diagnosed with throat cancer in 2001 he experienced a litany of health-related setbacks. To make things even more challenging, Mackey contracted Raynaud's syndrome during this time – a condition that is often brought on by cold weather. This caused immense pain in Mackey's finger and led him to have his left index finger amputated. His radiation treatment for throat cancer also caused the degradation of his teeth, but eventually his cancer was deemed to be in remission.
Always the competitor, Lance made a triumphant return to the scene by winning four Iditarod championships consecutively from 2007 to 2010. He also won the 1,000-mile Yukon Quest International Sled Dog Race between Canada and Alaska twice during that time – with only a two-week break between races.
In 2020 tragedy struck the Mackey family when his partner Jenne Smith was involved in a tragic ATV accident. Meanwhile he continued to experience personal struggles with addiction. After testing positive for methamphetamine use during the 2020 Iditarod, he announced that he would be checking himself into rehab.
Despite living with cancer and substance abuse Mackey went on to win major dog sled races consecutively, displaying unbelievable courage and setting a new precedent for the sport competing for over three decades.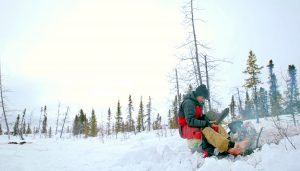 Lance Mackey was inducted into the Alaska Sports Hall of Fame in 2010. The following is an excerpt from his inductee biography written by Beth Bragg and Bob Eley:
"An iron-man musher with a kennel of wonder dogs, Lance Mackey dominated long distance sled-dog racing for a stretch of time like nobody in the history of the sport. A cancer survivor who started his career in Kasilof on the Kenai Peninsula and later moved north of Fairbanks, Mackey in 2007 accomplished what most people thought was impossible. In the year of Mackey's first double victory, eight dogs ran both races — an incredible 2,000 miles in less than 40 days. At the Iditarod finish line in Nome, their tails wagged as their master basked in the spotlight. The dogs came from Mackey's aptly named 'Come Back Kennel'. Just as Mackey defied conventional wisdom that said a musher couldn't win the Iditarod and the Quest in the same year, he defied medical experts who suspected cancer would end his career."
Lance Mackey's athletic achievements are a model to which all athletes can aspire. His legacy lives on – inspiring all of us who face adversity.
Learn more about SurvivorNet's rigorous medical review process.