A cancer diagnosis has the potential to throw your entire life into disarray, impacting both your physical and mental wellbeing. At SurvivorNet, we believe treating the whole person is imperative, so we've teamed up with Dr. Marianna Strongin to leverage her expertise as a licensed clinical psychologist. Dr. Strongin will answer SurvivorNet reader questions on topics ranging from partner acceptance to navigating "fairness" and everything in between.  (You can submit your questions here.)
*****
Read More
My name is Joel and I am 82 years young. In retirement, my husband and I have been exploring the world. On one trip, I had a tough fall and banged up my leg. I was in pain for a few months after, to the point where I had trouble walking, and decided to go to the doctor and get it checked out. I expected the visit to be short but it turned into an entire mess of a day. The doctors found this cancerous tumour and ultimately told me that my leg needed to be amputated. My husband is having trouble accepting the reality of this situation, especially with how active we are, and I don't know how to be his support system and also focus on my own health. 
Dr. Strongin: Joel, I can already hear that not only are you 82 years YOUNG, but your mind and attitude is what has kept you feeling this way. I can understand how this cancerous tumor in your leg is a major set back and having to amputate it will in fact alter your family's lifestyle. However, the way in which we think about something has a direct link to how we feel about it. Those feelings impact our behavior and in this case the course of your recovery. Since you are the one who seems to have accepted this reality, you are more likely to navigate this new chapter with courage and optimism. However, just because your husband has not accepted it in the same way as you does not mean his road to acceptance and coping will be the same as yours.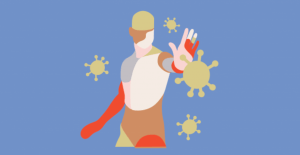 In Psychoanalytic Psychology there is a beautiful concept called "lending your ego." This refers to a therapist's functioning as an "auxiliary ego" for the patient, providing the patient with a healthier perspective and outlook. In your case, I strongly suggest that you "lend your ego" to your husband. Allow him to process the information in a similar way that you have but in his own time. This means having an open dialogue about how you are thinking about this cancer. You can discuss how you are able to be worried and optimistic at the same time.  Rather than becoming another person's emotional support system and piling more responsibilities on yourself, I would like for you to focus on your health and as you do this remember to openly share how you are thinking about both cancer and the world around you.
We have to respect your husband's timeline of processing difficult information. He may need more time to understand and adjust his outlook. Most importantly, my hope is for both of you to navigate these peaks and valleys together.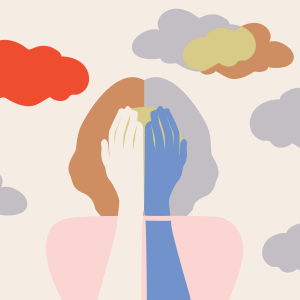 *****
I'm 21 years old, and I have been a breast cancer survivor for 2 years. My mom had breast cancer and my grandma died of breast cancer. Although my scans have been clear for some time, I feel like I have to fear for my health for the rest of my life. I'm angry about this fear, and I'm angry that I will (potentially) have to battle cancer because of my genes, something that's out of my control! How is that fair?
Dr. Strongin: Enduring cancer treatment at such a young age can absolutely alter your outlook on life. Additionally, having this be a part of your family history means that cancer has unfortunately played a pivotal role in your family. You are absolutely right — It is unfair.
However, the concept of fairness is important to acknowledge but not focus on, as it can be psychologically damaging. When focusing on unfairness we are likely to feel anger, sadness, shame and hopelessness. Although we should never run away from such emotions, keeping a "fairness lens" prevents us from healing and moving forward.
Instead, I invite you to feel all those emotions as they come up for you and validate them. When validating our feelings we acknowledge and accept them. You are feeling scared because you have lost family members to cancer and are therefore afraid of cancer and how it will impact your own life. You feel angry because cancer has impacted your entire family and now your own. In giving the feelings space you will begin to trust and understand them and ultimately soothe yourself. This will also create room for positive feelings such as joy, excitement and optimism.
Being fearful of your health can be all encompassing and can take us away from the joy in our lives. As you navigate the world post-cancer, we don't want to ignore or avoid our fear, or even worse let it dictate our lives. Therefore, it will be important that you learn to notice the fear, feel the fear and then soothe the fear.
Learn more about SurvivorNet's rigorous medical review process.
---