A College Student Hears From the Nurse Who Saved Her Life
Maggie Dorey arrived at college and learned that her dorm room looked out over the hospital where she battled, and beat, leukemia 17 years prior
Her nostalgic father photo posted of Maggie with the hospital in the background to mark the milestone, prompting the nurse who had saved Maggie's life when she stopped breathing during that hospital to stay to congratulate the college student
Most people have the same milestones in life, like starting college, but these events can bring about much stronger emotions in patients who battled cancer
There can often be emotional repercussions for pediatric cancer patients later in life  due to the trauma they suffered in their younger years
A college student who nearly lost her life while battling
leukemia
as a child and the nurse responsible for saving her life reconnected after 17 years.
Maggie Dorey arrived at college over the weekend to discover that her new dorm room looked out at the same hospital where she had spent six months as a child after being diagnosed with pediatric cancer.
Read More
This then prompted her father, Martin, to share an image of his daughter on
Twitter
, writing: "Dropped Maggie at [college] in Bristol today. From her new room, you can see the room at Bristol Children's Hospital where, 17 years earlier, she spent six months fighting for her life against [leukemia]."
He then added "tears of joy" before thanking the entire medical community for their hard work.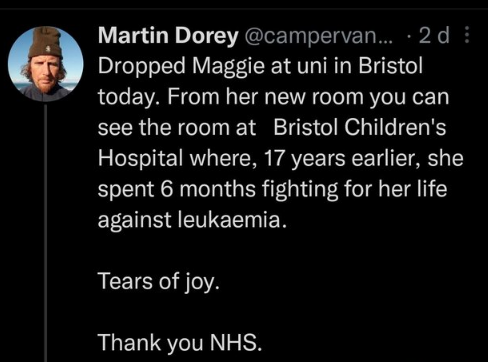 The tweet quickly caught the attention of other parents whose children had battled cancer, prompting some to respond and share their own happy -and sometimes heartbreaking – stories.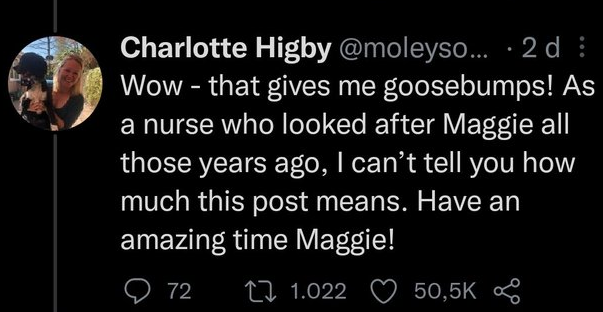 It also caught the eye of a nurse who worked at the hospital and remembered Maggie from her six-month stay.
"Wow – that gives me goosebumps! As a nurse who looked after Maggie all those years ago, I can't tell you how much this post means. Have an amazing time Maggie!" wrote Charlotte Higby.
Related: 'COVID Saved My Life': Triathlete Mom-of-Three Thinks She Is Battling Long COVID, Gets Thyroid and Kidney Cancer Diagnosis
Father and daughter also remembered Higby as well, it turned out, and for a good reason.
"Wow!! Me too. Thank you for your message… can I assume that you are one of the Charlotte / Charlie team who stepped in after an anaphylactic reaction to chemo … and so gave my other daughter Charlie her name?" responded Martin.
Higby confirmed that she saved Maggie's life when she went into anaphylaxis and said she thinks of the girl every year when the nurses train for life-support incidents.
Higby's reunion with the Doreys prompted a flood of attention on Twitter, and by Monday afternoon, the post had over 150,000 likes.
As is often the case with nurses, Higby tried to avoid the spotlight by making her tweets private while the Doreys used the attention to raise funds for childhood cancer.
"If anyone wants to support kids with cancer you can donate to: [Young Lives vs Cancer] who provide support for families. My friends [Children's Hospice SW] who look after kids with life limiting illnesses. And [Card For Kids ND] who provide patient support for the kids ward at my local hospital. All legendary," wrote Martin.
Cancer and Milestones
Milestones are the same for most people, from graduating high school and starting college to getting married and having children.
However, these events have a far more significant impact on cancer survivors and their families, like Maggie and Martin Durey.
According to the American Cancer Society, these signposts can often elicit a strong emotional reaction in survivors, especially the 84% of pediatric cancer patients who survive five years or more after their diagnosis.
These emotions vary and are not always positive, ranging from gratitude to sadness, relief to fears of a relapse.
It is not just the survivors who experience this either, with their family members also having strong feelings attached to their children achieving major life events they may have thought would never come to be at some point.
How One Cancer Survivor Involved Her Daughter In a Major Cancer Milestone
Struggles of Pediatric Cancer Survivors
In 2012, researchers from the National Cancer Institute published a study in the Journal of Pediatric Psychology about the impact of treatment on pediatric cancer survivors.
That study concluded that those treated for cancer before the age of 4 progressed at a substantially lower rate when it came to vocabulary, cognitive functions, memory, and motor skills.
According to that study, those survivors did not suffer any negative impact as it relates to their social or emotional development.
"In the early years, when children go through such tremendous growth, they arguably are more sensitive to biological and environmental influences than adults are," noted the first author in that study Dr. Marc H. Bornstein, head of Child and Family Research at the Eunice Kennedy Shriver National Institute of Child Health and Human Development.
"Our intent was to assess how cancer might affect a child's quality of life."
Matthew Zachary got his brain cancer diagnosis at 21 while still attending college.
He immediately noticed the complete lack of resources available to people his age battling cancer.
Zachary was inspired to do something about this and created Stupid Cancer.
He then turned Stupid Cancer into a group that could provide others with the resources he hoped to have during his battle.
"I feel like I was hand-sculpted to create an organization," Matthew told Survivor Net in a previous interview.
"And be a voice for the invisible Gen-Xers – the most underserved age group in cancer. We get it more; we die more, we are diagnosed late, we are misunderstood … it's different, and if you want to save our lives, it requires a completely different framework."
Matthew is grateful that young adult cancer is now getting the attention it deserves, with more widespread resources available to those in their late teens and early 20s who have been diagnosed with cancer.
"I built Stupid Cancer to be what I wish I had," said Matthew.
Changing the Game: New Resources for Chilren and Teens Battling Cancer
Learn more about SurvivorNet's rigorous medical review process.
---