Former professional WWE superstar Tracy Smothers has gone public with his recent diagnosis of Lymphoma, a cancer in the blood. In a Facebook post announcing the cancer, he showed the spirit that carried him through decades of fighting in the ring. The diagnosis, he wrote, is part of the trials of life: "Remember LIFE is a BATTLE and I'm in it to win it."
RELATED: 5X Cancer Survivor Anthony Daniels on How He Got His Strength Back in the Boxing Ring
Read More
Also in the post, the fighter, 57,  who wrestled with World Champion Wrestling, Smoky Mountain Wrestling, the World Wrestling Foundation and more, wrote that "to all concerned I was diagnosed Nov.14 w Lymphoma cancer which now am on my 3rd treatment 3 to go of chemo which is shrinking the rapid growing tumors."
He also encouraged others to get tested for cancer. "Don't hesitate in trying to be tough by putting off getting checked out in this day and age, you never know?? GOD BLESS EVERYBODY," he wrote.
Other Health Complications
In addition to his cancer diagnosis, Smothers revealed that he's having problems with his heart. "Doc told me years ago I have blockage in my artery, so here we are and have lost 45 percent of my heart use," he said.
Perhaps it's no surprise that he also has "lots of head, body trauma," he added.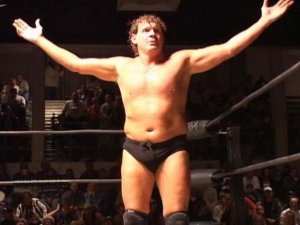 His doctor even told him about a heart attack he hadn't known he'd had: "Have felt bad for a while now but thought I was getting old, lol," he said.
In good spirits, he also joked that "I Iook at it as getting a tune up, overhaul, tires rotated, oil change, etc., all in one lol."
Information about Lymphoma
"Lymphoma in general is caught into two large categories, non-Hodgkin's
lymphoma and Hodgkin's lymphoma; non-Hodgkin's lymphoma actually has
90 entities within it," Dr. Julie Voss, chief of Hematology and Oncology at the Buffet Cancer Center tells SurvivorNet.
Unlike leukemia, which is a disease that results from too many white blood cells, lymphomas are white blood cell cancers that form tumors in the lymphatic system. "Quiet literally, lymph is lymphatic system -phoma means tumors, so lymphoma is white blood cell cancer that forms tumors in the lymphatic system," says Dr. Peter Martin at Weill Cornell Medicine and New York Presbyterian.
We don't know the details of Smothers' case, but we do know that lymphomas fall into two categories: Hodgkin's lymphoma, and non-Hodgkin's lymphoma, of which there are actually 90 different types.
In the U.S., about 74,000 cases of non-Hodgkin's lymphoma each year, accounting for about 4.2% of cancer cases, according to the National Cancer Institute. Patients who are diagnosed with non-Hodgkin's lymphoma have about a 72% chance of surviving for five years after the diagnosis.
Five-time cancer survivor Anthony Daniels on how boxing has helped him regain his strength after lymphoma and brain cancer.
About 8,000 new cases of Hodgkin's lymphoma are diagnosed each year in the U.S, according to the National Cancer Institute. That makes up about .5% of cancer cases. The disease has a 86.6% five-year survival rate.
Learn more about SurvivorNet's rigorous medical review process.
---