Thackston's Recovery After Surgery
FOX anchor Lindy Thackston writes from her hospital bed that she's doing okay following her recent surgery to remove a cancerous lesion in her lung; doctors had to remove half of her left lung.
Thackston was diagnosed with stage 3 colorectal cancer in May 2020, and she recently found out it spread to her left lung.
Colorectal cancer is typically detected via colonoscopy, which looks for polyps on the colon.
In a post on her Instagram stories, Lindy Thackston shares an encouraging message with her fans to let them know she's doing well following her recent surgery to remove a cancerous lesion in her lung.
Related: FOX Anchor Lindy Thackston, 40, Says She Had Half of Her Left Lung Removed During Latest Cancer Surgery, Shares Hospital Bed Selfie
Read More
With a picture of a lung pillow, she
writes on her stories
, "A lung pillow from the hospital. Just a post to let you know I'm doing OK."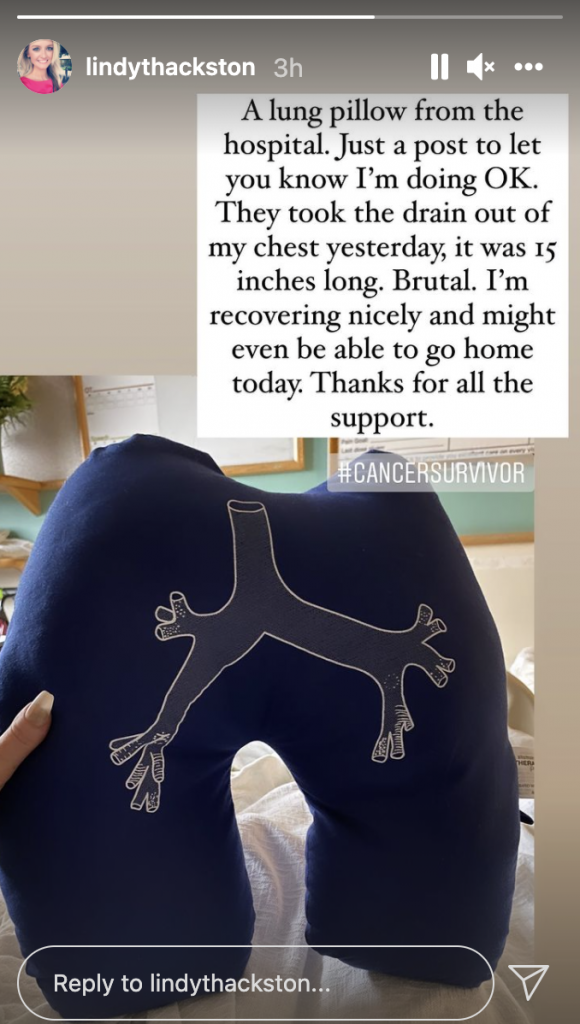 She continues, "They took the drain out of my chest yesterday, it was 15 inches long. Brutal. I'm recovering nicely and might even be able to go home today. Thanks for all the support."
Lindy's Cancer Battle
Thackston was diagnosed with stage 3 colorectal cancer in May 2020 and finished her chemotherapy treatment in spring 2021. She had 10 rounds of chemotherapy to fight her cancer.
Due to treatment, Thackston lost her hair while going through her cancer battle.  She bravely shared pictures of her changing look on Instagram, highlighting colorectal cancer and creating more awareness around this disease and its treatment.
Thanks to new technology like cooling caps, some side effects of chemotherapy, such as hair loss, can be mitigated. Other side effects of chemo can include pain, fatigue, and nausea.
In September, Thackston shared with her fans on Instagram that her cancer had spread to her lung. She wrote, "Well, here we go again. Unfortunately my biopsy came back with the news the colorectal cancer has metastasized to my left lung…"
Preparing for Lung Cancer Surgery
Screening for Colorectal Cancer
Colorectal cancer is typically detected visa colonoscopy, which looks for polyps – small white growths – on the colon. 95% of polyps are precancerous, which means they could turn into cancer.
Related: 'I Felt Really Adrift' Says Author Kate Bowler On Being Diagnosed with Stage 4 Colon Cancer at 35; How to Screen for this Disease
When a polyp is detected, it's sent off to the lab to be examined, at which point the lab technician can determine if it's a precancerous polyp. If there's a danger of the polyp turning into cancer, your doctor will speak with you about what options are available to prevent this occurrence.
While experts don't currently know exactly what causes colon cancer, they do point to certain risk factors. Risk factors for this disease may include one's diet, smoking tobacco, and drinking alcohol. Having a family history of colorectal cancer can also increase the risk.
People with an average risk of developing colon cancer – meaning, no history of colon cancer in the family and no history of Lynch syndrome (an inherited syndrome that increases your colon cancer risk) – should begin getting colonoscopies at age 45. People with a family history of colon cancer should begin screening before 45.
Looking for Polyps During Colonoscopy
Learn more about SurvivorNet's rigorous medical review process.