Understanding Oral Cancer
Orlando TV anchor Greg Warmoth has announced he'll be stepping away from work to undergo treatment for squamous cell lip cancer after finding a "pea-sized knot on his bottom lip."
Oral cancer, also called mouth cancer, is the broad term for cancer affecting the inside of your mouth. It is the most common type of head and neck cancer.
The American Cancer Society explains that squamous cell carcinoma, the type of oral cancer Warmoth is battling, is of the oral cavity and oropharynx, noting that "almost all of the cancers in the oral cavity and oropharynx are squamous cell carcinomas, also called squamous cell cancers." Squamous cells are described as flat, thin cells that form the mouth and throat's lining.
We do not know the cause of Warmoth's cancer, but we do know that there is a link between oral cancer and HPV. The human papillomavirus (HPV) infection is an extremely common virus spread through sexual activity that nearly every sexually active person will get at some point in their lives.
"We have a safe and effective vaccine to prevent HPV-related cancer," Dr. Susan Vadaparampil, the associate center director of community outreach, engagement and equity at Moffitt Cancer Center, previously told SurvivorNet. "It is widely available, and costs are typically covered by private or public insurance."
Beloved Orlando TV anchor Greg Warmoth has announced he'll be stepping away from work to undergo treatment for squamous cell lip cancer, a type of oral cancer, he was recently diagnosed with.
Warmoth's diagnosis followed his discovery of a "pea-sized knot on his bottom lip," which he had previously been told was "scar tissue," however a trip to his doctor and a biopsy offered him the answer he was looking for.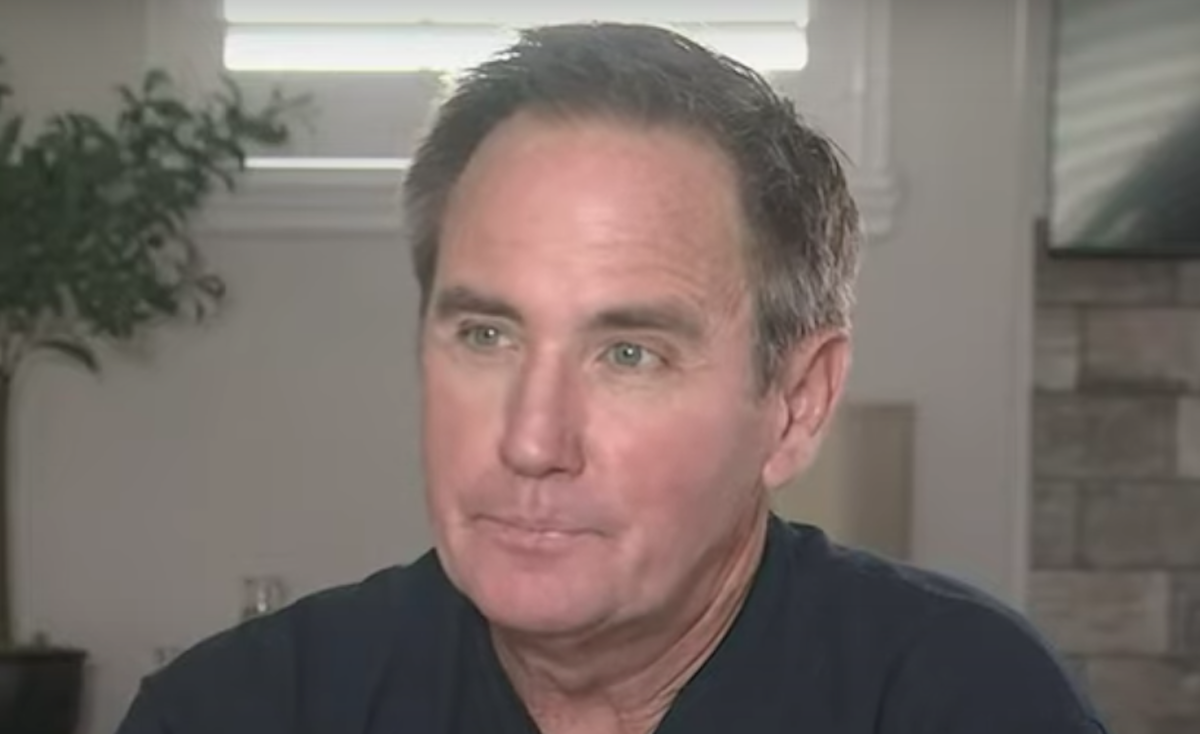 Read More
Warmoth initially realized something was wrong with his lip when he was shaving, as the knot never healed, but prior to getting checked he admits, "I had known something was there for a long time." The loving husband and dad was set to undergo a vermilionectomy, which he explains to
WFTV Channel 9
as surgery to remove his entire lower lip and build another one, on Thursday morning, noting that a plastic surgeon will be there as well. In an effort to inspire others, especially men, to get checked and follow their gut when something feels off with their bodies, Warmoth is sharing his story. "Men we need to man up, he said in a video interview with the news organization.
"If this is not taken care of, there are lymph nodes, there's a whole host of pretty scary stuff that could happen. And I want to be here," he insisted.
"I think it's important for people to see my journey and I'm hopeful, and I'm confident. And the Bible talks about that all good and bad is used for the good. And so I think, and I trust, that that's going to happen."
In a sweet letter to his "WFTV friends," Warmoth wrote,"For the past 37 years, I have reported on the lives and events in other people's lives. Tonight, I talk about an event happening in my life.
"After consulting with dermatologists, radiologist and oncologists, I will be stepping away from my duties here at WFTV for the near future for surgery and recovery but will be back."
The father of three, who first joined WFTV on August 2, 1986, explained he will be stepping away from work to undergo treatment, which includes surgery at AdventHealth and "pathology to verify it's all been removed."
Warmoth continued, "A good outcome, like in all medical procedures, isn't a guarantee, but I have faith in my surgeon that the cancer will not only be removed but the physical scarring will be something that you at home won't even notice."
"Like all cancers and diseases, early detection and treatment are important, and we are hopeful that we caught it early enough to prevent a worse outcome. The doctors at AdventHealth assure me I will be back and better than ever," he said, jokingly adding that he "may even look more like Brad Pitt."
Warmoth plans to offer updates on WFTV Channel 9 in the upcoming days and weeks, however, he admits he is unsure what his prognosis will be until the surgery.
He then offered his viewers some wisdom and hope, saying, "I really don't know what the prognosis will be. But do know this: Had I ignored it, the outcome would be worse. I am fully believing that everything will be fine; and in the Bible, God tells us that He works all things for our good, even bad things."
"Thank you for your prayers, and I promise to make this a situation that can have a positive effect on the importance of not ignoring the warning signs," Warmoth concluded. "I did for a while. But never again. You take care of yourself."
Learning About Squamous Cell Lip Cancer
According to the American Cancer Society squamous cell carcinoma of the oral cavity and oropharynx, is a type of oral cancer. "Almost all of the cancers in the oral cavity and oropharynx are squamous cell carcinomas, also called squamous cell cancers," the ACS explains.
Squamous cells are described as flat, thin cells that form the mouth and throat's lining.
"The earliest form of squamous cell cancer is called carcinoma in situ. This means that the cancer cells are only in the layer of cells called the epithelium (the top layer of cells lining the oral cavity and oropharynx)," the ACS explains.
"This is different from invasive squamous cell cancer, where the cancer cells have grown past the epithelium, into the deeper layers of the oral cavity or oropharynx."
As for the risk factors that come along with oral cavity and oropharyngeal cancers, these risk factors usually align with cancers in the head and neck area, and can include:
Tobacco Use:  Tobacco use has been dubbed, by the ACS, "the strongest risk factor for head and neck cancers, including oral cavity and oropharyngeal cancer."
Drinking Alcohol: It's important to note that heavy drinkers are more at risk than light drinkers.
Chewing Betel Quid: Betel Quid, a stimulant drug, is made with areca nut (betel nut), spices, lime, and other ingredients
"Smoking and drinking alcohol together multiplies the risk of these cancers," the ACS explains. "The risk of these cancers in people who drink and smoke heavily is about 30 times higher than the risk in people who don't smoke or drink."
Other risk factors are:
Human papillomavirus (HPV): "Oropharyngeal cancers linked to HPV infection tend to have better outcomes (prognoses) than tumors not caused by HPV because chemotherapy and radiation treatments work better for these cancers," the ACS explains.
Being a Man: "Oral cavity and oropharyngeal cancers are twice as common in men than in women."
Being Overweight
Ultraviolet (UV) Light: Warmoth admitted to spending a lot of time in the sun in his younger years, something with could have let to his diagnosis.
Poor nutrition
Genetic Syndromes: "People with syndromes caused by inherited defects (mutations) in certain genes have a very high risk of mouth and middle throat cancer," as per the ACS. The syndromes could be fanconi anemia and dyskeratosis congenita.
Understanding Oral Cancer
Oral cancer can show up on your lips or in your mouth, so it's important to bring up any changes to your health with a doctor. Common signs of oral cancer can include:
Lip or mouth sores that bleed easily and don't heal within two weeks.
Rough spots or crusty areas on your lips, gums or inside of your mouth.
Numbness, pain or tenderness on your face, neck or mouth that occurs for an unknown reason.
Difficulty chewing, swallowing, speaking or moving your jaw or tongue.
Unintentional weight loss.
An earache.
Chronic bad breath.
Oral Cancer and HPV
We do not know the cause of Warmoth's cancer, but we do know that there is a link between oral cancer and HPV.
The human papillomavirus (HPV) infection is an extremely common virus spread through sexual activity that nearly every sexually active person will get at some point in their lives, according to the CDC. Most people with the infection do not know they have it and never develop symptoms or health problems from it, but the virus is spread via sexual activity and can manifest as warts on your genitals or mouth.
When people talk about HPV and cancer risk, they tend to focus on cervical cancer. And while it's true that nearly all cases of cervical cancer are caused by HPV, people should also be aware that HPV puts both men and women at risk of developing several other cancers as well, like oral cancer, as well as cancers of the vagina, penis, anus and throat.
Oral and throat cancers are both on the rise in young, non-smoking adults, and Dr. Allen S. Ho, an oncologist at Cedars-Sinai Medical Center, says HPV is the cause.
"The fastest-growing segment of the people developing oral cancers are young non-smokers," Dr. Ho told SurvivorNet in a previous interview. "HPV, a very common virus, one responsible for the vast majority of cervical cancers, is now identified as a cause of this rapid rise of oral cancers."
Why the HPV Vaccine Is So Important in Preventing Cancer
Luckily, we have the HPV vaccine. And while Dr. Susan Vadaparampil, the associate center director of community outreach, engagement and equity at Moffitt Cancer Center, previously told SurvivorNet there are few medical strategies that totally prevent against getting cancer in the first place, she emphasized that data from countries with high rates of vaccine coverage show decreases in HPV-related pre-cancer and cancer, particularly so in the case of cervical cancer.
RELATED: The Vaccine No One is Talking About: Who Should Get It?
"We have a safe and effective vaccine to prevent HPV-related cancer," Dr. Vadaparampil previously told SurvivorNet. "It is widely available, and costs are typically covered by private or public insurance."
According to the CDC, the HPV vaccine is recommended for all preteens (both girls and boys) 11 to 12 years old in two doses administered between six and 12 months apart. The series of shots can also be started as early as 9 years old.
Should I Give My Kids the HPV Vaccine? A Leading Doctor On Why She Says Yes
That being said, the CDC also says that teens and young adults through age 26 who didnâ't start or finish the HPV vaccine series also need the vaccine. And people with weakened immune systems or teens and young adults who start the series between the ages of 15 and 26 should get three doses instead of two.
Additionally, the HPV vaccine is sometimes administered in adults up to 45 years old, but it is not recommended for everyone older than 26. Still, a person older than 26 might decide to get vaccinated after talking to their doctor about possible benefits even though it is less effective in this age range since more people have already been exposed to HPV by this time.
But why are people hesitant to protect themselves and their children? One reason may be that there is a myth that that the HPV vaccine can cause autism.
"he HPV vaccines do not cause autism, there's always a risk of some vaccine-related side effects … local site injection pain, some redness, some swelling," says Dr. Jessica Geiger, a medical oncologist at Cleveland Clinic Cancer Center. "There are no syndromes such as autism or other neurologic symptoms that have been linked to the HPV vaccines."
Dr. Geiger also wants people to remember that, although you might not want to think about it, your children will likely participate in sexual activities at some point in their lives. Refusing to vaccinate your children denies them available protection from HPV-linked diseases, and that should be more important than not wanting to think about your kids ever having sex.
Contributing: SurvivorNet Staff
Learn more about SurvivorNet's rigorous medical review process.
---