How Cancer Defeated the Greatest of All-Time
Maureen Connolly was just 18 in 1953 when she became the second tennis player and first woman to complete the Grand Slam by winning the Australian, French, and US Opens in addition to Wimbledon in a  calendar year.
She won every major she competed in starting with the 1951 US Open and ending with Wimbledon in 1954, a nine-major streak that remains unmatched by any player.
Her career was cut short by a horse riding accident at 19, and at the age of 34 she passed way from ovarian cancer shortly after she had stomach surgery.
It was 70 years ago today that Maureen "Little Mo" Connolly first entered the record books by becoming the youngest player to ever win the US Open at the age of just 16.
Little Mo would go on to win the next eight majors she competed in, and in 1953 won all four (Australia, French, Wimbledon and US) to become the first woman to complete the Grand Slam.
Read More
She never lost a singles match in a major after her 1951 victory at the US Open, but her career was over just three years later due to a horseback riding accident that left her unable to compete.
And 15 years after her early retirement Little Mo suffered one final defeat when she lost her battle with cancer.
She did not go down without a fight, however, choosing an aggressive course of action that she hoped would demolish the disease like one of her opponents before eventually succumbing to ovarian cancer at the age of 34.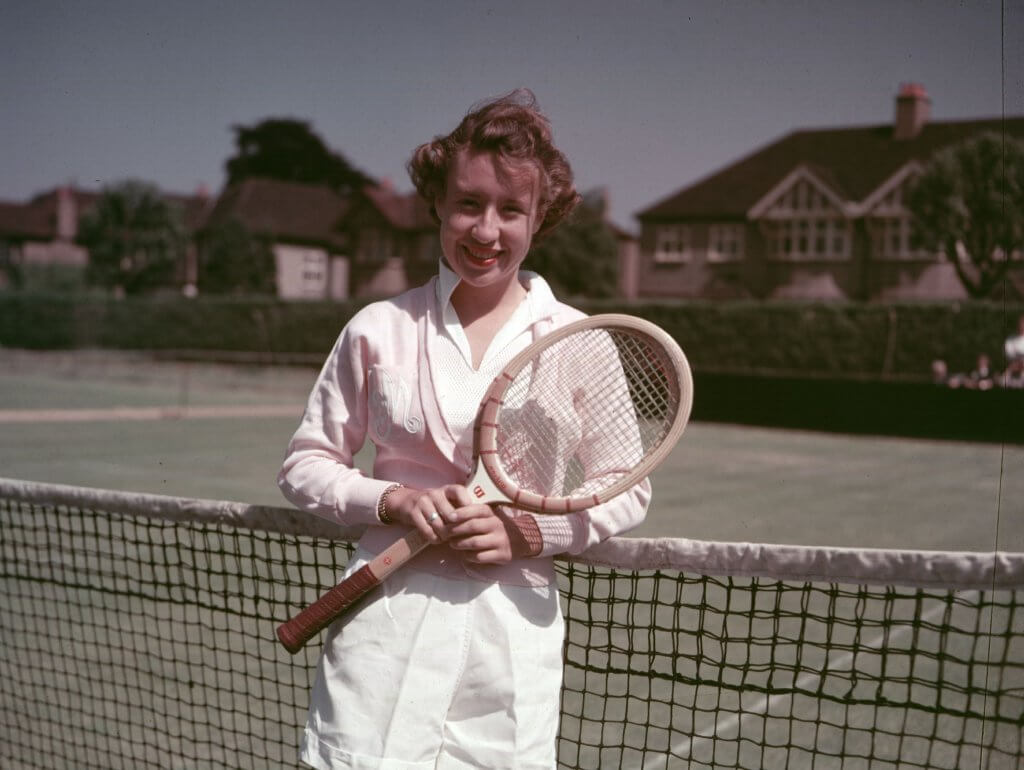 How Maureen Connolly Became Little Mo
Connolly grew up in San Diego, where she was raised by her mother Jessamine Connolly after her parents split when she was jut three.
Her passion was for horseback riding, but money was tight for the family and she instead found herself playing tennis.
It is hard to overstate how uniquely gifted Connolly was, starting with the fact that her entire career -from the moment she first picked up a racket to her final major championship at Wimbledon in 1954 – lasted just 10 years.
Top players such as Venus and Serena Williams, Roger Federer, and Rafael Nadal had all been playing for more than 10 years before they turned pro.
Despite being left-handed, Connolly was taught to play with her right hand and quickly developed a powerful baseline game with a power that had not been seen before in any female player.
She earned the nickname "Little Mo" at the age of just 11 when local sportswriter Nelson Fisher compared her powerful groundstrokes to the firepower of the naval aircraft carrier USS Missouri. Or, as it was known at the time, "Big Mo."
By 13, Little Mo was dominating the world of junior tennis, capping it all off by winning the junior national championship at the age of 15.
That win earned her a wild card entry into the US Open, but she lost in the second round. It would be the last time she ever lost a singles match in a major.
Little Mo Grand Slam
Little Mo started her historic winning streak at the 1951 Us Open, which she won at the age of 16.
By far the youngest woman to ever claim that title at the time, Little Mo told reporters after her win that she played "only half a game."
The following year, the 17-year-old phenom entered Wimbledon and the US Open, winning both majors without dropping a single set along the way.
It was after her US Open win that year when Little Mo learned of the Grand Slam, a near-impossible achievement which required a tennis player to hold all four major titles in a calendar year.
In those days, it was also a very costly achievement, requiring players to travel to Australia on their own dime.
Little Mo did this just once, in 1953, and the trip paid off when she followed up her win Down Under with victories on the red clay of Roland Garros, the grass of Wimbledon, and her third consecutive victory on the lawns of Forrest Hills in Queens.
She was the second to join an exclusive club whose members now number just five – Don Budge (1938), Connelly (1953),  Rod Laver (1962 & 1969), Margaret Court (1970) and Steffi Graf (1988).
Laver accomplished the feat twice while Graf, who unlike the other four won at a time when every top player competed in the Australian Open, became the first and only player to achieve the Golden Slam when she also won the Olympics that same year.
Even extending the list to include those players who have held all four majors at the same time but not in a calendar year adds just three additional players – Martina Navratilova (1983-4), Serena Williams (2002-3, 2014-15), and Novak Djokovic (2015-16).
Those three and Graf also received a $1 million bonus for their achievement from the International Tennis Federation, with Williams collecting that prize twice for winning all four major starting with the French and ending with the Australian Open in what is now referred to as the "Serena Slam."
Little Mo sets herself apart from the seven aforementioned legends of the game due to the resounding way in which she won her Grand Slam, dropping just a single set along the way.
In 2013, the San Diego Union Tribune spoke with the woman that Connolly defeated in three of the finals that year, Doris Hart.
Little Mo was so dominant that Hart fondly recalled the pair's Wimbledon final because she forced the teenager into extra games before falling 8-6, 7-5 in a straight-set loss at the All-England Club.
"I remember coming off the court, and I felt like I won," recalled Hart.
"I couldn't have played any better. I didn't feel bad."
When asked about how her opponent played that day, Hart simply said: "Well, much better."
A League of Her Own
Little Mo would compete in just two more majors after her Grand Slam year, entering the French Open and Wimbledon the following year and winning both.
At this point she had stopped playing with women outside the majors, finding that they could not match her power and choosing instead to practice and play with men.
Her many impressive accomplishments include:
Youngest Player to Win Calendar and Career Grand Slam
Only Player to Win Each Major Without Dropping a Set
Only Amateur to Win Calendar and Career Grand Slam
Quickest to Win Calendar and Career Grand Slam
Most Majors Won By an Amateur (9)
Australian Open (1953)
French Open (1953, 1954)
Wimbledon (1952, 1953, 1954)
U.S. Open (1951, 1952, 1953)
She had been named Sportswoman of the Year for three straight years and was on a 50-match win streak in major championships that started back at the 1951 US Open.
The 19-year-old phenom had not pocketed any money along the way because she was still competing as an amateur.
She had made the decision to turn pro however after her Wimbledon win in 1954, unaware at the time that she would never compete in another major.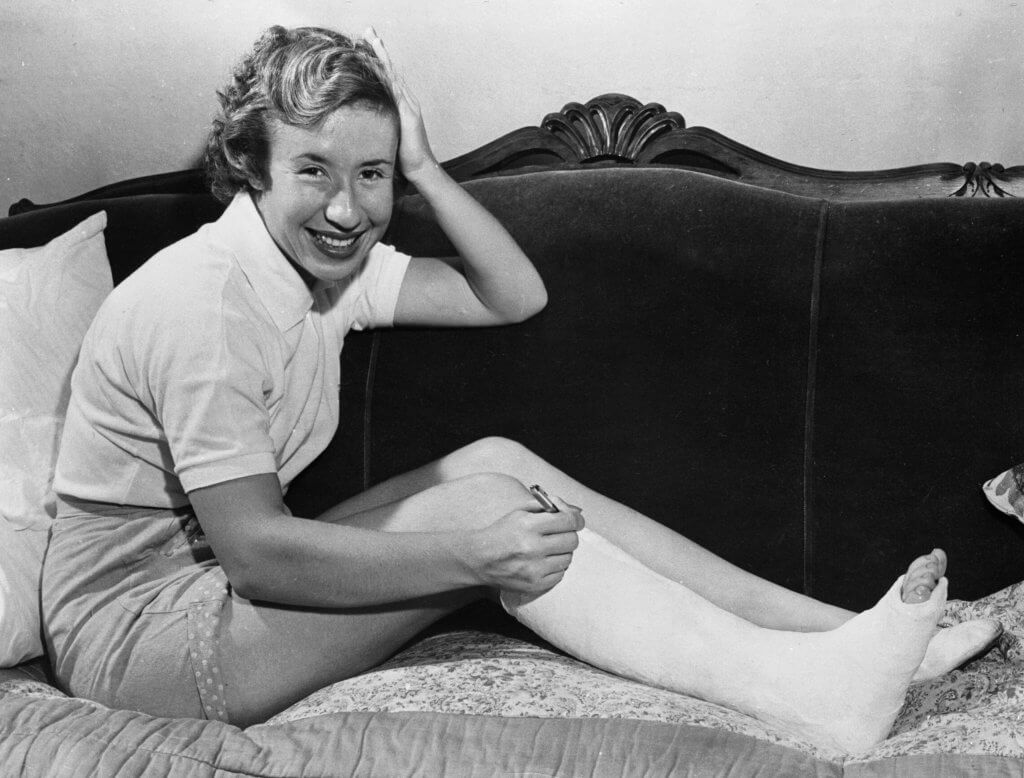 No Money, Mo Problems
Little Mo did not have millions, but her fame had afforded her the one luxury she yearned for most of all at the time, a horse by the name of Colonel Merryboy that was gifted to her by the city of San Diego.
Two weeks after that Wimbledon win, and a few weeks ahead of her professional debut, the Colonel became startled by a cement mixing truck while out with his owner for a ride near her home in San Diego and pinned her against the vehicle.
Little Mo suffered a compound fracture as a result of the incident, and an attempt to return to the game the following year proved fruitless as she struggled to finish a two-set exhibition match.
And so in February 1955 she retired from the sport, sharing her decision in an interview with the Associated Press after she married her fiance of close to two years, Norman Brinker.
"I just don't enjoy tennis anymore. I've lost that old spark, the drive one must sustain to go through a long season's campaign like I have for several years," said Mrs. Norman Brinker.
She said that after settling into domestic life she might consider a return to the US Open or play exhibitions abroad, but instead she focused on bringing to sport to more children across the country while giving birth to two of her own – daughters Cindy and Brenda.
Investigating new ovarian cancer treatments
Little Mo Versus Cancer
Little Mo was incredibly generous with her time for the decade after her marriage.
She would both coach and cover tennis, while also establishing the Maureen Connolly Brinker Foundation.
That foundation hands out a trophy in honor of its founder each year. It is awarded to an outstanding American junior player, with past winners including: Chris Evert (1971), Tracy Austin (1978), Lindsay Davenport (1991) and Shelby Rogers (2010).
Connolly was soon distancing herself from Little Mo however, and began to speak about her tennis years with what sounded like shame.
"I was a strange little girl armed with hate, fear, and a Golden Racket," she wrote in her 1957 memoir, Forehand Drive.
Then, in 1966, she was diagnosed with ovarian cancer. Her daughters were just 9 and 7 at the time.
That drive which propelled her to greatness on the court was evident once more as she took on cancer, and in June 1969 had an operation to remove a tumor from her stomach.
The cancer had metastasized by then, and she passed away a few weeks later on June 21, 1969.
She was just 34.
Little Mo Legacy
In the years after her death, tennis greats like Billie Jean King, Evert and Navratilova would all cite Little Mo as one of their idols growing up.
Another tennis great, Martina Hingis, seemed to be the second coming of Little Mo when she won three of the four majors during the 1997 season.
Hingis was just 16 at the time, the same age Little Mo was when he won her first Grand Slam.
Hingis failed to win the slam 34 years after Little Mo because she lost in the finals of the French Open, a match that many believe she failed to clinch because of the injuries she sustained just weeks prior when she fell off her horse.
The legacy of Little Mo is particularly strong at this year's US Open where two 18-year-old tennis phenoms are making historic runs and one historic player is trying to cap off a phenomenal season.
The phenoms are Canadian Leylah Fernandez and Spainard Carlos Alcaraz, who are both unseeded and on to the quarterfinals after impressive victories.
Frenandez defeated former US Open winners Naomi Osaka and Angelique Kerber in the third and fourth rounds respectively, while Alcaraz topped Stefano Tsitsipas.
Alcaraz's victory over the surging Greek showman was likely a huge relief for the top-ranked player on the men's side, Djokovic.
The Serbian has a comfortable hold on the title of greatest men's tennis player of all time, but could cement it this week with a win in Queens which would make him the sixth member of the Grand Slam club alongside Little Mo.
It has taken Djokovic 18 years to get to this point, a stark contrast to the three years that Little Mo spent on tour.
Her career, much like her life, was cut far too short, but her legacy will live on forever.
"You can't compare players of today against our era. That's not fair," said Hart in that 2013 interview.
"But I always said Maureen was the greatest player I played against. Her record proves it. She won everything by 18. Who else has done that?"
As for Little Mo's husband, Norman Brinker, he would go on to marry two more times.
His third wife, Nancy Goodman, was working to create a charity in honor of the sister she lost to breast cancer at the time she met Brinker.
Thanks to Brinker's connections, she was able to get that charity off the ground with a great deal of funding.
That charity is still going strong, and in the end Goodman decided to name it after the sister she lost to the disease, Susan G. Komen.
Understanding Ovarian Cancer
Ovarian cancer is when the ovaries, the female reproductive organs, become cancerous. The American Cancer Society estimates that in 2021 about 21,410 women in the United States will receive a new diagnosis of ovarian cancer, and about 13,770 women will die from the disease.
Dr. Beth Karlan, a gynecologic oncologist at UCLA Medical Center, says that ovarian cancer can be difficult to recognize with its subtle symptoms.
RELATED: Ovarian Cancer Symptoms Can Be Hard to Spot
"Ovarian cancer does not have any specific symptoms," Karlan said in an earlier interview with SurvivorNet. "It's often referred to as the cancer that whispers, in that it has symptoms that are really very vague…and nothing that may bring your attention directly to the ovaries."
Ovarian Cancer: The Cancer That Whispers
Dr. Karlan wants women to keep an eye out for a variety of possible symptoms.
"The symptoms include things like feeling full earlier than you usually would when your appetite is strong… Feeling bloated," she added. "Some changes in your bowel habits. Some pain in the pelvis. These are symptoms women may have every month. These are not very specific. But what we've found from multiple studies, it's this constellation of symptoms."
Recent findings suggest that ovarian cancer screenings, unfortunately, do not save lives, but it is important to note that they can still detect tumors at an earlier stage. And if a screening helps detect a tumor sooner, it is possible that an earlier diagnosis could potentially alleviate the severity of treatment for women.
Our advice to readers: See your doctor if you feel like something is off. Given that ovarian cancer can have no symptoms or a myriad of symptoms that you might easily brush off as nothing, it's important to always seek medical attention when your gut is telling you something might be wrong. That doesn't mean we should assume the worst every time we feel bloated or have a change in appetite, but it does mean that we should always try to listen to the signs our body is giving us.
Ovarian cancer survivor and Canadian triathlete Gillian Roberts details her cancer journey.
Learn more about SurvivorNet's rigorous medical review process.
---