This weekend was jam-packed with love and gratitude for actress Selma Blair, as she spent the weekend with her loved ones at monster truck show "Monster Jam." Blair, who has been facing some debilitating health issues over the past year or so — including autoimmune disease multiple sclerosis (MS) — is just a few months out from undergoing chemotherapy for MS. The actress reflected on the importance of spending time with friends and family in a pair of Instagram posts.
RELATED: Why Is Actress Selma Blair Getting Chemotherapy For Multiple Sclerosis?
Read More
"One May need to find a quiet and meditative moment at the crazy, loud and pretty flipping awesomeness that is @monsterjam. Meet me there. Loved hanging with people I love. Old and new. Thank you," Blair wrote in the caption of her first snap from the event.
The actress, famous for her roles in "Legally Blonde" and "Cruel Intentions," followed up that social media post with a photo of her with her son, boyfriend Ron Carlson, a producer, and his daughter, noting, "Families that @monsterjam together, stay together. Love this team."

Blair, 47, has been candid with fans and supporters during her health journey. Many of the struggles she went through after undergoing chemotherapy are similar to those felt by women in the SurvivorNet community, who are dealing with physical and emotional side effects of cancer treatment.
RELATED: A Wig Guide For Cancer Survivors From the Best in the Business
Selma Blair's MS and Chemo Journey
The actress went public with her multiple sclerosis diagnosis in October 2018, explaining that she had suffered for years with unexplained symptoms, such as falling, dropping things and foggy memory. She revealed that she would be undergoing chemotherapy for the disease in August of 2019.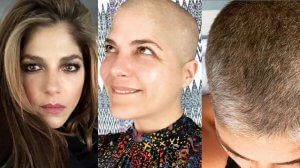 Since then, she has shared multiple updates about the side effects from treatment, from suffering from vision loss to dealing with the emotional aspects of losing her hair.
In a November post, the actress shared that her hair was growing back, but it was "thinnish," "patchy," and "charcoal" colored. It's common for hair to grow back with a different texture or color after chemo-induced hair loss. For many survivors, this can be really challenging. But Blair shared that after initially trying to dye her newly-sprouting locks, she decided to simply embrace the gray.
Learn more about SurvivorNet's rigorous medical review process.