When the 36th season of Jeopardy! debuted this week, fans were delighted to see longtime host Alex Trebek on the set looking happy and healthy, and donning a very convincing full head of "hair." The beloved TV host — who announced in March that he was battling stage four pancreatic cancer — confirmed that he recently completed chemotherapy, and is "on the mend." Looking at 79-year-old Trebek, you'd never guess from his appearance that he had just finished cancer treatment.
Trebek did confirm during a May interview that chemotherapy caused him to lose his hair and that for Jeopardy! tapings, he was, in fact, wearing a hairpiece. Yet after this week's debut, many members of the SurvivorNet community were left wondering: how did he get a wig that looks so perfect, so realistic? So, in honor of Trebek, we've consulted the experts, and put together the ultimate guide for survivors looking for a way to cope with hair loss.
Read More
RELATED: INSIDE ALEX TREBEK'S DRAMATIC HAIR LOSS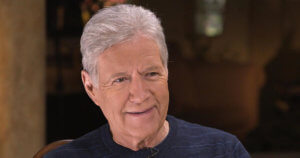 Where can I get a wig?
SurvivorNet spoke to New York-based hair and wig designer Robert-Charles Vallance, who told us that typically, clients will reach out to his company — Angels of New York — after a recommendation from a local oncologist or a cancer support group, and the process begins with finding the perfect wig for the individual.
"We start with a consultation," Vallance said. "They come in, typically with a best friend or an entire family … and we go through the process. We have base wigs in several colors to try on that are based on contemporary hairstyles."
The consultation is important because it's your opportunity to express your precise wants and needs. Many survivors want to replicate their hairstyle, and have it look as natural as possible. Vallance explained that sometimes after a consultation, clients will send photos of what they want — of themselves during a time they felt their hair looked its best.
RELATED: IF YOU'RE LOOKING FOR WAYS TO COPE WITH HAIR LOSS DURING CANCER TREATMENT, YOU'RE NOT ALONE
How long will it take to make my wig?
"Two weeks is typically our turn-around time," Vallance said.
After a consultation, the wig-making process begins. There are other options to having a custom-made wig, such as visiting a wig shop to purchase a ready-made one, or opting for head accessories like a scarf or hat. However, the personalized wig process can be very rewarding — as clients often feel reassured when sporting the wigs — and, many insurance companies will cover part or the total cost of the wig.
Vallance also pointed out that a really well-made wig can create a "total illusion," like Trebek's does.
When will my hair grow back?
This varies from person to person — but Vallance says for the majority of his clients, it's around a year.
"A year until you're ready to ditch the wig and sport a short haircut," he said. He explained that initially, after chemotherapy, hair tends to start growing back very slowly, and not as strong as it was before because of all the damage it's undergone during the treatment process.
"Over time, it starts to relax," he said.
During that time, Vallance said his salon also offers follow-up treatments. People can get continue to come in for cuts, scalp treatments, or hair tinting and dying. They also offer scalp restorative products, which can be really refreshing for people post-chemotherapy treatments — the treatments help to "exfoliate, clean the scalp, and get rid of remaining residue."
So, why does Trebek's wig look so convincing?
Vallance said that a lot of men experiencing the side effects of cancer treatment decide to just roll with it. If hair loss is a problem, many men decide to cover it up with a baseball cap or some other sort of hat, or just wait for hair growth to begin again. He pointed out that since so many men these days wear their hair very short anyway, he sees way fewer male clients looking for realistic wigs.
In Trebek's case, though, Vallance said his wig is so convincing because he has "fuller hair" to begin with.
"A custom, well-made wig can create a total illusion," he said. "The fact that he has fuller hair, [that's why] he's able to wear it. They were able to replicate the illusion of his hair."
Learn more about SurvivorNet's rigorous medical review process.