Boyd Tackles Cancer Personally and Professionally
Virgin River's Lynda Boyd discusses losing her brother and sister to cancer, and recalls first hearing that her character, Lilly, would be killed off by cancer.
To prepare for her part and learn what it's like to live with pancreatic cancer, Lynda Boyd read Alex Trebek's memoir.
Boyd explains why her character hid her cancer until her death, and talks through how challenging it was to play a character suffering from a disease that carried so much personal resonance for Boyd.
It's the phone call any actor on a hit TV series dreads.
Spoiler alert!
Read More
Two producers called actress Lynda Boyd, who plays sweet chicken farmer Lilly on the hit Netflix drama
Virgin River
, to tell her she was being killed off in season 3.
The show centers around Los Angeles transplant and nurse practitioner Mel Monroe (Alexandra Breckenridge) and her romance with local bar owner Jack Sheridan (Martin Henderson). Lilly appeared in season 1 as a widowed mom suffering from a severe case of postpartum depression. She tells no one she's having a baby, and then leaves the newborn daughter on the local doctor's doorstep. After seeking treatment, Lilly gets better and is reunited with little Chloe.
RELATED: Actress Lynda Boyd Leaves Netflix's #1 Show 'Virgin River'
During that fateful call the producers told her, "'We've got this great storyline! We're so excited!' and I was like, 'OK, what is it?'" Their answer: "You get cancer and you die in episode 7. And I'm on my end of the phone going, 'Oh great.'"
It hit home. Very close to home. Boyd had recently lost her sister, Marian, to cancer. "I didn't want to talk about it anymore."
Speaking via Zoom from her home in Vancouver, Boyd, 60, wells up with tears talking about it now. "I lost my brother and sister to cancer. I come from a big family – I'm the youngest of eight children, and my two oldest siblings were gone – from cancer. I wasn't too pleased. But then, I thought, well, that's my job. I've got to find a way to do this."
Boyd says there was no way to suggest killing off Lilly in some other way. "They had it pretty well set that it would be stage four pancreatic cancer."
All she could do was learn her lines and not think about it. Boyd remembers uttering the words, "I have cancer" to her character's daughter, Tara (Stacey Farber). "I don't ever want to say them in real life!"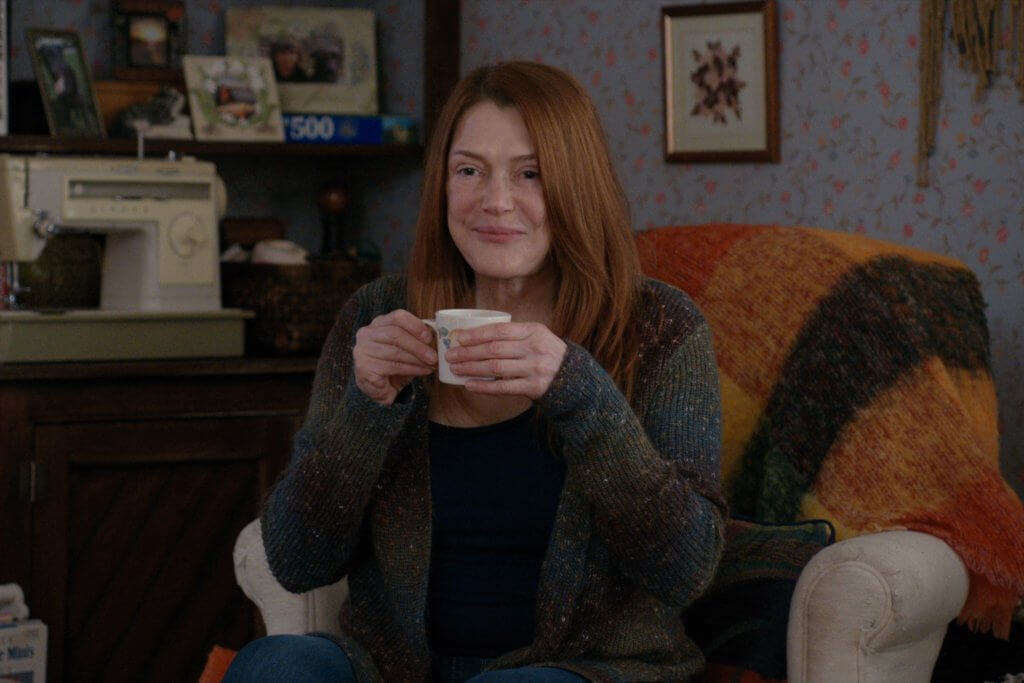 Learning from Alex Trebek
The gentle and affable Canadian actress has an extensive stage, TV and movie career, counting Jennifer Lopez, Owen Wilson and Victor Garber among the many stars with whom she's shared scenes. On Virgin River, Boyd's friendships with some of her co-stars go way back; she took tap dance lessons with Teryl Rothery, who plays Muriel, when they were teens.
Boyd says that maybe by playing this character she can "exorcise – as in, get rid of" any possibility of getting cancer in real life.
To prep for the storyline, she turned to Jeopardy! host Alex Trebek's memoir to learn more about what it's like to have pancreatic cancer. Trebek died in November.  "He'd be writhing on the floor of his dressing room and putting a wig on before taping the show," she says.
In the episode of her death, Boyd's character, Lilly, mentions that she's tired, and goes to get some rest before dinner. When her daughter tries to rouse her a short time later to eat, Lilly is unresponsive. Viewers don't see any lingering ailment; there are no hospital beds.
"A lot of people on social media were like, 'Why didn't she really have any symptoms?'" says Boyd.
But the actress points out that her character says she sought medical attention elsewhere and didn't want anyone to know. She was hiding her illness. "I've read that you don't necessarily know you have it. It's one of the hardest cancers to detect and doesn't show up until it's stage four," explains Boyd. "It also made sense to me that because this is someone who kept a baby secret from the entire community."
As for acting out the deathbed scene, Boyd says the hardest part was holding her breath. The director could see her shoulder moving as her daughter tried to wake her, so Boyd tried to let out little breaths as she was being shaken. "I tried to use those moments to exhale and inhale."
View this post on Instagram
'Do Life and Be Healthy'
While Boyd talks, her little 13-year-old mutt, Milo, joins her on the Zoom screen. Boyd returns to talking about cancer and how her brother, Steve, died seven years ago. "I was living in Newfoundland at the time. I flew home for the weekend because his son was getting married, and he died on the wedding day, so the wedding was canceled."
It almost sounds like a scene out of Virgin River.
Boyd explains that he died of colon cancer, but he had esophageal cancer, too, she says. "According to the stomach doctors, your colon basically starts at your mouth and ends at your butt."
Her sister Marian also died of colon cancer. "She had lost a lot of weight — that was the summer of 2018 — and she wouldn't go to a doctor because she thought whatever it was that was going on, would go away. It didn't. There was a tumor in her."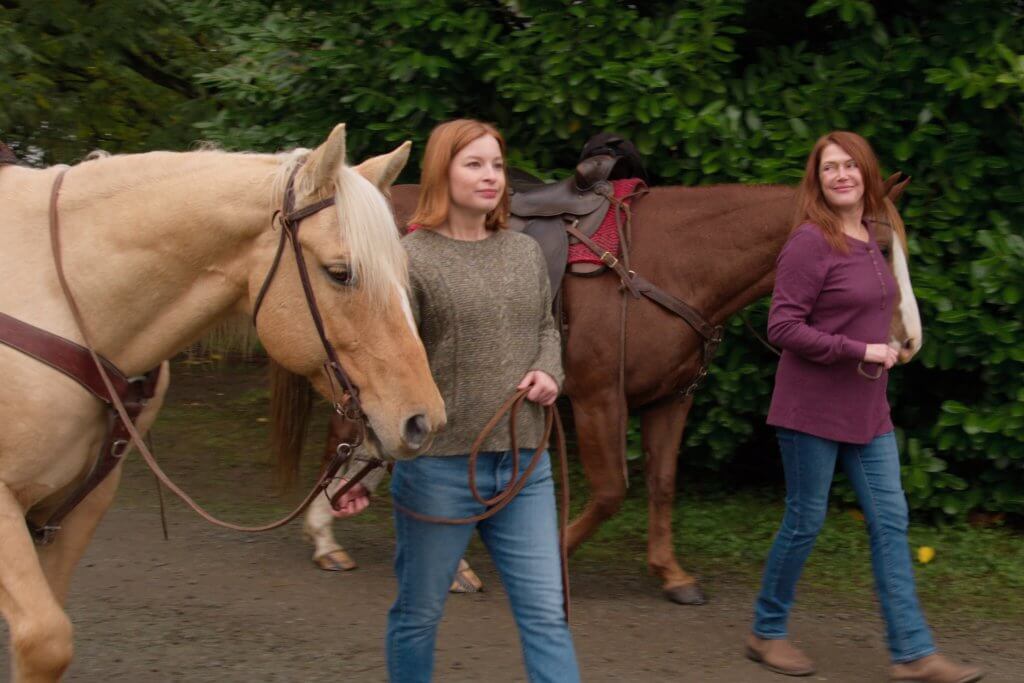 Boyd says they removed the tumor, and Marian needed a colostomy. Boyd recalled a time she tried to help in changing the colostomy bag and it leaked. So, she says, "I really appreciate what nurses do for us."
The actress says her siblings' cancer hasn't prompted her to worry about a family history. Her mom had diabetes and died after a heart attack at 74. Her dad had Parkinson's and died at 79. Steve was 70 and Marian was 76. "I've had this attitude, for a long time now, about being careful what I think about. Basically, I can be quite a hypochondriac, and I thought I needed to change that. I try to live really healthy and I won't allow myself to think anything like that. Do life and be healthy."
But Boyd says she does get screened regularly. She is registered with the Canadian Cancer Screening program, which sends her reminders. She has had two colonoscopies in the last three years "and is clear." The actress adds, "I've had several endoscopies over the years checking my esophagus for irritation, and had a polyp removed at my first colonoscopy."
The irony of her cancer portrayal in Virgin River, she says, is that she gained 20 pounds during the COVID lockdown last year. But a person dying of cancer doesn't typically gain weight. "I had wardrobe buy my clothes in a size 12 so I looked like I was shrinking in my clothing. I'm usually a size 8. I wanted things to be hanging off me. It was the only thing I could come up with because I couldn't lose the weight fast enough!"
Because in TV characters are always able to come back from the dead in flashbacks, it's possible we'll see Lilly again. "That would be awesome," says Boyd. "I hope that happens." In the meantime, she's auditioning for a Hallmark holiday movie, An Unexpected Christmas, for the role of the family matriarch whose gay daughter finds romance.
The Alex Trebek Effect
The one-year survival rate for pancreatic cancer is just 9% (a fact that Trebek shared during an episode of Jeopardy!), and Trebek beating the odds by passing that milestone inspired so many others that their fights are not over. In addition to discussing symptoms he experienced (which he also shared on the game show and ended up helping a man catch a diagnosis early), he also shared treatments he went through during the process. Initially he went through chemotherapy, but later turned to an experimental therapy which helped save Senator Harry Reid's life.
Related: 'Jeopardy' Viewer Says Alex Trebek 'Saved His Life' After He Caught His Pancreatic Cancer Early Thanks to Trebek Talking About Symptoms
In addition to sharing information about pancreatic cancer, he also was extremely honest with his roller coaster of emotions he experienced while going through treatment. During his one-year update, Trebek shared that side-effects to the treatment certainly did get him down many times, and he considered giving up. However, he knew that he had an obligation to fight as hard as possible for his family and friends.
"I'd be lying if I said the journey had been an easy one. There were some good days. But a lot of not-so-good days. I joked with friends that the cancer won't kill me; the chemo treatments will. There were moments of great pain; days when certain bodily functions no longer functioned, and sudden massive attacks of great depression that made me wonder if it really was worth fighting on," Trebek had said in a video. "But I brushed that aside quickly because that would have been a massive betrayal. A betrayal of my wife and soulmate, Jean, who has given her all to help me survive."
Navigating a Pancreatic Cancer Diagnosis
Although pancreatic cancer survival rates have been improving for decades, it's still considered to be one of the most difficult diseases to successfully treat. An exception to this is if the tumor is still small enough and localized enough to be operated on. Most pancreatic cancers are particularly aggressive and progress rapidly, and that's why it's so important that it to be caught early. According to the American Cancer Society, 60,000 people will be diagnosed with pancreatic cancer in a year and the five-year survival rate is just 9%.
One of the main reasons the disease is so hard to treat is due to the stroma — a barrier that surrounds the cancer cells and prevents the chemotherapy from breaking through and taking effect to fight the cancer.
Related: 5 Tools Alex Trebek's Wife, Jean, Used to Help Cope as the 'Jeopardy!' Host Battled Pancreatic Cancer
"Think of pancreatic cancer as an oatmeal raisin cookie and the raisins are actually the cancer cells, and the cookie part is actually all the stroma around it," Dr. Allyson Ocean, a medical oncologist at Weill Cornell Medical Center, explains to SurvivorNet. "And imagine having to navigate through all that stroma for a treatment to be able to get into a cell to kill it. So that's why the treatments just really aren't good enough to penetrate the cancer. But we're improving, we're getting better treatments."
Dr. Anirban Maitra breaks down challenges that come with screening for pancreatic cancer
Contributing: Shelby Black
Learn more about SurvivorNet's rigorous medical review process.
---