Hoppus Gets Chemo Port Removed
Blink 182 singer Mark Hoppus announced earlier this year he'd been diagnosed with Diffuse Large B-Cell Lymphoma Stage IV-A; following treatment, he's now cancer-free and recently got his chemo port removed.
A chemo port is a small, implantable reservoir with a thin tube that attaches to a vein; it's used to administer chemotherapy.
For people getting chemo for cancer treatment, some side effects, such as nausea and hair loss, can be mitigated thanks to modern technologies.
Blink 182's Mark Hoppus was diagnosed with Diffuse Large B-Cell Lymphoma Stage IV-A earlier this year, and he's now getting his chemo port removed as he is cancer-free.
Read More
In a story posted to his Instagram, Hoppus shares an update with fans. He writes, "Surgery to remove my chemo port." The singer then includes some "before," "during," and after photos.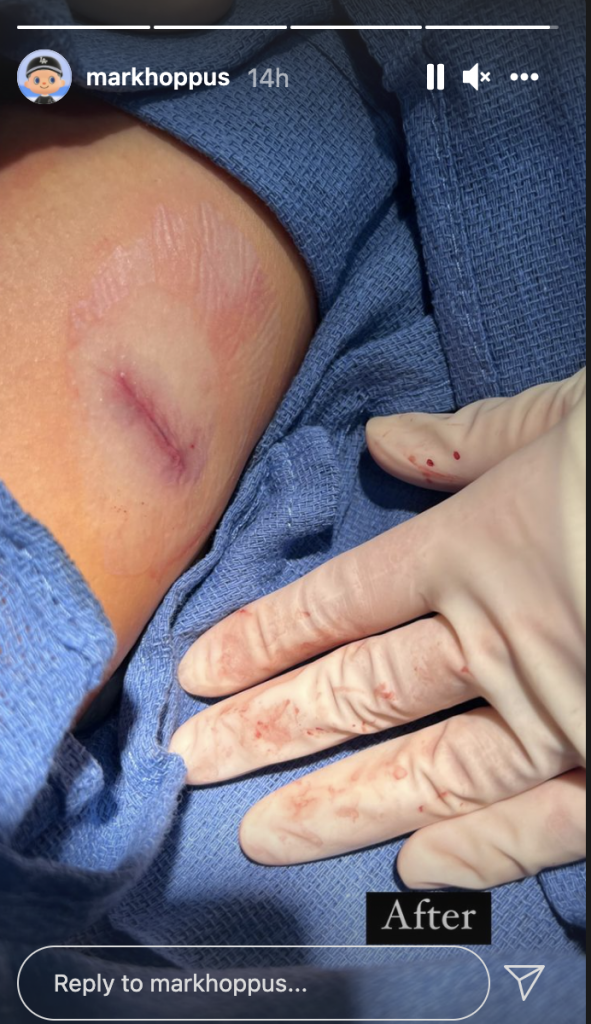 His photos beg the question: What exactly is a chemo port? And what does it do for people with cancer?
What is a Chemo Port?
In an earlier interview with SurvivorNet, Dr. Scott Rushing, a gynecologic oncologist with Compass Oncology in Vancouver, Washington, explains the function of a port. He says, "A portacath is a device that we implant in the upper chest that allows our nurses, our radiology colleagues to be able to access, intravenous access to be able to draw blood."
"More importantly," says Dr. Rushing, "it also gives us an opportunity to administer your chemotherapy. If you're having a CT scan it's another means by which they can give a contrast. So it really does save you the multiple sticks that are required during your term of receiving chemotherapy and in treatment for your cancer."
Related: Living With Chemotherapy
Dr. Rushing describes how a port has two separate components. "The first is made out of a very specialized plastic or sometimes even titanium," he says. "It has a reservoir. It has a very special plastic that's on top of it called a diaphragm where a special needle goes into. And then whether you're putting chemotherapy in, it then exits out of a catheter that's attached to the port."
The other component is the catheter, which is "usually about a 20 to 25 centimeters in length," he says. The chemo port can remain in place as long as it's needed for treatment. It can stay where it is for weeks, months, and even years. A chemo port will be removed when it's no longer needed for treatment, and, as Hoppus exhibits, the removal process is fairly seamless. It's a simple outpatient procedure to get rid of the port.
Effects of Chemotherapy
Hoppus documented for fans many of the side effects he experienced from chemo, such as hair loss and "chemo brain" (or, feeling like he was in a fog).
Related: 'Getting Pumped Full of Poison…Is My Normal': Blink-182's Mark Hoppus Says His Upcoming Scans Will Show if Treatment Is Working for His Diffuse Large B-Cell Lymphoma
In one vulnerable social media post, Hoppus shared a picture of his hairless head, writing, "Cancer-ass head trying to grow back some hair. Awww. Poor little head. Keep your chin up, fighter. Feeling terrible this week but trying to stay positive and count my blessings. I hope everyone is doing great, staying healthy, and being kind to each other."
View this post on Instagram
Additional common side effects of chemo include fatigue, nausea, pain, and loss of appetite. Thanks to new technology, however, some effects of chemo can be mitigated, to a degree. For example, cooling caps can help lessen the impact of potential chemotherapy-related hair loss.
Dr. Michael Ulm, a gynecologic oncologist at West Cancer Center, explains in an earlier interview that extreme nausea no longer needs to be an issue for most people getting chemotherapy.
"One of the things that patients worry most about is nausea with chemotherapy," he says. "With modern medicine and modern antiemetics that you should never have severe nausea. And you should never throw up."
Not Your Parents' Chemotherapy: New Solutions for Nausea, Hair Loss, and Other Chemo Side Effects
Learn more about SurvivorNet's rigorous medical review process.