Learning About Ovarian Cancer
The NASCAR Foundation and the Martin Truex Jr. Foundation, which was co-founded by stage 3 ovarian cancer warrior Sherry Pollex and her former longtime partner of NASCAR driver Martin Truex Jr., has initiated it's Honor a Cancer Hero online auction presented by AdventHealth.
Sherry Pollex, now 44, was first diagnosed with ovarian cancer in 2014 at age 35. In 2016 the cancer returned. While she beat it both times, Pollex was told in late 2020 that her cancer had returned once again.
Ovarian cancer is a type of cancer that starts in the ovaries, which are the female reproductive organs that produce eggs. Women don't often experience symptoms until it has reached later stages.
There is no screening test for ovarian cancer, but if you are experiencing symptoms, your doctor should do a workup to determine if you have cancer. This will consist of a health history check, a physical exam, and a trans-vaginal ultrasound
The NASCAR Foundation and the Martin Truex Jr. Foundation, which was co-founded by stage 3 ovarian cancer warrior Sherry Pollex, 44, and her former longtime partner of NASCAR driver Martin Truex Jr., has initiated it's Honor a Cancer Hero online auction presented by AdventHealth.
The live auction, which is running from July 14 to July 24, allows supporters of those battling cancer to put the name of their hero in the fight against cancer on their favorite driver's car.
Read More
We've been following Pollex, a champion for cancer survivor's over the past few years, so it's great to see the foundation she helped create continue on it's devoted path in raising awareness and boosting advocacy for childhood and ovarian cancers.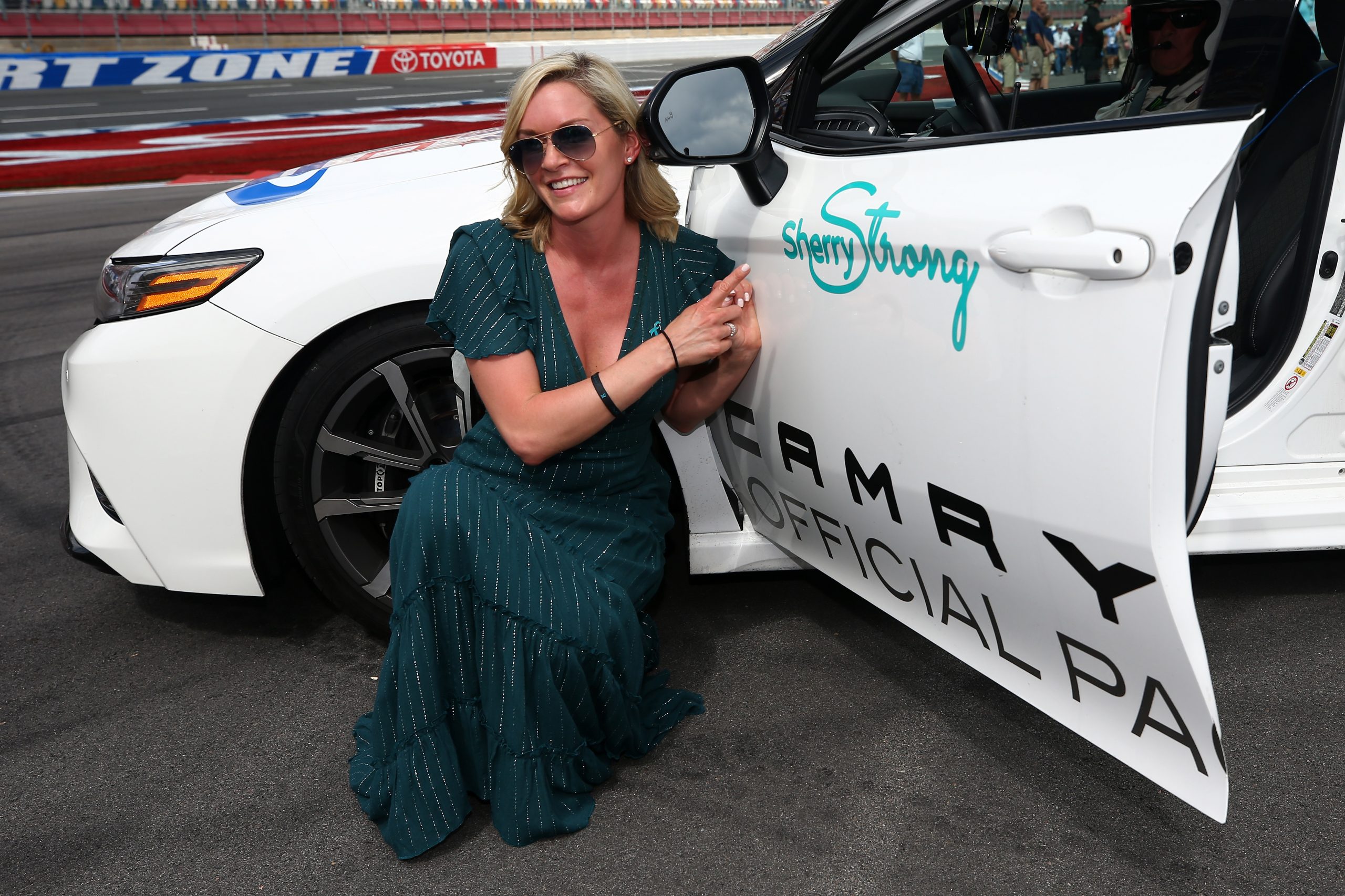 The cancer heroes' names will be on the cars of the drivers in the NASCAR Cup, Xfinity, and Craftsman Truck Series races at Kansas Speedway in September, which is Childhood Cancer Awareness Month. Bidding for the auction can should checked out
NASCARfoundation.org/cancerhero
to participate.
"The NASCAR community is incredibly inspiring. Witnessing millions of people, including fans, drivers, and teams, united in their efforts to drive positive change in the lives of women and children affected by this devastating disease is truly heartening," Audrey Gregory, Ph.D., R.N., President and CEO for the AdventHealth Central Florida Division North Region, said in a statement published in a NASCAR Foundation press release.
"Both the awareness and funds raised through this online auction can make such a significant impact in the fight against cancer. Every bid and every contribution brings us closer to accelerating lifesaving research, pioneering new treatments, and enhancing care."
📣HAPPENING NOW! @MTJFoundation and The NASCAR Foundation's Honor A Cancer Hero auction presented by @AdventHealth is underway!

Learn more and start bidding to honor the cancer hero in your life: https://t.co/pY5VYbiZ5K#HeroesRideAlong #NASCAR #NASCAR75 #ebayforcharity pic.twitter.com/LXzWomqKbl

— The NASCAR Foundation (@NASCAR_FDN) July 14, 2023
Truex Jr. himself also offered a statement, saying, "We are so grateful to the fans, AdventHealth, and The NASCAR Foundation for supporting our cancer hero program.
"t's been incredibly humbling to see the teams, drivers and fans get behind this program to make it a success every year," he continued. "We're looking forward to seeing how much we can raise this year and seeing all the names of the cancer heroes riding along with the drivers."
Although Pollex hasn't yet spoken about about the auction, we can clearly see how much she has done since the foundation was started up in 2007.
How Sherry Pollex, Ex of NASCAR's Martin Truex Jr., Is Doing Nearly 10 Years After Beginning Ovarian Cancer Battle: How Treatment Has Progressed
Additionally, the online auction, which has taken place since 2020, will send its proceeds to MTJF and The NASCAR Foundation.
Sherry Pollex's Ovarian Cancer Journey
In 2014, at age 35, Sherry Pollex was diagnosed with stage 3C ovarian cancer, meaning the cancer had spread from her ovaries to her abdomen. Her doctors told her that her chances of survival were just 30% over the next five years, TobyChristie.com previously reported.
Now, nearly 10 years later and counting, Pollex continues to live a full life with cancer. She has entered remission a number of times. Her cancer returned in July 2022 and spread to her lung and esophagus.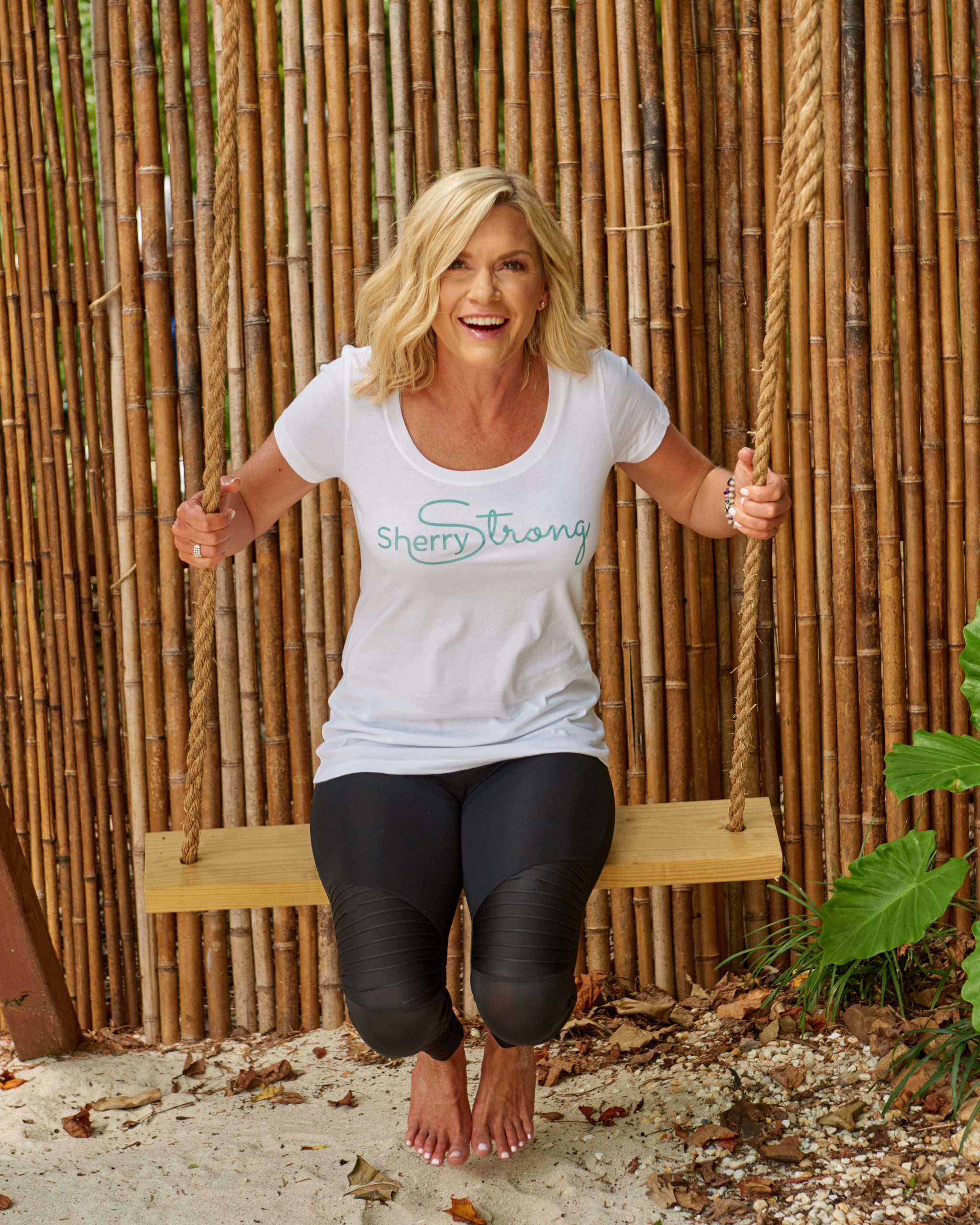 The last time Pollex underwent chemotherapy, a few months before her latest recurrence, was when she discovered her cancer was what they call "platinum-resistant," so she and her medical team are determined to find other options.
Pollex previously underwent her first debulking surgery, which took eight hours, in August 2014 at Novant Health in Charlotte. Debulking is important when the cancer has spread throughout the belly. One report said she had 40-50 tumors.
However, she can't confirm that, saying instead, "If you picked up a handful of sand, it was like that plaque-like tumors blanketing my peritoneal area. I had a radical hysterectomy, liver resection, colon resection, appendectomy, stomach scraped. It was intense. Waking up after that surgery, was like, 'Whoa. You've gotten cut from your sternum to your pubic bone.'"
Six rounds of IV chemotherapy followed, using a port near her rib cage.
"For eight hours they chemo wash you. They turn you around. Every 8 hours. That was the toughest six months of my life."
How Do You Diagnose and Treat a First Relapse?
And that's when she stopped recognizing herself. "You weigh 80 pounds, no hair, no eyelashes."
She recovered and had a reprieve until the cancer returned 15 months later in her spleen and liver. Another surgery was on the horizon and six more months of chemotherapy.
In 2017, she started taking a drug called a PARP inhibitor, which prevents cancer cells from repairing their damaged DNA and multiplying.
Pollex also got into integrative modalities and noticed another area for improvement in the cancer world.
"There's such a breakdown in our system of teaching cancer patients how to take care of themselves after we pump them full of drugs. You cannot be in the same environment you got sick in. We need to be teaching patients that," she said.
Integrative medicine for Pollex meant eating healthy foods, doing yoga and meditation and spending time in a hyperbaric chamber. (A hyperbaric chamber is an enclosure where a user breathes in oxygen at levels above normal atmospheric pressure.)
Mind Over Cancer How to Gain Greater Control Over Ovarian Cancer, and Feel More Empowered in the Process
She follows a ketogenic diet and gets "mistletoe injections in my body every week." And It's important to note that she stresses her regimen is not for every patient.
"I don't recommend you go out and start taking them. You need to have a doctor overseeing that care." She adds that it's not covered by insurance another factor to consider.
To help make sure patients have access to integrative medicine, she opened the Sherry Strong Integrative Medicine Oncology Clinic in November 2020, which offers services such as oncology massage, acupuncture, meditation, yoga, and nutrition counseling to patients regardless of their ability to pay.
Learning About Ovarian Cancer
Ovarian cancer, like what Pollex has, is a type of cancer that starts in the ovaries, which are the female reproductive organs that produce eggs. It is often called the "cancer that whispers" as women don't often experience symptoms until it has reached later stages, says Dr. Beth Karlan, director of the Women's Cancer Program at the Cedars-Sinai Medical Center.
Ovarian Cancer: The Cancer That Whispers
Recognizing ovarian cancer warning signs is extremely important. If symptoms do present, they may include:
Feeling full earlier/decrease in appetite
Feeling bloated
Changes in bowel habits
Pain in the pelvis
Urinary symptoms, such as an urgent need to go
Extreme fatigue
Abdominal swelling
Pain during sex
Dr. Karlan tells SurvivorNet that she and many other doctors urge women to be vigilant of changes to their bodies and get the tests and screenings they need. Due to many of these symptoms being associated with women's menstrual cycles, it may be necessary to be insistent with doctors who may want to write off symptoms.
RELATED: Ovarian CancerIf You Feel Something, Get Tested
According to the American Cancer Society, a woman's chances of getting diagnosed with ovarian cancer at any point in her lifetime is estimated to be 1 in 78.
The cancer often arises in older woman, with half of those diagnosed being 63 years or older.
Ovarian Cancer: Symptoms & Diagnosis
In her conversation with SurvivorNet, Dr. Karlan pointed out the average delay from the time a woman notices symptoms to the time that she is diagnosed with ovarian cancer is around 9 months.
"That's why, if you do have these symptoms, even if it's only for two weeksbut they're happening everyday and seem to be getting worse, you should call your doctor and say, 'I'm having these symptoms. I'm concerned it could be ovarian cancer. Can I have an ultrasound and a CA-125,'" Dr. Karlan said.
Feeling Overwhelmed by Your Ovarian Cancer Diagnosis? Here Are Some Ways to Regain Your Equilibrium
Testing For Ovarian Cancer
There is no screening test for ovarian cancer, but if you are experiencing symptoms, your doctor should do a workup to determine if you have cancer. This will consist of:
Health history: Because ovarian cancer can be inherited, your doctor will want to do a survey of your family history to determine if genetic testing is required. This may alter the course of treatment if you do have cancer.
Physical exam: This exam will include a pelvic exam, as well as a recto-vaginal examination where doctors will look at the tissues behind the uterus.
Trans-vaginal ultrasound: This allows doctors to take a close-up look at the ovaries.
CA-125 blood test: This test acts as a barometer to show doctors how many cells are infected with cancer, and later, whether those cells are responding to treatment.
Contributing: SurvivorNet Staff
Learn more about SurvivorNet's rigorous medical review process.
---