The infectiously happy doctor who went viral for dancing with kids in cancer treatment, tells SurvivorNet he's just "doing the same things I do to take care of myself to take care of them on a personal level, and make sure they're OK."
"All I do is listen to music at home. It soothes my mind and relaxes me after the day," adds Tony Adkins, a pediatric neurosurgery physician's assistant who sees patients at CHOC Children's Hospital in Orange, Calif.
Read More
Music and dancing have been a part of Adkins' life since he was young.
"When I was a little kid, I never really watched TV," he says. "I only watched for music videos, or 'Soul Train' early Saturday morning to see how people were dancing."
The reason, he says, is because he "couldn't go outside because I was the youngest [with] two older brothers in gangs. So I'd turn on VH1 and emulate all the dance steps. I knew a lot of the early '80s pop music — 'I want to be your sledge hammer' and Michael Jackson and The Jackson 5 — those were my things that I loved."
The Music Is Patient's Choice
As for the tunes he plays in the hospital, Adkins says he loves it when the patients choose their favorite.
"I have a list that I can go to — I'm alway listening to different things I can try," he tells SurvivorNet. "But then I always ask if the kids like anything in particular, and we pick from that."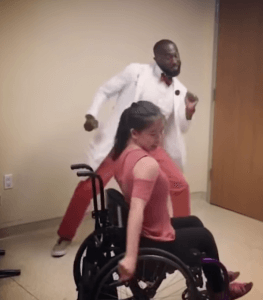 Adkins' connection with the kids comes from a deep well of empathy. He recalls one patient who his team diagnosed with a brain tumor last March and who has since passed away. When she was took sick to sit up, she danced by moving her arms in the bed.
"I saw her mom there every day, and [the little girl] was my little girlfriend. I danced with her. I did it because I wanted to be close with her, and give the parents a memory [of her having] a good time while she was in pain. … I've learned to relate to parents [because] I would feel devastated — just how they feel."
Adkins has two daughters of his own, ages 16 and 8. He says raising them has also helped shape the way he provides care for his patients and their families: "I understand what [parents] are going through, and what I would want if it were my girls."
He adds that he treats them "the way I would want to be treated, and nothing less."
Hip-Hop Chemo
SurvivorNet has spoken with survivors who also found music has helped them during treatment. Tiffany Dyba, who has been open about her chemotherapy, she dances around to her favorite hip hop jams and posts videos online to show her followers that she may be sick, but she feels good.
Breast cancer survivor Tiffany Dyba on dancing to hip hop during treatment
Dyba says she dances in part to send a message to those around her.
"It's important for people to see that I'm OK," Tiffany told SurvivorNet. "I sort of want to bust through those stereotypes and that stigma and say, 'I'm out here dancing because I feel good. I'm not going to act sick if I don't feel sick.' And on the days that I feel tired and I don't feel good, I'm going to post about that, too."
Learn more about SurvivorNet's rigorous medical review process.
---