About a year ago, SurvivorNet interviewed a badass breast cancer survivor named Erick Hart, who advocates for black and queer women with the disease by going out in public topless, to show her pride in her post-surgery body. She told us a lot about her journey, so we wanted to find out what she's been up to since we last spoke.
Breast Cancer And Black, Queer Advocacy -- Ericka Hart's Journey
Ericka Hart's interview with SurvivorNet
Read More
When we spoke with her, Hart talked a lot about her advocacy work, and why black people are disadvantaged when it comes to cancer.
When you see a commercial for anything to do with breast cancer, there's a good chance the women in it will be white, she said.
"Breast cancer can happen to anybody, so you want to be seen in advocacy campaigns," Ericka said. She was diagnosed with triple negative breast cancer when she was just 28 years old, living in Brooklyn and about to get married to a woman. She advocates for African-Americans, and others who find themselves underrepresented when it comes to breast cancer awareness. "Black people die from breast cancer at faster rates than white people, and that has nothing to do with black people and a gene or anything like that. It has everything to do with us not existing in advocacy programs," Ericka said.
So she goes topless for awareness – "and I think that it's working," she said.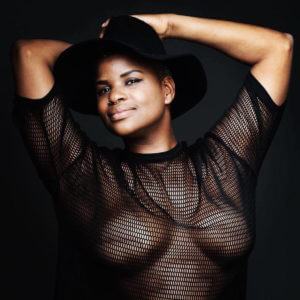 Hart also talked a little bit about sex, and the fear that you may not be able to have sex after cancer.
"If you are diagnosed, and you're thinking you're never going to have sex again, think again," she said in an interview. Sure there will be days where you won't feel up for it, but that doesn't mean your sex life is over. Ericka lived through breast cancer, and says that throughout her treatment, none of her doctors discussed how her sexuality would be impacted. Which is a real shame.
Breast cancer survivor Ericka Hart of having a lot of fantastic sex after cancer
"Kink and BDSM was a huge part of my healing," Ericka explained. "When you go through breast cancer, it's almost like a non-consensual pain you have to go through … to have someone spank you, or flog you, or even choke you in a consensual way that you're asking for, can be a really beautiful way to reclaim your body."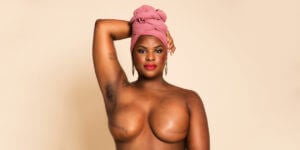 What Ericka has been up to lately
In her most recent Instagram post, Ericka informed her supporters about an experieince she had with discrimination as a teacher in Minnesota. "When you are a Black queer femme, people will do everything in their power to make you feel like you are nothing and deserve nothing," wrote in the post.
A big part of Ericka's advocacy has been going topless in public, to share her pride in her breasts after breast cancer surgery — and that's been a big part of the discrimination she's had to deal with.
"They will make up excuses having you jumping through hoops just so you can do the job they have inquired you do. The excuse: 'Students are concerned you will be teaching topless,'" she wrote.
"I wish people could be a flies on the wall to witness that we don't just negotiate rates, but also spend a lot of time navigating people's anti-blackness before we even sign a contract," she continues.
She also posted for breast cancer awareness month, writing out a list of reminders about being a black, queer woman with cancer. "ANY gender can be diagnosed with breast cancer as every gender has chest/breast tissue. Please refrain from the single narrative of it only affecting cisgender women," she says. "We are whole people, rarely do we want to be defined solely by our disability/chronic illness." For the full list, check out her Instagram below.
Ericka has also been hosting a podcast called "Hoodrat to Headwrap: A Decolonized Podcast," about which she recently shared her gratitude, "It's #internationalpodcastday and I must say I'm quite proud of our podcast! Thank you to everyone who has listened, shared, commented, left a rating! Thank YOU!"
And of course, Ericka has been spending a lot of time in the nude, showing off the body she loves. In a post she wrote, "Me, at home being normal," alongside a photo of herself sitting in a chair nude with a small orchid over her genitals.
Supporters loved the photo, and wrote in the comments to let her know, "Stunning. Requesting a smizing workshop please!"
"Amazing woman [heart eyes emoji]. I had a mastectomy and reconstruction 3 weeks ago. Feel proud of what I've been through!"
Learn more about SurvivorNet's rigorous medical review process.