Michael Bublé Going on Tour after Son's Cancer Battle
Canadian singer Michael Bublé, 46, announced that tickets for his new tour go on sale this Friday.
Bublé's eldest son, Noah, 8, was diagnosed with liver cancer in 2016, and he was in remission by 2017.
When your child is diagnosed with cancer, it's important to continue to take care of your own mental and physical health, too, so you can best be there for your child.
Michael Bublé's fans are thrilled that the iconic singer is finally going on tour again, following his son Noah beating liver cancer.
Ticket pre-sales are currently underway in various cities throughout the U.S., and many can't wait to see the loving father and husband take the stage to sing his classic hits like "Just Haven't Met You Yet," "Sway," and "Feeling Good."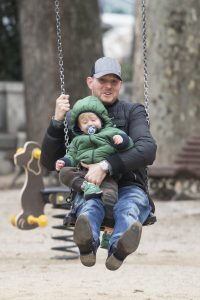 Read More
Sharing the news of the ticket sales on Instagram in a video, the Canadian crooner says, "Believe it or not, they were even more excited when I started my PowerPoint presentation. #highertour. Tickets for the U.S. dates of the 'HIGHER' Tour are on sale Fri. 5/6 10am local. Details at michaelbuble.com/tour."
 

View this post on Instagram

 
The singer is married to Argentinian actress Luisana Lopilato, 34. They have three children together and are expecting a fourth.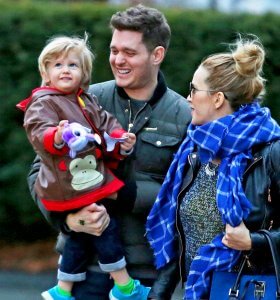 Michael Bublé's Son Noah's Battle & Understanding Liver Cancer
Bublé and Lopilato's eldest son, Noah, 8, was diagnosed with liver cancer in 2016, and he was in remission by 2017. Liver cancer affects approximately 42,000 Americans per year, according to the American Cancer Society (ACS).
Several different types of liver cancer exist, and the most common is hepatocellular carcinoma. Symptoms of this disease may include abdominal pain, unexplained weight loss, decrease or loss of appetite, fatigue, nausea, and jaundice.
Pediatric liver cancer, like Noah's, is very rare. The most common type of pediatric liver cancer is hepatoblastoma, according to Children's Hospital of Pittsburgh. Approximately 2-3 children out of 1 million will be diagnosed with the disease.
What To Do When Colon Cancer Spreads to the Liver
Coping With A Child's Cancer Diagnosis
When your child is diagnosed with cancer it may seem that the dreams you had for your family are falling apart. It's important – to the best of your ability – to try to keep a level head after you've fully felt all of your emotions around the diagnosis.
You're not alone in this journey – your child's oncologist and care team are there to guide you and provide information and answers. Oncological social workers are a fantastic resource to help you sort out the financial aspects of cancer treatment, as well as other cancer-related issues. Skilled psychologists and counselors can be accessed to help you maintain good mental health through your child's cancer journey, to the best of your ability.
And, don't be afraid to reach out to your support system – friends, relatives, etc. – for help through this process. No one expects you to handle everything on your own. Bublé has said in the past how having the support of others during Noah's cancer battle made all the difference. "People will never understand how much it changed our lives when we were going through our darkest times; how much the prayers, how much the good will, how much the love we could feel coming [helped]," he says.
"We feel indebted to those people," he reflects. "And I only hope I can bring people a tenth of the joy they brought me."
The Value of Using a Social Worker During Treatment
Learn more about SurvivorNet's rigorous medical review process.