An incredibly woman, Jade Devis, 36, from Rancho Cucamonga, about an hour outside of Los Angeles, was diagnosed with cancer while she was pregnant. Now she's the mom of a beautiful new baby boy.
Devis named her baby Bradley, and calls him her "miracle child". "It is surreal to remember that my pregnancy had an element of extraordinary fear," Devis told KTLA5 news. "I am blessed when I look at my son, and I cannot ask for more than that."
Read More
Devis was diagnoses with what's called stage two triple-negative breast cancer, a rare type of cancer that doesn't respond to certain kinds of treatment.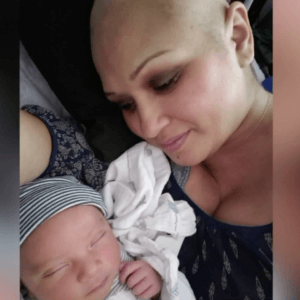 Information about triple negative breast cancer
Triple negative breast cancer is one of the most aggressive forms of the disease and accounts for about  20 percent of all breast cancers. It's called triple negative because it does not have any of the main drivers of breast cancer–the estrogen receptor, the progesterone receptor, and the HER2 receptor–and consequently doesn't respond to treatments that target them. The main treatment is chemotherapy or participation in clinical trials.
There are different chemotherapy options depending on the burden of disease, which refers to how sick someone is with their disease. Triple negative breast cancer is usually responsive to chemotherapy.
In certain instances, a patient will become resistant to their first line of therapy and will have to switch to another chemotherapy. There are many different chemotherapies that are used for triple negative breast cancer. There are also different clinical trials that may be available.
Devis' journey with cancer
When Devis first noticed a lump on her breast in March, doctors misdiagnosed it as a symptom of pregnancy. By advocating for herself, Devis made sure she got a biopsy anyway. That's when she was diagnosed with a rarest forms of the cancer: stage 2 triple-negative breast cancer.
When Devis found out she had cancer, doctors weren't sure whether treatments would harm her unborn baby. But Devis decided she had to keep the baby anyway. "That is when something rose up inside of me," she said. "I wanted to keep my baby because I would not allow a stranger to tell me my child's fate."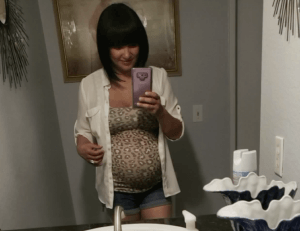 She sought treatment at Loma Linda University Cancer Center in California, where she ultimately went through lumpectomy — removal of the tumor from her breast — and multiple rounds of chemo. "His heart was beating. I could feel him inside. He was fighting, so I had to fight, too," Devis said.
Learn more about SurvivorNet's rigorous medical review process.
---