Bonnie Chapman, the 20-year-old daughter of Duane (Dog the Bounty Hunter) and Beth Chapman, took to social media to share some sweet photos of her and her mom, days after the family's new show Dog's Most Wanted debuted on WGN America. During the show's premiere, Bonnie was extremely active on Twitter, sharing her own reaction and interacting with fans using the hashtags #DogsMostWanted and #ThisOnesForBeth. The show kicked off with an intimate look at the family's reaction after learning that Beth — who died at age 51 in June after a battle with lung cancer — was not responding to treatment. During the premiere, Bonnie tweeted, "This is making me miss her so much."
And just yesterday, she shared some adorable family photos of her parents from many years ago to her Instagram story. "I miss you mama," she captioned the collection of sweet pictures.
Read More
RELATED: BONNIE CHAPMAN DISCUSSES HER MOM'S FINAL MONTHS IN INTIMATE CONVERSATION WITH SURVIVORNET
Dog's Most Wanted debuted on Wednesday night, and fans came out in droves to express how happy they were to see the family out bounty hunting together again — and to see Beth on screen again.
The show kicked off with some commentary on the couple's situation. "In 2014, Duane (the Dog) Bounty Hunter and his wife, Beth Chapman, retired from full-time bounty hunting," a narrator explains. "And in 2017, Beth won a year-long battle with cancer after having a tumor removed from her throat. But today, for the entire Chapman family, everything is about to change."
The camera then pans to a scene where Beth, Dog, and their daughter Cecily are driving in a car together and receive a call from Beth's doctor. Beth's cancer returned in late 2018, and by that time, it had progressed to stage 4 lung cancer. Even though Beth was really candid with fans about the ups and downs of dealing with cancer in the public eye, she remained mute on exactly how she was attempting to treat her cancer this time around.
RELATED: TREATMENT OPTIONS FOR STAGE 4 LUNG CANCER
However, the call with her doctor revealed that they attempted a round of immunotherapy — or harvesting the body's immune system to fight an individual's cancer — but Beth's tumors did not respond. The doctor then suggests getting Beth in to begin chemotherapy immediately, but an emotional Beth says she needs a minute to process the diagnosis. After Beth passed, Dog revealed that his wife did attempt chemotherapy for a bit, but she was suffering side effects and not responding to treatment — so she decided to stop.
In a recent interview with SurvivorNet, Dog reflected on his wife's battle with the disease. "Beth did not respond to chemotherapy," he said. "When you ask the doctor, 'does this chemo work?' and he says, 'each person individually responds to it differently,' that means it don't work." The world-famous bounty hunter also shared just how rough the chemotherapy side effects were for Beth — she began to lose her hair and her loss of appetite was so extreme she lost nearly 50 pounds. Dog said that when Beth made the decision to stop chemotherapy, the family backed her 100%.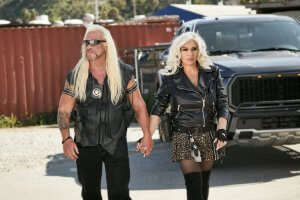 "You can either live a quality life or a miserable life where you live longer," Dog said. And Beth decided to prioritize living a good life where she felt like herself, right up until the very end.
Bonnie Chapman On Watching Her Mom's Cancer Battle on TV
Ahead of the debut of Dog's Most Wanted — Bonnie also spoke to SurvivorNet about how intimately the show would look at Beth's cancer battle, and the pain and struggle the entire Chapman family grappled with during it.
"It's very vulnerable," Bonnie said. "It's unlike anything you could really experience. It's having the whole world have eyes on you in an intimate way and to have the whole world know exactly what you're going through."
Bonnie also said ahead of the show's debut that the episodes she had seen so far were really difficult to watch. "To see new moments of [my mom] that I haven't seen … it brings back a flood of emotion. It makes me feel like she's still here, but then I'm brought back to reality, realizing it's something that happened in the past, not right now."
In addition to providing intimate looks into Beth's battle with cancer — Dog's Most Wanted also provided the content that created so many Dog The Bounty Hunter fans in the first place, the fugitive-chasing antics. The show airs Wednesdays at 9 p.m. on WGN America.
Learn more about SurvivorNet's rigorous medical review process.