Highly Proactive and Proud
Love Island alum Molly-Mae Hague, 23, is "grateful" for her scars after a variety of cancer scares.
The creative director has had a lump removed from her breast, suspicious-looking moles taken off from her leg, and a surgery for her painful endometriosis, which is where abnormal tissue outside of your uterus thickens, breaks down and bleeds with each menstrual cycle.
Fortunately, roughly 80% of breast lumps are benign, or non-cancerous, but it's still crucial to address the issue and get checked to be sure. A women's annual wellness test can address any potential issues you may have.
Love Island
alum Molly-Mae Hague, 23, is "grateful" for her scars after a variety of cancer scares.
Molly-Mae—who lives in Cheshire, UK with fellow former cast-mate of the. hit show, boxer Tommy Fury, 23—has been beyond proactive over her health. The stunning PrettyLittleThing creative director has had lumps removed from her breast and finger, along with pre-cancerous moles removed from her leg.
Read More
The fashion icon has even had surgery for her endometriosis, which causes tissue to grow in the fallopian tubes and ovaries.
Recently, a fan on Instagram asked the fit TV personality if her scars bother her because of their appearance.
"I have loads of scars now from surgeries I've had. I've had Endo scars, lump removal, mole removal scars… they all tell a story," the English social media influencer expressed matter-of-factly to a fan alongside a picture showing a couple of her marks.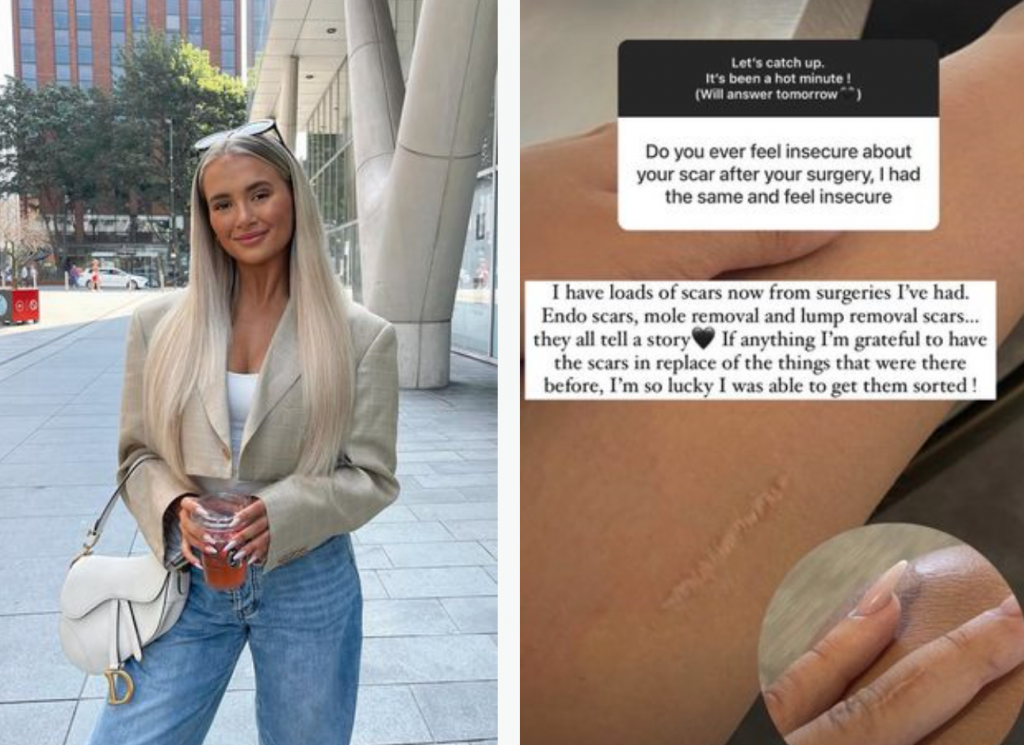 "If anything, I'm grateful to have the scars there in place of what was there before, so I'm lucky I was able to get them sorted!"
Molly-Mae's Breast Cancer Scare
The health advocate has also been open about breast scare she had in March.
"I basically noticed a little lump in my boob, went to get it checked and it was completely fine, completely benign," she said. "It's a little thing called a fibroadenoma and it's a normal thing to get at this age, small lumps can happen all the time it doesn't mean they're sinister."
 

View this post on Instagram

 
Finding a Breast Lump
A breast biopsy is performed when a suspicious lump or calcifications are found on a physical exam or a mammogram. The procedure involves inserting a very fine needle into the suspicious area and removing a small amount of tissue to determine if it is, in fact, cancer. It's typically a short procedure that may not be comfortable but shouldn't be painful.
There's usually no scarring from a breast biopsy, though some patients may experience a little bruising. Again, as Molly-Mae shares, it's a small price to pay to protect your health and make sure you're okay. Many women who go through these types of scares realize they are very fortunate compared to cancer patients suffering, but they still go through a similar terror when finding a lump in their breast.
What to Expect from a Breast Biopsy
There are several different ways breast biopsies are done. Most are done using mammography to locate the tumor. Ultrasound can also be used. And if neither of these techniques work, magnetic resonance imaging (MRI) is a third option.
If the lump is large like Molly-Mae's was, your doctor may want to take the entire lump out. Like the reality star experienced, roughly 80% of breast lumps are benign, so it's important to keep that in mind before your head gets the best of you!
Related: 'Gorilla Glue Girl' Tessica Brown's Breast Lumps Come Back Benign After a Cancer Scare – Plus, What are Fibrocystic Breasts?
Women can get breast cancer in their 20s, though it's more rare. Be sure to talk to your doctor and let them know of your family health history. Even if they say you are too young to start getting mammograms, performing self-checks and getting an annual exam from your doctor is always a good idea to be safe.
'I Push Forward' Meagan Good, 39, Who Had a Uterine Cancer Scare Years Ago, Shares Tips for Surviving Life's Challenges
What is Endometriosis?
Endometriosis can be a very painful disorder. Essentially what happens is the abnormal tissue outside of your uterus thickens, breaks down and bleeds with each menstrual cycle. But because this tissue has no way to exit your body like normal endometrial tissue, it becomes trapped. This can cause cysts, irritation and scar tissue and adhesions – abnormal bands of fibrous tissue that can cause pelvic tissues and organs to stick to each other – to form.
Related: 'It Was Bad': Fashion Designer Alexa Chung Details Ovarian Cancer Scare Before Being Diagnosed with Endometriosis
According to the Mayo Clinic, you shouldn't worry too much about endometriosis increasing your risk for developing ovarian cancer. And while ovarian cancer does occur at a higher rate in women with endometriosis, studies suggest that any increase in risk is relatively low. Additionally, endometriosis can lead to the development of another type of cancer called endometriosis-associated adenocarcinoma, but this cancer is rare.
According to the Mayo Clinic, symptoms of endometriosis can include the following:
Painful periods (dysmenorrhea). Pelvic pain and cramping may begin before and extend several days into a menstrual period. You may also have lower back and abdominal pain.
Pain with intercourse. Pain during or after sex is common with endometriosis.
Pain with bowel movements or urination. You're most likely to experience these symptoms during a menstrual period.
Excessive bleeding. You may experience occasional heavy menstrual periods or bleeding between periods (intermenstrual bleeding).
Infertility. Sometimes, endometriosis is first diagnosed in those seeking treatment for infertility.
Other signs and symptoms. You may experience fatigue, diarrhea, constipation, bloating or nausea, especially during menstrual periods.
Both endometriosis and ovarian cancer can be tricky to diagnose. And given the fact changes to your menstrual period and lower back pain are possible symptoms of ovarian cancer, it makes sense that Molly-Mae has taken this part of her health seriously as well.
Whether you have a mole or freckle that looks suspicious, a lump in your breast or another part of you body that you discover, or any other mystery pains or ailments, make sure to get in and get checked.
If the worst thing that Molly-Mae has is a few scars, that means she is staying ahead of a potential cancer diagnosis.
Learn more about SurvivorNet's rigorous medical review process.