A Cancer Scare on the Path to Correct Diagnosis
Hearing the word 'cancer' is a terrifying reality for many people when doctors are trying to nail down a correct diagnosis. Fashion designer Alexa Chung recently opened up about her ovarian cancer scare before being diagnosed with endometriosis.
Ovarian cancer is often called "the cancer that whispers" because of its vague symptoms – some of which could overlap with endometriosis symptoms.
If you ever feel like something is off, it's important to see your doctor right away. Being your own biggest advocate can help you get the proper care when dealing with cancer or any other diagnosis for that matter.
No one wants to hear the word 'cancer.' And that includes TV host, writer and fashion designer Alexa Chung who recently shared an ovarian cancer scare.
Chung is not one to slow down. She's done everything from modeling for Vogue, Elle and Harper's Bazaar to designing clothes to television hosting. Even when the height of her undiagnosed symptoms left her with debilitating pain that forced her to take meetings lying down, she didn't stop working. In fact, she was filming in Los Angeles with Queer Eye star Tan France for the Netflix competition series Next In Fashion when she had her cancer scare.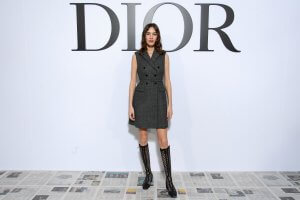 Read More
"I had to go back on set, and Tan asked how my doctor's appointment went,"
Chung said in an interview with The Sunday Times
. "I was like: 'It might be ovarian cancer!'"
Chung eventually was diagnosed with endometriosis – an often painful disorder in which tissue similar to that of your uterine lining grows outside of your uterus. This disorder most commonly involves your ovaries, fallopian tubes and the tissue lining your pelvis, but it can rarely spread beyond the pelvic organs. It also can affect fertility, so it's important to diagnose as early as possible. Some people like Chung, however, have a longer road to diagnosis. Her recent interview revealed the struggles she faced while waiting to get a scan that could help rule out ovarian cancer.
"The other bummer was that the waiting room for this scan was also a waiting room for pregnant people," Chung said. "Everyone was in there with their partners, and this woman was like: 'Excuse me, ma'am? Ma'am? On your form, you didn't fill out your partner's name'. And I was, like: 'Yeah, I don't have one. Thanks for that. I might have cancer, I don't have a baby and I don't have a boyfriend. Stunning. But let me just go and entertain you for a bit on f***ing TV.'"
Chung is doing better since ruling out ovarian cancer and receiving her correct diagnosis. We can only hope that things will continue to improve for the fashion icon.
"It was bad. But I'm fine now, I think," she said.
Understanding Ovarian Cancer
Ovarian cancer is when the ovaries – which produce the sex hormone, estrogen, as well as eggs – become cancerous. Women have two ovaries, one on either side of the uterus.
The fallopian tube, which brings the egg from the ovary to the uterus for fertilization, is actually where many ovarian cancers begin. First, a few cancerous cells develop on the fallopian tubes, then these cells stick to the ovaries as the fallopian tubes brush over the ovary. From there, the cancerous cells grow to form a tumor.
Taking Control of Your Ovarian Cancer Risk
Dr. Beth Karlan, a gynecologic oncologist at UCLA Medical Center, says the term ovarian cancer refers to a number of different tumors that reside in the ovary. She also says that ovarian cancer can be difficult to recognize as its symptoms may be subtle.
RELATED: Ovarian Cancer Symptoms Can Be Hard to Spot
"Ovarian cancer does not have any specific symptoms," Karlan said in an earlier interview with SurvivorNet. "It's often referred to as the cancer that whispers, in that it has symptoms that are really very vague…and nothing that may bring your attention directly to the ovaries."
Ovarian Cancer: The Cancer That Whispers
Dr. Karlan advises women to keep an eye out for a variety of possible symptoms.
"The symptoms include things like feeling full earlier than you usually would when your appetite is strong," she said. "Feeling bloated," is another symptom, she added. "Some changes in your bowel habits. Some pain in the pelvis. These are symptoms women may have every month. These are not very specific. But what we've found from multiple studies, it's this constellation of symptoms."
Endometriosis and Cancer
Endometriosis can be a very painful disorder. Essentially what happens is the abnormal tissue outside of your uterus thickens, breaks down and bleeds with each menstrual cycle. But because this tissue has no way to exit your body like normal endometrial tissue, it becomes trapped. This can cause cysts, irritation and scar tissue and adhesions – abnormal bands of fibrous tissue that can cause pelvic tissues and organs to stick to each other – to form.
According to the Mayo Clinic, you shouldn't worry too much about endometriosis increasing your risk for developing ovarian cancer. And while ovarian cancer does occur at a higher rate in women with endometriosis, studies suggest that any increase in risk is relatively low. Additionally, endometriosis can lead to the development of another type of cancer called endometriosis-associated adenocarcinoma, but this cancer is rare.
Alexa Chung's ovarian cancer scare is understandable because some of the symptoms for endometriosis can overlap with the myriad of possible symptoms for ovarian cancer. According to the Mayo Clinic, symptoms of endometriosis can include the following:
Painful periods (dysmenorrhea). Pelvic pain and cramping may begin before and extend several days into a menstrual period. You may also have lower back and abdominal pain.
Pain with intercourse. Pain during or after sex is common with endometriosis.
Pain with bowel movements or urination. You're most likely to experience these symptoms during a menstrual period.
Excessive bleeding. You may experience occasional heavy menstrual periods or bleeding between periods (intermenstrual bleeding).
Infertility. Sometimes, endometriosis is first diagnosed in those seeking treatment for infertility.
Other signs and symptoms. You may experience fatigue, diarrhea, constipation, bloating or nausea, especially during menstrual periods.
Both endometriosis and ovarian cancer can be tricky to diagnose. And given the fact changes to your menstrual period and lower back pain are possible symptoms of ovarian cancer, it makes sense that Alexa Chung's doctors wanted to rule out the possibility of ovarian cancer.
Advocating For Yourself While Navigating the Medical World
Regardless, if you ever feel like something is off, it's important to see your doctor right away. And don't be afraid to get a second opinion if you feel like your concerns aren't being heard. You are your biggest advocate when it comes to your own healthcare, and doing so is key to obtaining the best treatment possible while dealing with a cancer diagnosis or any diagnosis for that matter. It's also important to be your own advocate because of provider bias so you can make sure your doctor sees you as an individual, and doesn't fall back on assumptions based upon the color of your skin.
Learn more about SurvivorNet's rigorous medical review process.
---